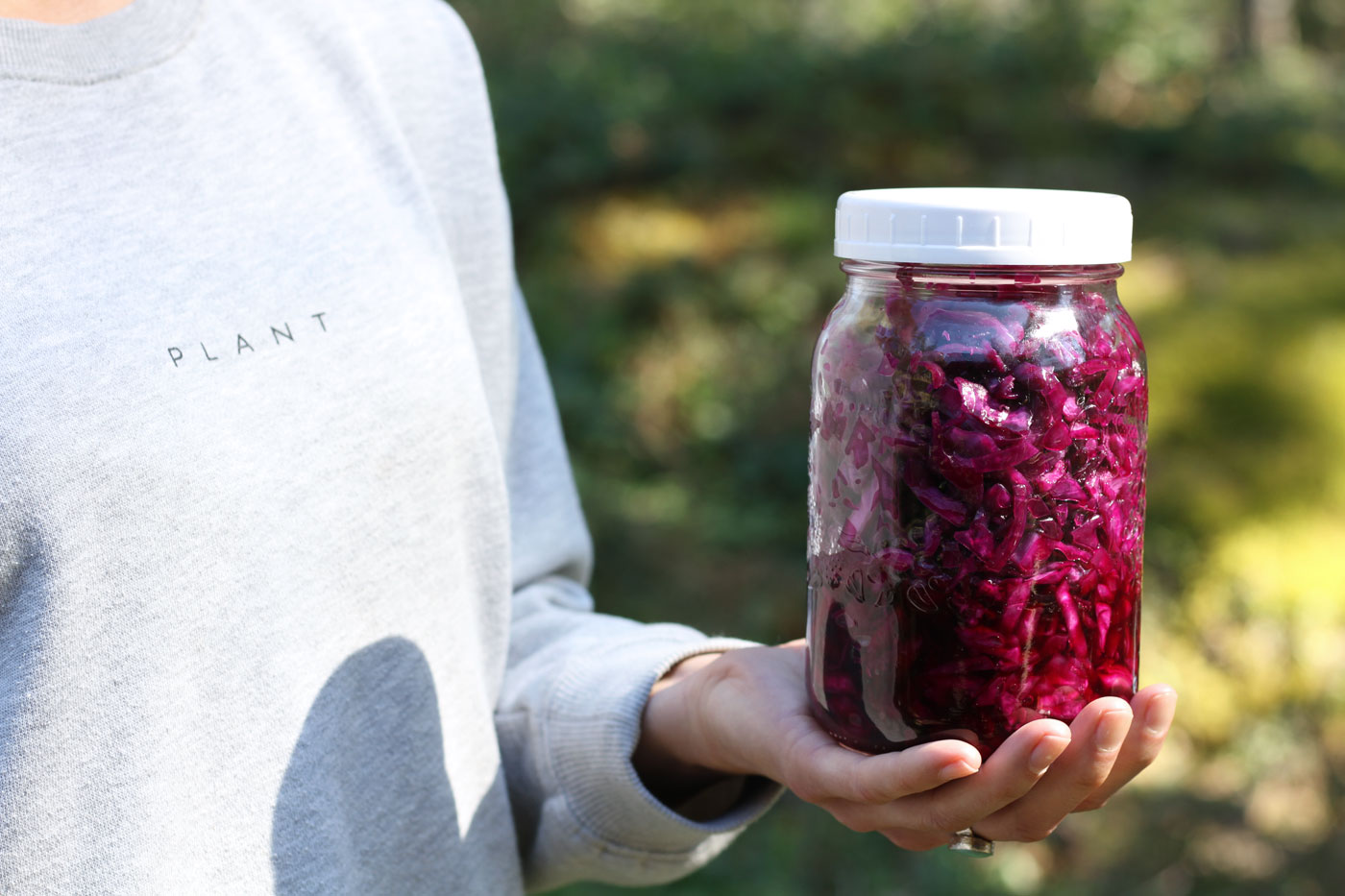 If you have never pickled or fermented anything, this Instant Pickled Red Cabbage will be the best place to start. It's simple, no fuss, no mess and all you need is a head of cabbage, good quality salt, a jar and a few other ingredients you probably already have in your kitchen. This pickled cabbage will take roughly 10 minutes of your time, and will last in the fridge for up to one month.
Why pickled?
What I love about pickling and fermenting is the immense amount of flavour possibilities. Each batch I make is slightly different from the previous one. Instant pickling is a faster and generally easier way to enjoy your veggies than fermentation. It won't preserve your food nearly as long as the traditional process, but it's tasty and time-effective. Instead of bacteria causing fermentation, quick-process pickles rely on vinegar to flavour and preserve the vegetables. Generally, you'll place your produce in a glass jar or food-safe container, and then cover your vegetables with a mixture of vinegar, salt, natural sugar, and spices. The jar should then be covered and left at room temperature for approximately 24 hours to allow the flavours to penetrate before being transferred to the refrigerator. Prepared in this way, pickled veggies will last for a few weeks if kept cold.
Why red cabbage?
Red cabbage, also know as purple cabbage contains phytonutrients which makes it an excellent anti-inflammatory food. It is a great food for the detoxification and elimination of harmful chemicals and hormones found in food, water, and air pollutants. Its waste-moving properties and especially beneficial to the health of our liver, digestive track and colon.
Instant pickled red cabbage 
Detoxifying + Anti-Inflammatory 
Just six ingredients go into this Instant Pickled Red Cabbage. Feel free to add other herbs and spices if you like. Pickled cabbage is versatile and can last in your fridge for about one month so make extra to have on hand. It adds a great tang and color to a fresh salad, bright flavor and color to a buddha bowl and earthy notes to a collard wrap. 
Ingredients
1 head 2-3 pounds red cabbage
1/2 -1 tbsp unrefined sea salt
2/3 cup of apple cider vinegar
1/2 cup of distilled water
2 tbsp raw honey or maple syrup
fresh ground pepper to taste
Instructions
Remove the coarse outer cabbage leaves. Rinse the cabbage in cold water. With a stainless steel knife, quarter and core the cabbage. Thinly slice with the same knife or a mandoline, then transfer the cabbage to a large bowl.

Add 1/2 tablespoons of the salt and apple cider vinegar, and, with your hands, massage it into the leaves, then taste. It should taste slightly salty without being overwhelming. Add more salt if necessary.
Notes
Massaging the cabbage will help to break down the cellular wall, softening it and giving it that limp, cooked appearance. Doing this with the added salt and vinegar will also help because the acid of the vinegar helps to break it down as well, and the salt helps to pull out the water, making the cabbage softer. The longer you massage it, the softer it will get. In a jar or small bowl mix together water, honey (or maple syrup), and fresh ground pepper. This is your brine. Transfer massaged cabbage into a large glass jar, leaving a 2-inch space at the top. You might need two jars, depending on the size of your cabbage. Pour brine over the cabbage, and cover with a lid. Now, you could stop right there and enjoy the cabbage as is, but I prefer to let is sit at room temperature for 2-24 hours. Anytime you walk by the jar shake it couple of times to ensure consistency in flavour. Once your cabbage is pickled to your liking, store it in the fridge for up to 4 weeks. I hope you enjoy this simple yet delicious recipe!
Dedicated to your health & wellbeing,