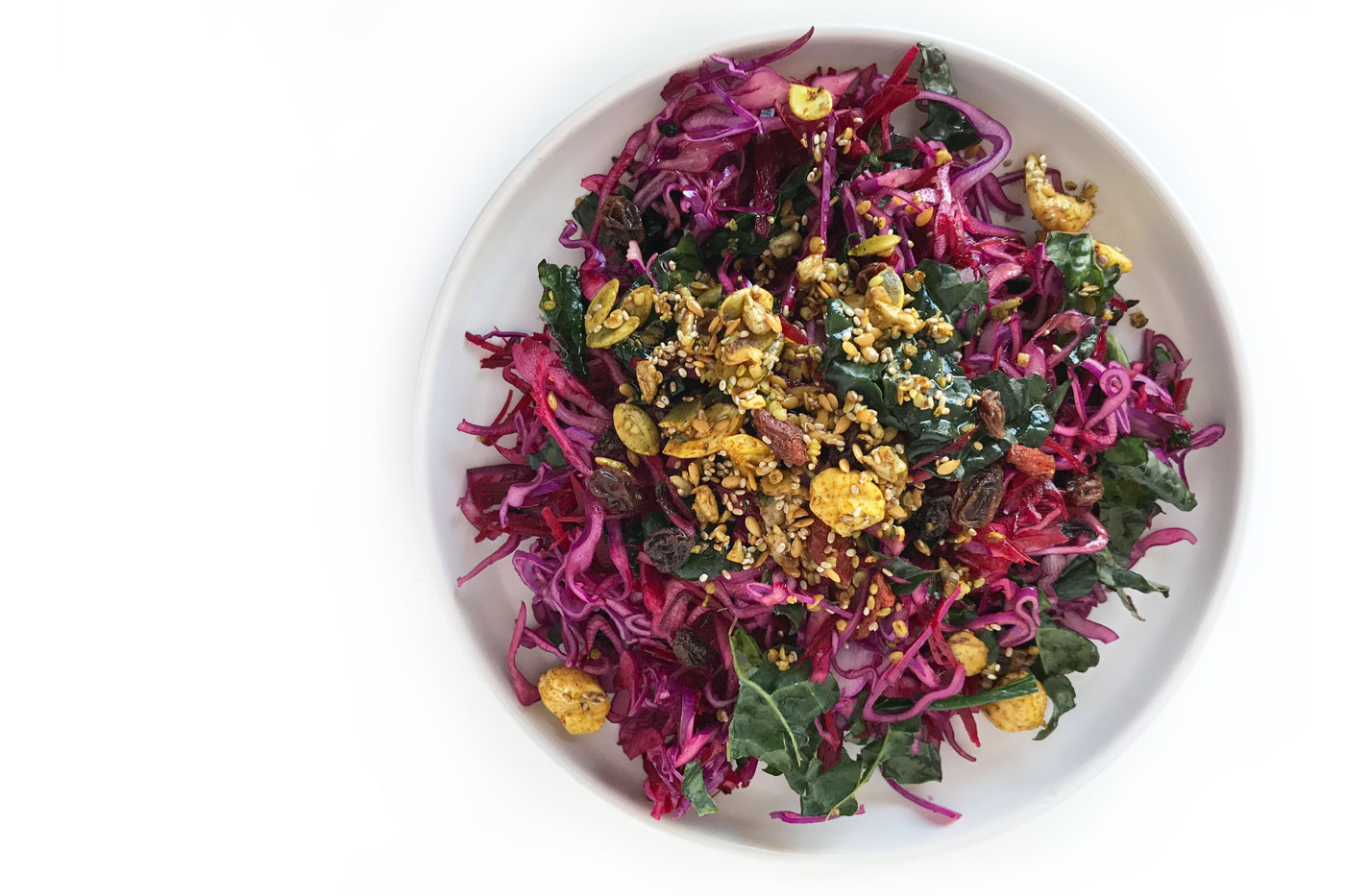 A couple of weeks ago when Nik and I planned our winter recipe lineup for this blog, we thought it was time to share a savoury salad recipe with you. We love salads and enjoy making them pretty much daily but I never really think of sharing them on Active Vegetarian because they are so random and I figure that most people are not interested in a recipe for making a salad.
But then Nikki pointed out… "Who are we to assume?" So here we are sharing this vibrant, vitamin and mineral packed, disease-fighting phytochemical, red winter salad with you.
We will get to the step-by-step recipe in a few minutes; first, though I wanted to talk about the curried nut & seed mix that we added to this salad. As I mentioned before Nik and I love salads and we are often looking to up our salad game as well as give any meal a nutritional boost. One way to achieve this is by adding healthy fats and micronutrients from the plethora of nuts and seeds. For this healthy and delicious version, we used a combination of whole chia, flax, hemp hearts, pumpkin, sunflower and sesame seeds, raw cashews, goji berries and spices. This Curried Nut & Seed Mix is super quick to throw together and will keep fresh in an airtight container for weeks, ready to quickly nourish your meals.
To round out the whole dish, we used seasonal vegetables and a couple of staple ingredients to create a salad dressing. The curried nut & seed mix topping really brought everything thing together, giving it a hearty overall flavour, taking it from a side dish to a meal. I hope that you enjoy the recipe. Please comment below and live your every day to the fullest!
Winter Red Salad with Curried Nut & Seed Mix
A seasonal salad with raw beet, cabbage and kale, tossed with an easy vinaigrette dressing and topped with curried nuts and seeds makes the perfect 30-minute nutrient-rich meal.
Servings: 2
Ingredients
SALAD
2 small red beets peeled and grated on a mandolin
½ head red cabbage thinly sliced
1 cup kale stems removed and torn into bite pieces
2 tablespoons flax oil or extra virgin olive oil
1 tablespoon apple cider vinegar
generous pinch of sea salt
¼ cup raisins soaked in ½ cup water for 10 minutes and then drained
Toss beet, cabbage, kale, oil, vinegar, and salt and allow to marinate for 15 minutes. Add raisins.
CURRIED NUT & SEED MIX
1/2 cup raw cashews
1/2 sprouted pumpkin seeds can be replaced with raw pumpkin seeds
1 cup mixed seeds we used mix of sunflower, chia, flax, hemp
2 tablespoons omega oil or extra virgin olive oil
1 teaspoon curry powder
1 teaspoon turmeric powder
1/2 teaspoon cinnamon
pinch of cayenne
pinch of sea salt
Toss cashews with oil, curry powder, cayenne, and salt. Ideally, allow the mix to marinate 15 minutes before serving
ASSEMBLY
Toss salad with Curried Nut & Seed Mix.
Salads are awesome and you should eat them every day. The fresher living foods you include into your diet the more you invite life and health into your body, mind and spirit. Get inspired with some of our popular creations like the Farmer's Market Salad, Detox Salad and The Good Heart Salad with Vegan Cashew Cheese.
If you try this Winter Salad, let us know! Leave a comment, Pin for later, and don't forget to tag a photo #avrecipes on Instagram. We would love to see your creations.
Dedicated to your health & wellbeing,