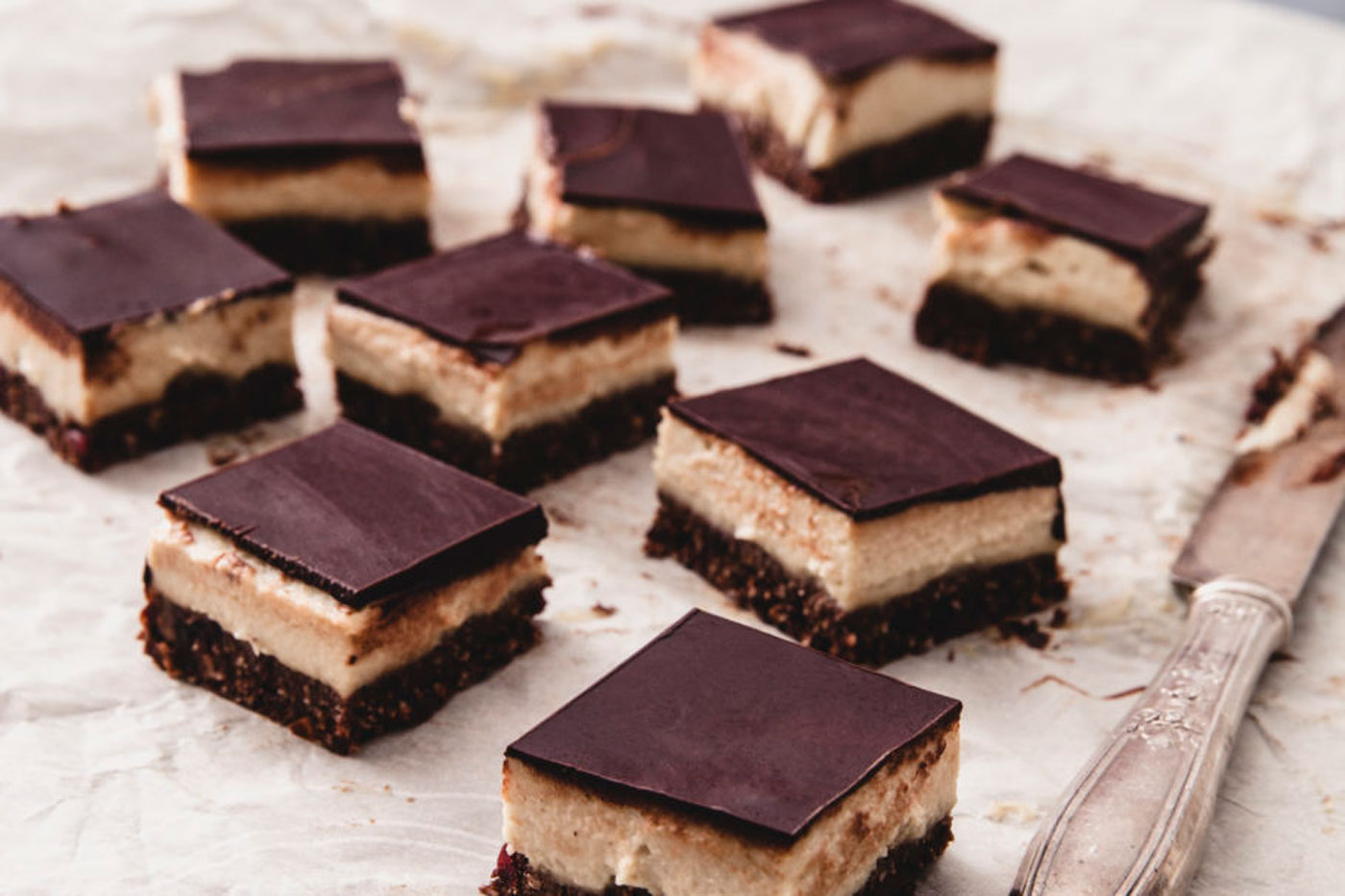 As two proud Canadians, we cannot imagine the holiday season without the well-loved Nanaimo bars. Traditionally made with loads of butter and sugar, we decided to give the traditional rich B.C. treat a healthy vegan makeover. You will find that this interpretation of the classic Nanaimo bar is much less sweet than the original but still manages to be rich and satisfying without giving you a toothache.
Please note: that a little bit of advanced prep work is necessary as the almonds and cashews need to soak for about 12 hours. However, we promise you that it's all worth it!
The bottom is made out of rich, decadent chocolate and coconut layer, the middle is a creamy cashew layer and to top them both off, we dressed the bars with a sinful chocolate frosting! It's amazing, you should try it 😉
Healthy No-Bake Nanaimo Bars
Seriously rich and creamy no-bake bars, guaranteed to satisfy any sweet tooth. They are made from raw, whole plant-based ingredients and free from refined sugar, dairy, soy and gluten.
Servings: 12
Ingredients
Bottom Layer
1 cup 75 g shredded coconut
1/2 cup dates pitted
1/2 cup dry cranberries dry cranberries
1/2 cup raw almonds soaked for 12 hours or overnight
1/4 cup raw cacao powder unsweetened
Middle Layer
2 cups raw cashews soaked 4 to 6 hours or overnight
1/4 cup pure maple syrup
2 tbsp coconut oil at room temperature
4 tbsp fresh lemon juice
2 tsp pure vanilla extract
Top Layer
100 grams 80–85 % dark vegan chocolate bar (preferably raw & vegan)
2 tbsp coconut oil
3 tbsp cacao nibs
Instructions
For the bottom layer, coat a small square cake pan with coconut oil or line with parchment paper

Add all of the bottom layer ingredients to a food processor fitted with the S blade. Process until the mixture is broken down and begins to stick together. Scrape down the sides of the food processor as needed.

Press the crust into the bottom of your prepared pan using a spatula. Place the dish in the refrigerator.

For the middle layer, rinse the soaked cashews and blend all of the middle layer ingredients in a clean food processor until you have a smooth cream filling, about 8 to 10 minutes. Spread the cream evenly on the top of the base and put the dish back into the refrigerator.

For the top layer, place the vegan dark chocolate and coconut oil in a small pot and meltdown over low heat. Make sure you keep mixing as it melts so it doesn't burn.

Pour chocolate layer over the middle layer and finally, sprinkle with cacao nibs.

Return the pan to the refrigerator. Allow the chocolate and the bars to firm up for about 3 hours or overnight before slicing.

Keep bars in the refrigerator for 3 to 5 days.
Notes
These are very rich; eat in moderation!
Photo By: Darina Kopcok
For more festive desserts, check out our Raw Vegan Fruitcake, Chocolate Coconut Gooey Goodness Bars.
If you try this recipe, let us know! Leave a comment, Pin for later, and don't forget to tag a photo #avrecipes on Instagram. Everybody needs to eat better so share this with your people. ❤
With Love & Gratitude,