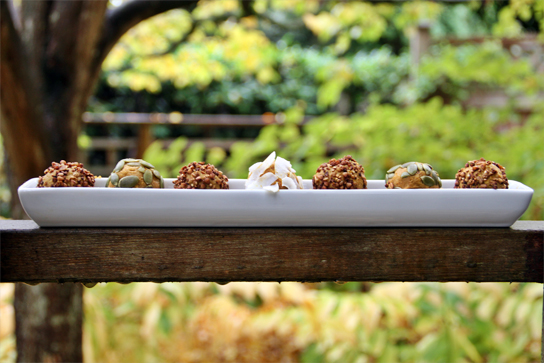 I'm sure you're wondering if these truly taste like pumpkin pie? Yes, absolutely. But you can enjoy them without any guilt 🙂 They're pretty awesome, actually. Give them a try……
Ingredients
1 cup of raw cashews
1 cup oats
1/4 cup medjool dates
1/4 pumpkin, puree (you can used canned)
2 TB extra virgin coconut oil
2 TB pumpkin spice
1 1/2 TB maple syrup
pinch of sea salt
hand full of coconut, granola, pumpkin seeds for rolling (optional)
Instructions
Using a food processor, process the cashews and oats to a fine meal. Add the pumpkin spice and salt and pulse to combine.
Finally, add the dates, pumpkin pure, coconut oil and maple syrup and pulse until well incorporated. The mixture should stick together when pressed between two fingers.
Roll the mixture into equally sized balls (I used a tablespoon measure) and roll with topping of your choice
Place truffles in the fridge or freezer to firm up before serving.
Enjoy 🙂
talk soon
Zuzana