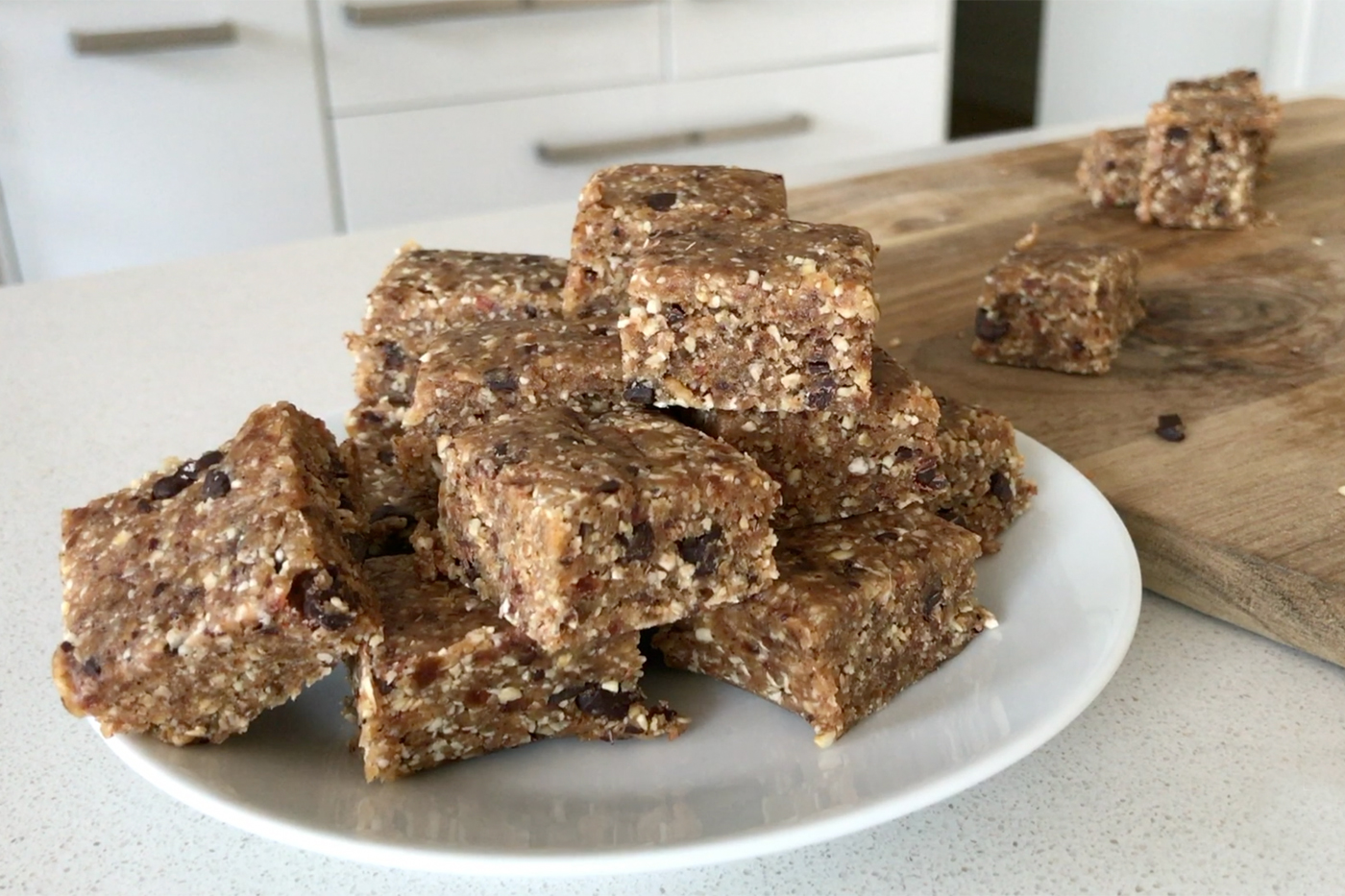 Currently, we are little obsessed with making these 6 ingredient cookie dough bites. We have made 3 batches in the past week!
Warning: These homemade Chocolate Chip Cookie Dough Bites are a little addicting. They taste like the real deal cookie dough, but they're nutritionally dense and good for you! Read on to find out how you can make your own batch in just 10 minutes.
Like most of our other Snack Bites/Balls, these freeze beautifully, so it's a great idea to make a double- or triple-batch all at once and prepare yourself for busy days ahead. One of the beautiful things about this recipe is how versatile it can be. Missing cashews? Not a big deal, simply replace them with another raw nut – almonds or macadamia nuts make a great choice. Not enough dates? All good, add in some figs or a dash of pure maple syrup instead – add just enough to make the dough stick and give it a nice mild sweetness. Also, be creative with the shapes. Form the cookie dough into your own desired shape – ball, bites, bars or you can even use a cookie-cutter. You are only limited by your own imagination.
Chocolate Chip Cookie Dough Bites
Chocolate Chip Cookie Dough Bites are made with 6 ingredients and come together in 10 minutes! They are the perfect easy & healthy snack recipe that will absolutely satisfy your cravings for something sweet.
Ingredients
1 cup of raw cashews
1/2 cup whole oats
1 cup of medjool dates about 8 - pits removed
1/2 tsp Himalayan salt
1/4 tsp raw vanilla powder 1 tsp vanilla extract
2 Tbsp dark chocolate chopped into small pieces
Instructions
Add the cashews and oats to the food processor and grind for 30-50 seconds.

Add in the pitted dates and pulse about 15 times.

Add Himalayan salt and vanila powder/extract.

Run food processor for approximately 30-40 seconds.

Add in chopped choccolateand pulse in food processor 3-5 times or until well combined.

Work dough into your desired shape (ball, bites, bars) and place in fridge or freezer to set.

Serve. Eat. Enjoy!
Notes
These energy balls will keep for about a week in the fridge. You can freeze these balls to eat at a later time. I actually eat them straight from the freezer, although they are a bit harder for the first bite.
Thank you for reading and watching, for supporting us, for allowing us to share our journey and our passion for this beautiful plant-based lifestyle. Sending our love to you! Now go make some of these delicious cookie dough bites (if you want).