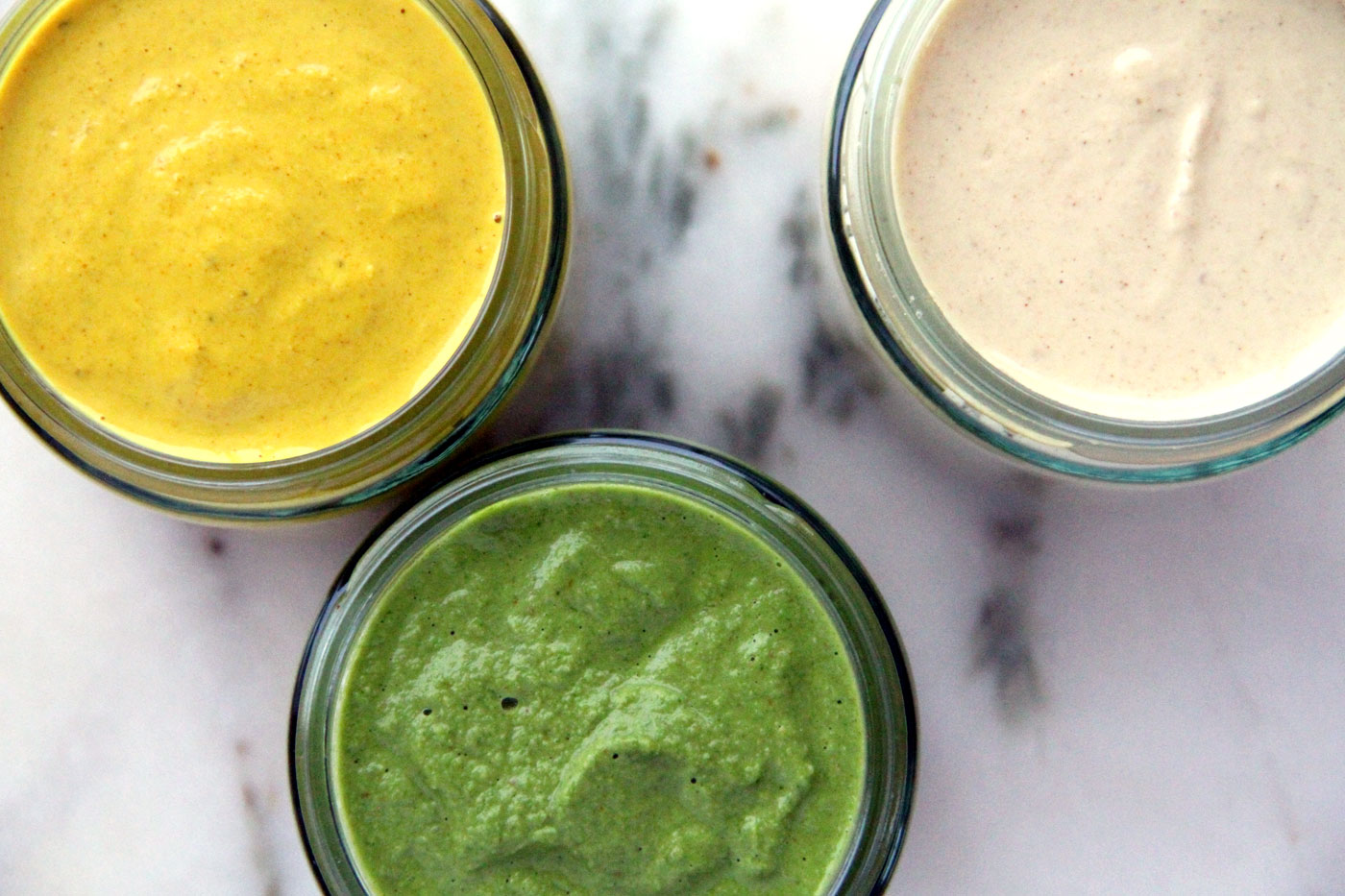 We all know that we should include more fresh vegetables into our diet. But how do you do this daily? It's easier than you might think. When we work with our coaching clients one of the basic nutritional habits we focus on make greens the foundation of the plant-based plate. A green salad is the King of healthy food, at least we think it is. So we encourage you to include a big bowl of salad with your lunch and/or dinner every day. But how do you ensure that you don't get tired of eating salads day after day? The answer is… DRESSINGS!
Life is too short for boring salads so, over the last few years, Nikki and I have both become semi-obsessed with creating our own new and unique dressing combinations to keep our meals exciting. By changing out the dressing, you can transform your meal into a completely different experience.
As always we use only whole-food plant-based ingredients and focus on seasonal produce. We stay away from all store-bought dressings and sauces, and we suggest you do the same. Store-bought dressings often contain S.O.S. – salt, oil, and sugar – all of which can lead to inflammation, weight gain, high blood sugar, and more. All that you need to add a burst of flavour, healthy fats and nutrients to your salad are a few raw foods you might already have at home!
All of these recipes are super easy to make, so no excuses!
GOLDEN DIJON DRESSING
To make this Golden Dijon Dressing, you will need:
½ cup of water
1/3 cup raw sunflower seeds, soaked at least 30 mins in warm water
1 tablespoon Dijon mustard (substitute yellow mustard)
2 heaping tablespoons nutritional yeast
1 tablespoon lemon juice
2 tablespoons apple cider vinegar
1 teaspoon turmeric
1/2 teaspoon unrefined sea salt
Generous pinch black pepperDrain and rinse the sunflower seeds then add them to a blender along with the remaining ingredients. Blend on high until smooth and creamy, adding additional water as needed.
Store in an airtight container in the fridge. Will last about 2 or 3 days max so eat up quickly!
GREEN GODDESS DRESSING
To make this Green Goddess dressing, you will need:
1/3 cup raw pumpkin seeds, soaked in water for 2 hours
1 cup parsley (leaves and stems)
3 tablespoons lime juice (about 1 juicy lime)
1/3 cup water (more as needed)
½ teaspoon unrefined salt
2 dry figs, soaked for 10 mins in warm water
Drain and rinse the pumpkin seeds. Add all ingredients to a blender and blend on high until smooth and creamy. Add more water if needed (1 tablespoon at a time) until the dressing reaches your desired consistency.
Eat right away. Doesn't taste as good the next day.
ORANGE GINGER SESAME DRESSING:
To make this Orange Ginger Sesame dressing, you will need:

2/3 cups orange juice, (about 2 juicy oranges)
2-inch chunk of fresh ginger, peeled
1/2 cup raw sesame seeds (1/3 cup tahini)
1/2 tsp ground cumin
pinch of cayenne (optional)
Blend all ingredients on high in a high-speed blender until smooth and creamy. If dressing is too thick, add a splash or two of water or more freshly squeezed orange juice. Store in an airtight container in the fridge. Will last about 1 or 2 days max so enjoy it fresh.
Here you have it. Three easy and delicious homemade epic dressings. Have fun creating and enjoying them. Good things happen when you start eating more "live" foods. Try it for 30 days and see what positive impact a whole food plant-based diet will make in all areas of your life. Thank you for reading.
Dedicated to your health & wellbeing,