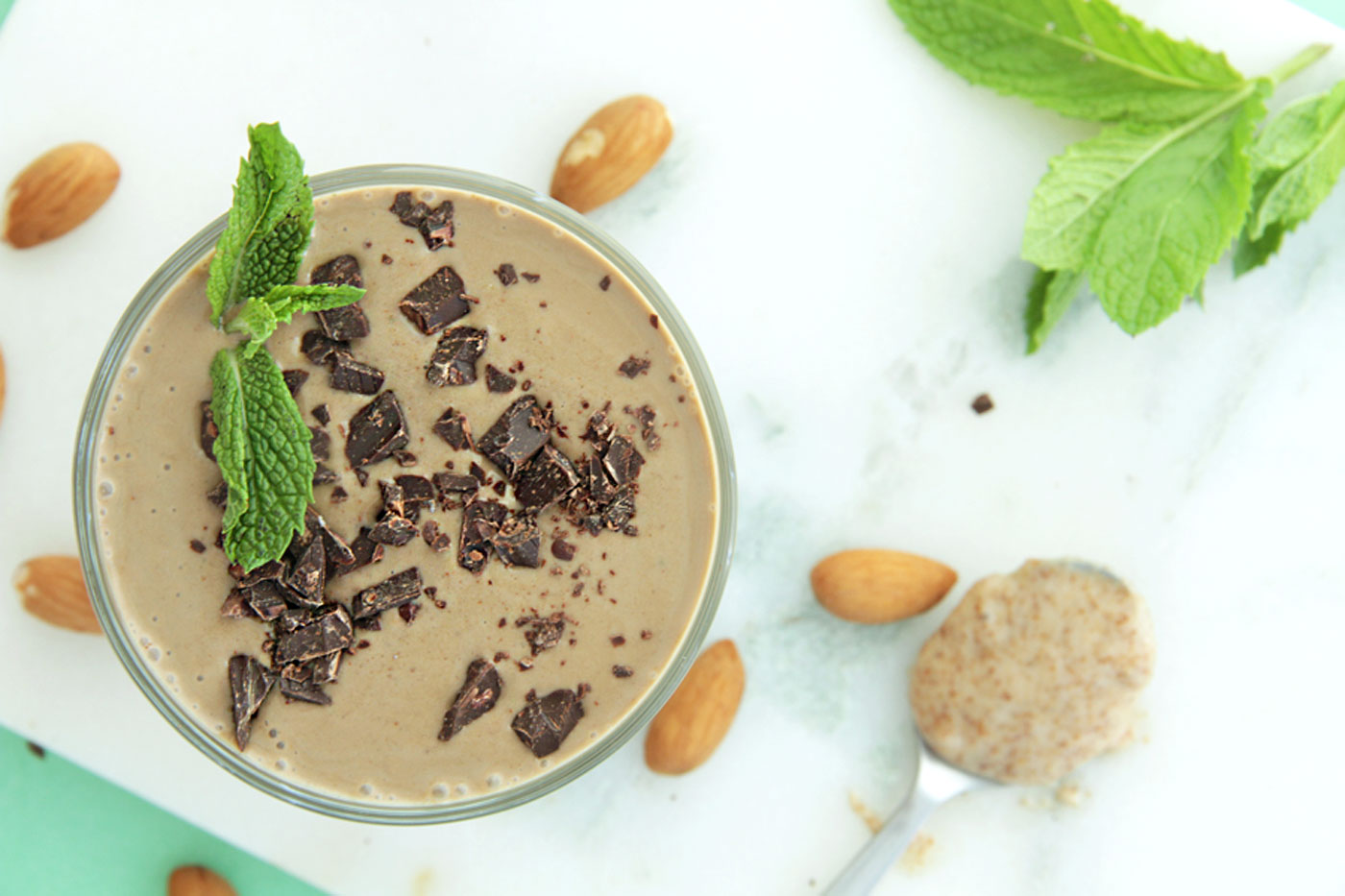 This is a creamy, silky smooth, superfood packed smoothie. Loaded with minerals and antioxidants, cacao gives it a nice mild chocolate flavor and helps satisfy those chocolate cravings. You will get a natural sweetness from the banana and dates while the almond butter helps to thicken up the consistency and give it a healthy boost of vitamin E, as well as protein.  The subtle hint of fresh mint pulls it all together in this healthy anytime of the day smoothie.
#PLANTPOWERED  INGREDIENTS:
ALMOND BUTTER
Natural almond butter (no added oils or sugar) is a great source of calcium and copper. Both minerals play a role in brain cell communication and keep your nervous system functional, while calcium also aids in muscle function and keeps your skeleton strong. Copper enables you to make melanin, which is a pigment that helps protects your skin from the sun.
CACAO POWDER
Raw cacao powder has more than 300 phytochemicals and nearly four times the antioxidant power of regular dark chocolate, and contains protein, calcium, carotene, thiamin, riboflavin, magnesium, and sulfur. Cacao  has the potential to improve heart health, moderate cholesterol as well as stress levels, and reduce inflammation.
MINT
Mint leaves, especially freshly crushed leaves have many healing powers. They can help you deal with nausea and headache, ease indigestion and inflammation as well as effectively clear up congestion of the nose and throat. 

Chocolate Mint Mylkshake
Servings: 1
Ingredients
1 cup coconut water or home made nut milk
2 frozen bananas
1 medjool date pitted
1 Tbs natural almond butter
1 Tbs raw cacao powder
handful of fresh mint leaves
Optional Topping
Cacao nibs of raw vegan dark chocolate
Instructions
Combine all ingredients (except optional topping) in a high-speed blender.

Blend on high for 30 seconds, or until nice and creamy and Enjoy!
Cheers! We hope you enjoy it 😉
With love & gratitude,