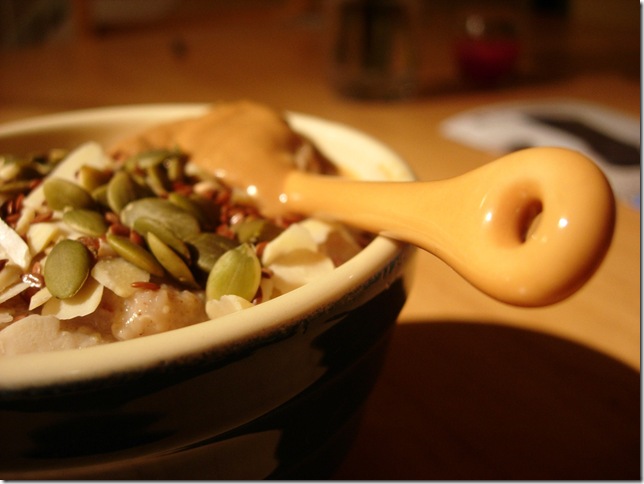 Apple Cinnamon Oatmeal Done Vegan
Oatmeal (porridge) is one of the healthiest, most economical and most versatile breakfast staples.
When choosing oatmeal go for the old fashion oats, steel cut oats, spelt or rye flakes. (you can find these in your  local bulk store or online HERE)
Avoid Instant Oatmeal!
Yes, those little packets of instant oatmeal are quick and convenient, but they're often loaded with sugar and salt.
It's tempting to buy them because of their ease of preparation. Plus, they often have added flavoring which makes the taste more appealing.
Keep in mind you can add your own flavoring to old fashioned or steel-cut oatmeal using fruit, nuts, maple syrup and even peanut butter which is a healthier and less expensive option.
Try this vegan oatmeal recipe for breakfast or even a snack.
Ingredients:
1/2 cup old fashion oats
1/2 cup almond milk or soy milk
1 apple, cored and chopped
1 teaspoon ground cinnamon
2 tbs natural pumpkin seeds
Directions:
In glass serving bowl, blend all ingredients except pumpkin seeds.
Microwave (high) 2-2 1/2 minutes.
Stir,add pumpkin seeds and cover. Rest 2-3 minutes before serving. Enjoy 😉
Zuzana