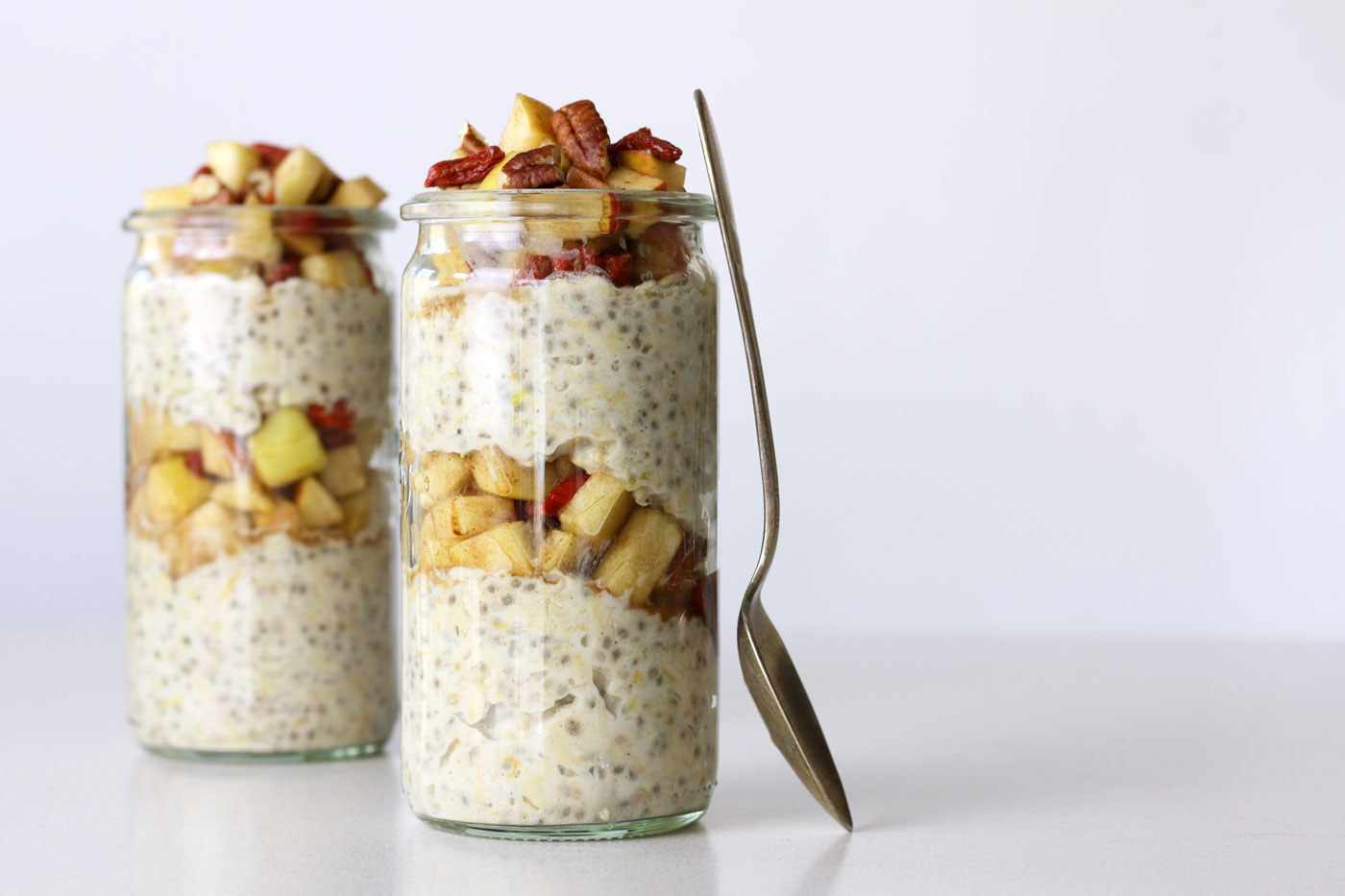 This is the perfect jar of goodness that you can make the night before and you're ready to rumble first thing in the morning. A great option for PRE and POST WORKOUT meal. Want to know why? Read below…
We all know how important it is to fuel the body with high-quality foods in order to be healthy. However, if you are looking to improve your athletic performance and reach specific fitness goals the timing and nutrient balance could make a huge difference in your results. A combination of high-quality protein and complex carbohydrates will support your workout efforts and help with both energy and recovery!
Here are a few reasons why the carb/protein combo is so important:
The combination of high-quality protein and complex carbohydrates will slow digestion and provide you with lasting energy and allow for sustain endurance during your workout.
Carbohydrates are your primary energy source – including carbs from whole foods 1-2 hours before your training session will give your body the fuel needed for your session and avoid break down of hard-earned muscle.
After workout carbs help facilitate the delivery of protein into your muscles for proper recovery and replenish your energy stores.
When a carb is eaten alone, a quick rise in blood sugar can occur, which can lead to increased hunger, cravings, and then fatigue. The combo of protein with a carb helps to stabilize your blood sugar to avoid these symptoms!
Fuelling your body on a clean, plant-based protein 1-3 hours post-workout is the key to forming strong muscles and supporting long-term health efficiently.
Apple Cinnamon Overnight Oatmeal - Pre and Post Workout Fuel
This oatmeal is a quick, make-ahead breakfast and the perfect choice to enjoy before or/and after your workout. It's vegan, dairy-free, and gluten-free and very satisfying! 
Servings: 2 servings
Ingredients
For the oats
1 and ¼ cup rolled oats - use gluten-free oats if allergic/intolerant to gluten.
2 tbsp chia seeds the more chia, the thicker the oats
¼ tsp cinnamon powder
1/2 tsp cardamom
2 tsp lemon zest
2 tsp orange zest
1 tsp rose water  optional
2 cups plant-based milk -   oat milk, almond milk, coconut mylk
2 tbsp raw agave or maple syrup
For the topping
1 apple peeled and diced
2 tbsp goji berries or raisins
2 tbsp pecans or walnuts chopped
¼ tsp cinnamon powder
Instructions
Mix the oats, chia seeds, cinnamon, cardamom, lemon zest and orange zest in a large container. Add in the milk of choice, rose water (if using), and maple syrup. Mix to combine and set aside.

In a separate bowl mix together all topping ingredients. Place about a tablespoon of this mixture in the bottom of your jar, layer with the oat and chia mixture and repeat until you fill the jar.

Leave to set in the fridge overnight. Sprinkle the chopped nuts and more fruit (if desired) on top before serving.

Overnight oatmeal will keep in the refrigerator for 2-3 days, though best enjoyed within the first 12-24 hours.
Looking for more plant-powered pre/post-workout ideas? Here are some of our other go-to's:
Dedicated to your health & wellbeing,