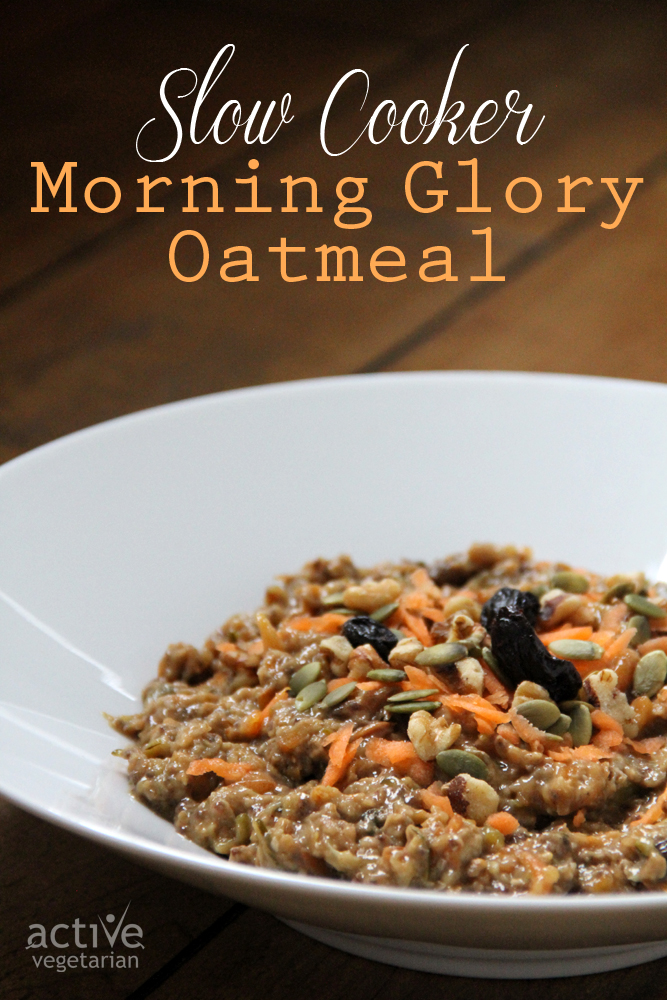 I am a big fan of oatmeal because of its many benefits, you can click here to learn more about this. I can eat it anytime – breakfast to get me going, in the afternoon to refuel after a tough workout and even as a comforting dinner! One of the nutritional rules I follow is to sneak a serving (or two) of veggies into each of my meals. So to satisfy both my needs I came up with this veggie-packed slow cooker jumbo oats recipe.
Morning Glory Oatmeal – takes only 10 minutes to prepare, cooks overnight in your slow cooker and the best part …it's packed with zucchini and carrots in addition to the classic raisins, walnuts, and cinnamon. I hope you enjoy it 🙂
Slow Cooker Morning Glory Oatmeal
Ingredients
3 cups water
1 cup no sugar added dairy free milk we used coconut milk
1 cup large oats
2 large grated carrots or 4 smaller ones
1 small grated zucchini
½ cup raisins rinsed
1 teaspoon ground cinnamon
1 teaspoon fresh grated ginger or ¼ teaspoon ground
¼ teaspoon ground nutmeg
½ cup unsweetened shredded coconut
3 tablespoons raw pumpkin seeds
1½ tablespoon grated orange zest about 1 orange
pinch vanilla powder (or 1 tsp vanilla extract)
1 or more tablespoons maple syrup or agave nectar
¼ cup of either hemp hearts pumpkin seed, chopped walnuts or pecans (optional, for topping)
Instructions
In a large slow cooker, combine all ingredients except the last two (sweetener and toppings)

Set on "low" and cook overnight for 6-8 hours.

Serve with drizzle of maple syrup or honey and hemp hearts, seeds or toasted nuts if desired.
Notes
I cooked mine on low setting for 6 hours and it turn out great. If you plan on cooking it overnight, set your slowcooker on warm and you can leave it there for 8 hours.
Looking for more healthy breakfast recipes? Also check out our 3 Ingredient Flourless Vegan Pancakes, Good Morning Smoothie, Healthy Crockpot Breakfast Scramble, and Going Strong All Day Long Smoothie!
DID YOU MAKE THIS RECIPE?
Tag @activevegetarian on Instagram and hashtag it #avrecipes.
Dedicated to your health & wellbeing,