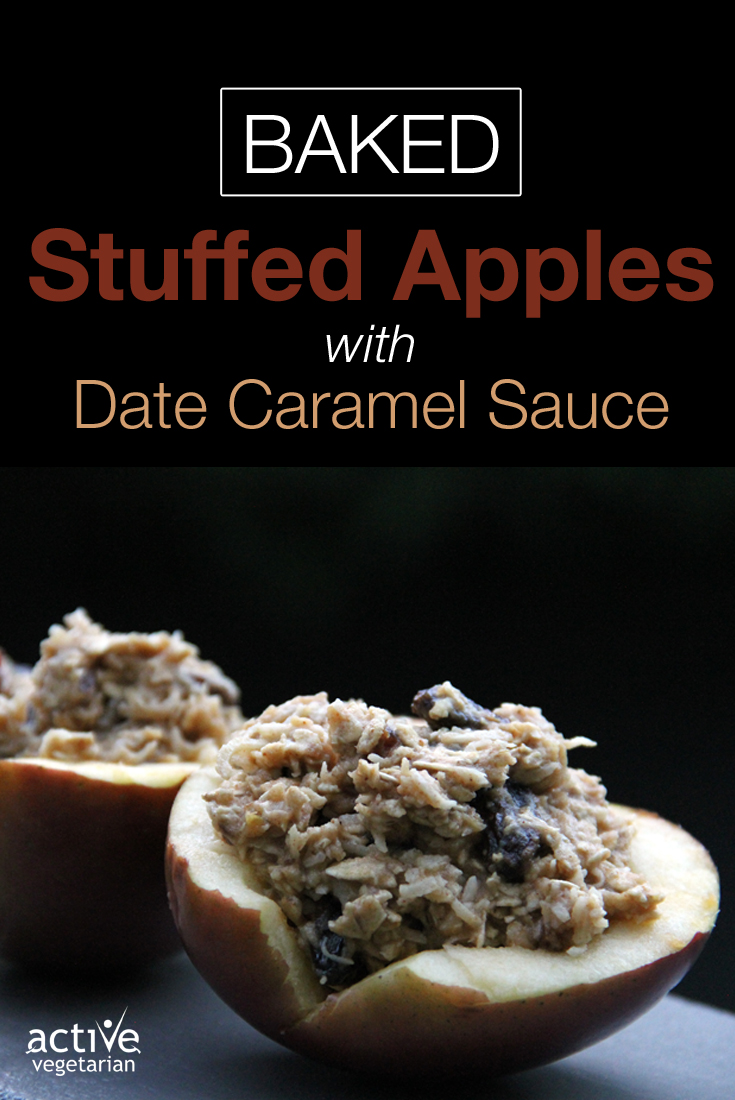 Baked apples stuffed with oats, coconut and cinnamon. Like little individual apple crisps without all the added fuss of cutting and peeling the apples. A simple, healthy treat that you can have even for breakfast 😉
Baked Stuffed Apples with Date Caramel Sauce (vegan, GF)
No fuss apple "crisp" , great as a dessert and healthy enough to enjoy for breakfast
Servings: 4
Ingredients
4 apples Gala apples work well, but choose a local variety if available
2 tsp cinnamon
½ cup pecans chopped
1 cup gluten-free oats
½ cup shredded unsweetened coconut
1 tsp cinnamon
1 Tbsp coconut oil melted
1 Tbsp maple syrup
1 tsp pure vanilla extract
2 tbsp. water
Pinch of salt
Caramel Date Sauce
1 cup Medjool dates packed
1 cup water
1 tsp vanilla
1/4 tsp salt
Instructions
Preheat oven to 375°F. Line a baking pan with parchment paper.

Halve the apples and remove the core,scoop some of the apple flesh (put aside) keeping a "boat shape".

Place the apple halves on the lined baking pan and sprinkle each half with ¼ teaspoon of cinnamon.

In a small bowl, combine remaining ingredients plus your leftover apple flesh

Pack each half with the oat mixture.

Bake in pre-heated over for 30 to 40 minutes or until apple is tender.

...meanwhile prepare the date caramel sauce

Caramel Date Sauce

Remove pits from dates. Place dates and water in a jar or container and soak for about 20 min. Transfer the dates and their soaking water to a food processor and add the vanilla and salt. Blend until smooth and creamy

Allow apples to cool for five minutes, then drizzle with caramel sauce and serve.
Notes
They are great even the next day straight from the fridge.