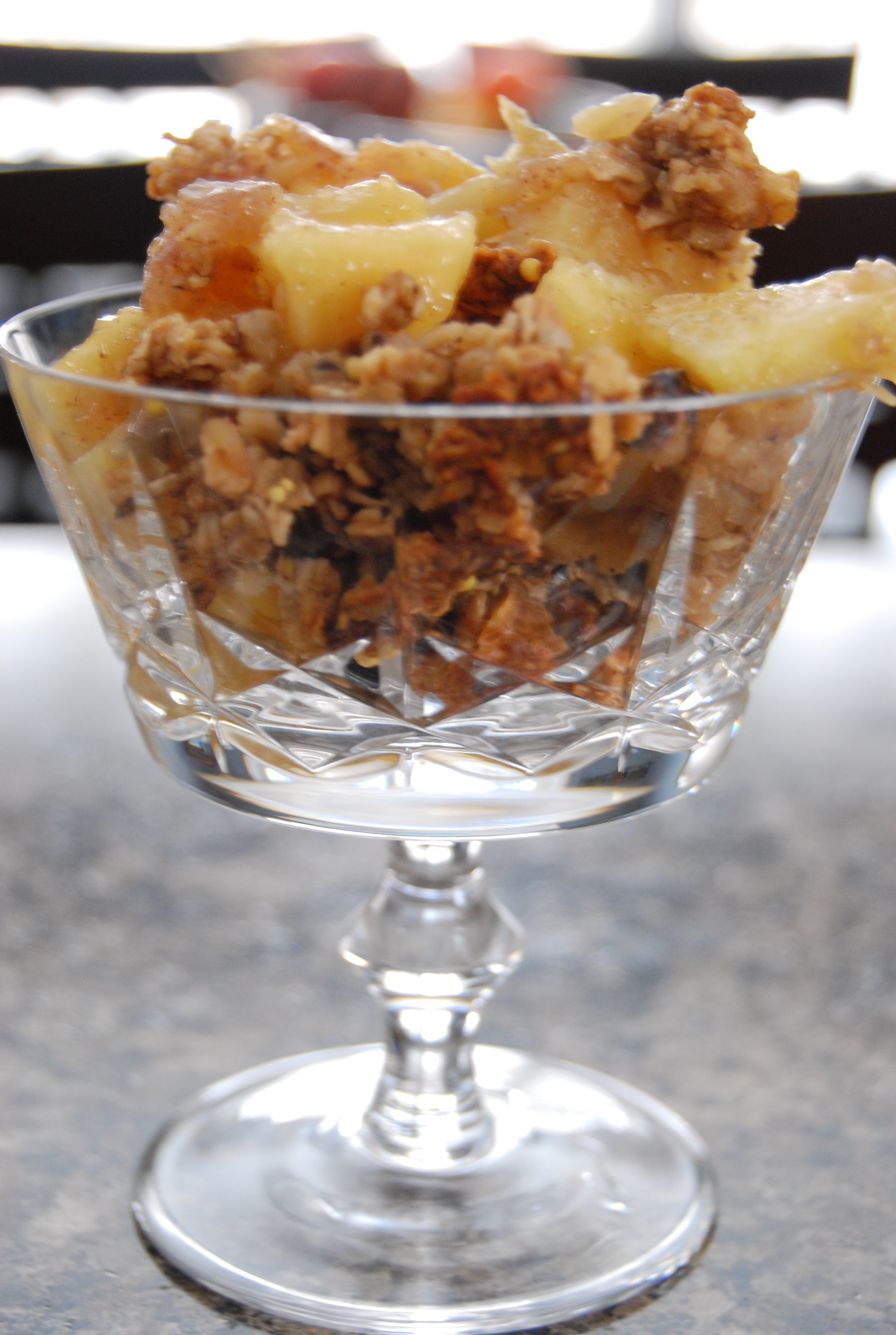 This is an easy dessert that is a favorite for all ages. Although this could easily be classified as comfort food, this version of apple crisp is light and healthy and can be enjoyed without guilt 😉
Serve warm, topped with vegan ice cream, for the ultimate flavor combination.
This will test your thirty-minute capacity as it depends on how fast you can slice those apples.
Ingredients: Serves 4-6
Apple Layer
5 medium-size apples, cored and sliced thinly (6 cups)
1/4 of fresh pineapple pure (or 1 small can of crushed pineapple with juice)
¾ cup coconut sugar
1/4 cup pure maple syrup
½ teaspoon ground cinnamon
1 teaspoon pumpkin spice
1 tablespoon lemon juice (optional)
1 tablespoon psyllium husk
Topping
2 cups rolled oats
½ cup flour (white spelt works well)
½ cup apple juice
3 tablespoons shredded coconut
¼ cup pure maple syrup
½ teaspoon pumpkin spice
¼ teaspoon sea salt
¼ teaspoon ground cardamom (optional)
½ cup walnuts (optional)
¼ cup coconut oil
(optional but will put it over the top)
1. Preheat the oven to 425°F. Place the apples in a large bowl with the remaining
apple layer ingredients and mix well. Spread evenly in a 9-inch square casserole
dish and bake for 8 to 10 minutes.
2. While the apple layer is baking, combine the topping ingredients in a bowl and
mix well. Sprinkle them on top of the apple layer and bake for an additional 15
minutes. The apples should be soft and the topping should be golden brown.
This one has gotten us through some weekend "sweets attacks" – if you're feeling like a snack, give it a try.
Let me know what you think below in the comment section 🙂
Zuzana