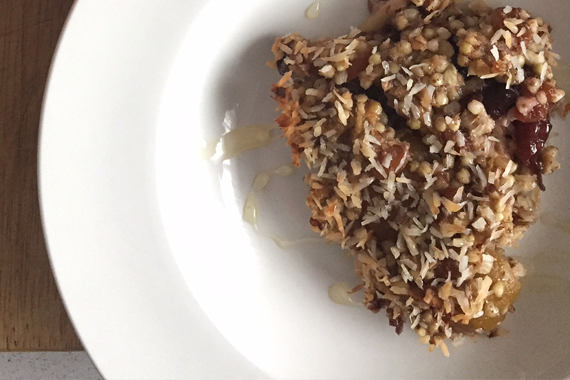 Who remembers Rice Pudding!? It definitely reminds me of when my mom would make it when I was little. The warmth from the oven… and oh that smell!  I would always load it with cinnamon and well burn my tongue, because I couldn't wait for it to cool!
We are here in Czech with Zuzana's family and recently they were making a traditional rice pudding which is pretty much – rice, eggs, sugar and more sugar 😛
That inspired us to create this healthy, guilt-free Vegan version of this traditional dish. The turn out was great! Guess what? We didn't even add any type of sugar, it is sweet enough!
Coconut Buckwheat "Rice" Pudding
This recipe is the perfect substitute for rice pudding - nut-free, sugar-free & guilt-free!
Servings: 6
Ingredients
1 cup Kasha Buckwheat - well rinsed
1 tbsp coconut oil + extra for dish
1 can organic coconut milk
1/4 cup raisins soaked
1 large apple grated
1 tsp cinnamon
1 cup fresh apricots/plums* pitted + halved
*or any other fruit in season or preferred
1/4 cup shredded organic coconut
2 tbsp ground flax seed
1 tbsp chia seeds
Instructions
In a large pot heat 1 tbsp coconut oil - add in the dry kasha (to lightly toast).

Add in the full can of coconut milk - mix well. Bring to a boil and then turn to low heat add in the flax meal and chia seeds - allow it to simmer and cook fully (approx. 20 mins)
Meanwhile
Preheat oven to *375

soak your raisins in warm water

grate the apple into a large mixing bowl + 1 tsp cinnamon

coat a baking pan with coconut oil and lightly dust the bottom with shredded coconut
Next
Once the Kasha is finished cooking - spread it onto a plate to cool it down (mixing it every so often).

While the Kasha is cooling prepare your choice of fruit for layering - set aside.

When the Kasha has cooled (luke warm) add it to the bowl with the apples and cinnamon. Mix well.

Spread a layer of the Kasha/Apple mixture (using about 1/2 of whats in the bowl) on the bottom of the casserole dish.

Next add a layer of fruit and complete with another layer of Kasha.

Finish by sprinkling shredded coconut on top and it's ready to bake! Bake for 40-50 minutes.
Notes
Optional: drizzle with honey (non-vegan) or maple syrup. Adapted from Inspired By Zuzana's Family in Czech
This recipe is a great addition to Meal Prep days – it's a perfect breakfast or post workout meal.
Dedicated to your health & wellbeing,