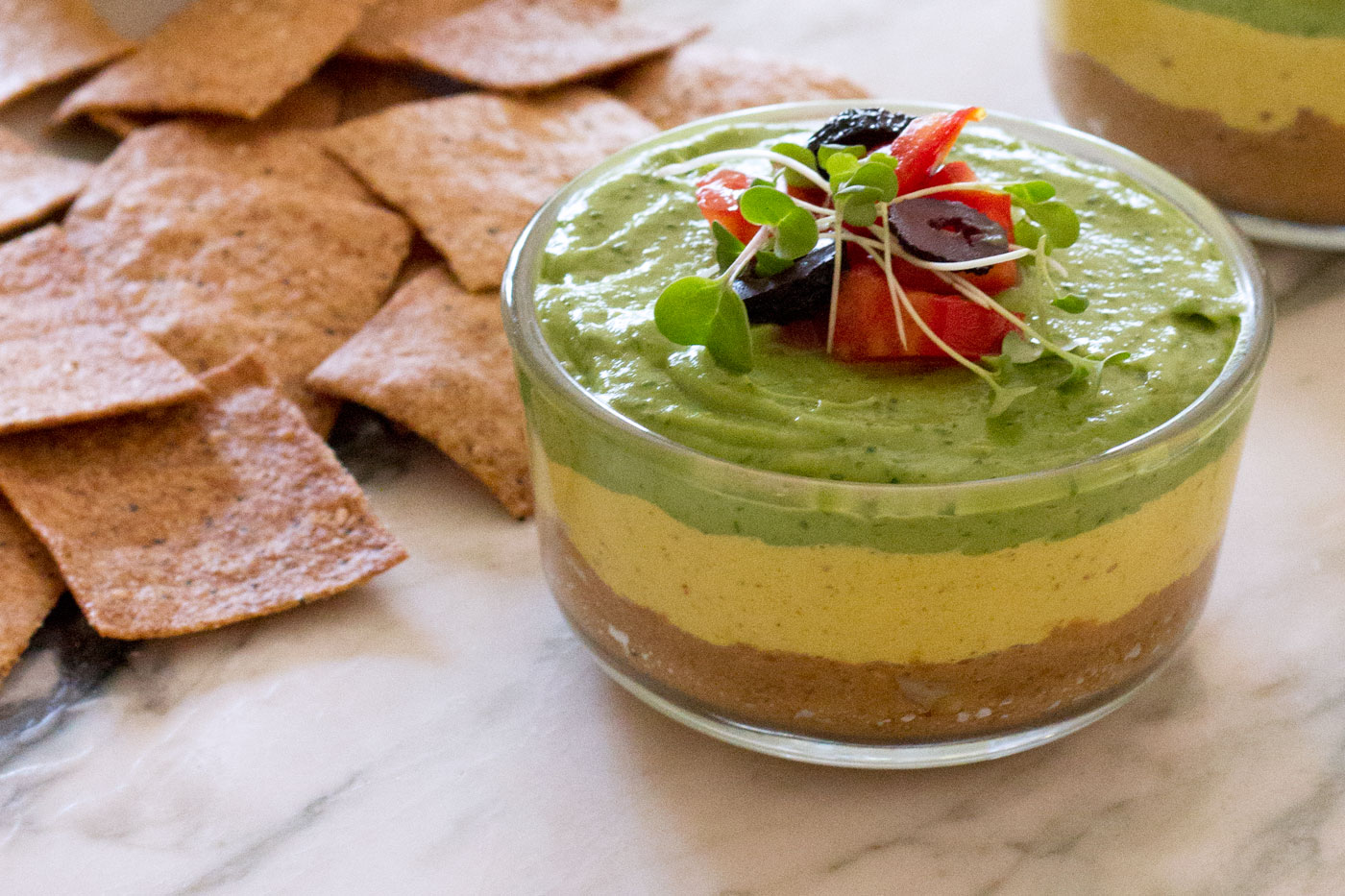 I declare this the best party dip and I think you'll agree! With most traditional dips, you end up eating empty calories that are hard on the digestive system and the waistline. On the other hand, this entire dish consists of only whole food plant-based ingredients and it's gluten-free, vegan and raw.
Even though the whole dish is made entirely from scratch, don't let that discourage you. The process is pretty simple and mostly involves mixing things in a food processor
Each layer is also super tasty on its own and would make a great addition to a salad, wrap or dip on its own.
I especially love the "refried beans", which are made from sunflower seeds and simply seasoned with cumin, smoked paprika and dulse. The texture of this layer is very similar to blended beans, however, you will find that it's much easier to digest.
We like to use small individual serving–sized bowls. However, you could prepare this in a large glass dish as well.
Three-layer party dip
Raw | protein rich | bone health Soaking time: 2+ hours Yields: 5 or 6 servings
Servings: 6 servings
Ingredients
"refried beans"
1 cup 145 g sunflower seeds, soaked in water for 2 hours
¼ cup 14 g sun-dried tomatoes, soaked in water for 30+ minutes
½ cup 120 ml purified water, or more if needed
1 tsp ground cumin
1 tsp sea salt
1 tbsp 3 g dulse flakes
1 tsp smoked paprika
"cheese sauce"
1 cup 140 g raw cashews, soaked in water for 2 hours
¼ cup 60 ml fresh lemon juice
1 large yellow bell pepper seeded and roughly chopped
½ cup 64 g nutritional yeast
¼ tsp cayenne pepper
2 cloves garlic
1 tsp turmeric
1 tsp Himalayan pink salt
1 tbsp 7 g ground flaxseeds
guacamole
2 avocados halved, pitted and peeled
Juice of 2 limes
½ tsp Himalayan pink salt
¼ tsp freshly ground black pepper
¼ cup 10 g fresh cilantro, roughly chopped
suggested toppings
Chopped tomatoes
Sprouts
Sliced black olives
Chopped green onions
Instructions
Prepare the "refried beans":
After soaking the sunflower seeds and sundried tomatoes, drain them and place in a food processor fitted with the S blade.

Process until they start to break down.

Add the water, cumin, salt, dulse flakes and smoked paprika and process until almost smooth but with a little texture, much like refried beans.

Distribute the mixture evenly into the bottom of the bowl(s) of your choice.
Prepare the "cheese sauce":
Be sure to soak the cashews for at least 2 hours; this will help soften the nuts to make a smooth, creamy sauce. Drain and rinse when ready to use.

In a high-powered blender, combine all "cheese sauce" ingredients and blend until creamy.

Spread the mixture smoothly over the "refried beans."
Prepare the guacamole:
In a food processor, combine all the guacamole ingredients and blend until smooth.

Spread on top of the dip.

Garnish with any additional toppings of your choice.

Serve immediately or cover and refrigerate.

Can be made up to 1 day in advance.
Notes
serving suggestions: This goes great with: • Fresh-cut veggies • Crisp endive leaves (just gently rinsed and pat dry before serving) • Sprouted-grain chips or crackers
If you enjoyed this recipe, you may also want to try these:
Healthy Lentil and Vegetable Hummus
Mock Tuna Salad
Protein Guacamole
Dedicated to your health and wellbeing,
Zuzana & Nikki