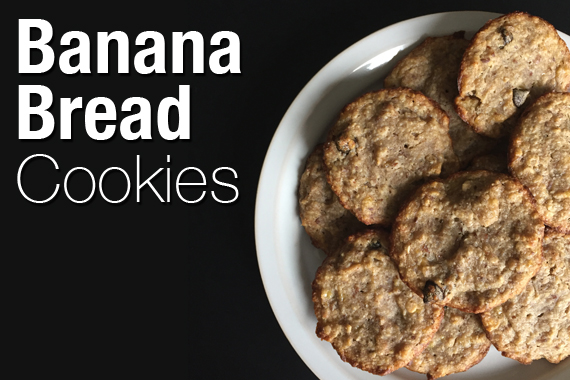 Bread + Cookies?
Yep you read it right! These are a wondrous union of banana bread and cookie 😛
I will keep this post simple, just like the recipe. I started in the kitchen with the intention of making a loaf of banana bread for my Nephew. As I was preparing the batter, I changed my mind. Instead I decided to make small individual servings, this way he wouldn't leave half of it untouched.
Simple – and that's how the bread+cookie was created!
As I already mentioned, they are quite easy to make, and done in one bowl! If you are a mom or dad who wants to provide your children with healthy, yummy and nutritious snacks, these are a must try!
Banana Bread Cookies
They look like a cookie yet taste and feel like banana bread. Yum!
Ingredients
3 over-ripe bananas
1 tsp vanilla bean extract or from actual bean
1/2 tsp cinnamon
1 flax egg see below
3 tbsp coconut oil
1 1/4 cup gluten free oats grind to create a flour
1/4 cup raw sugar coconut
1 tsp baking powder
1/4 vegan chocolate optional
Instructions
Preheat oven to 350*F.

Start by combining the flax egg, and set aside.

Next, in a large bowl mash the over ripe bananas and continue to add the remaining ingredients. Be sure to measure 1 1/4 cup oats and then blend to create a flour. Mix well, so there are no clumps of oil or banana. If the batter seems runny add extra whole oats (it should be like a cake batter texture).

Using coconut oil, lightly cover a baking sheet - using 1 tbsp start putting the batter onto the cookie sheet.

Bake for 20-25 mins or until golden brown.
Notes
Flax Egg - combine 1 tbsp flax meal + 3 tbsp water
Hope you and your children enjoy them!
With love and gratitude,