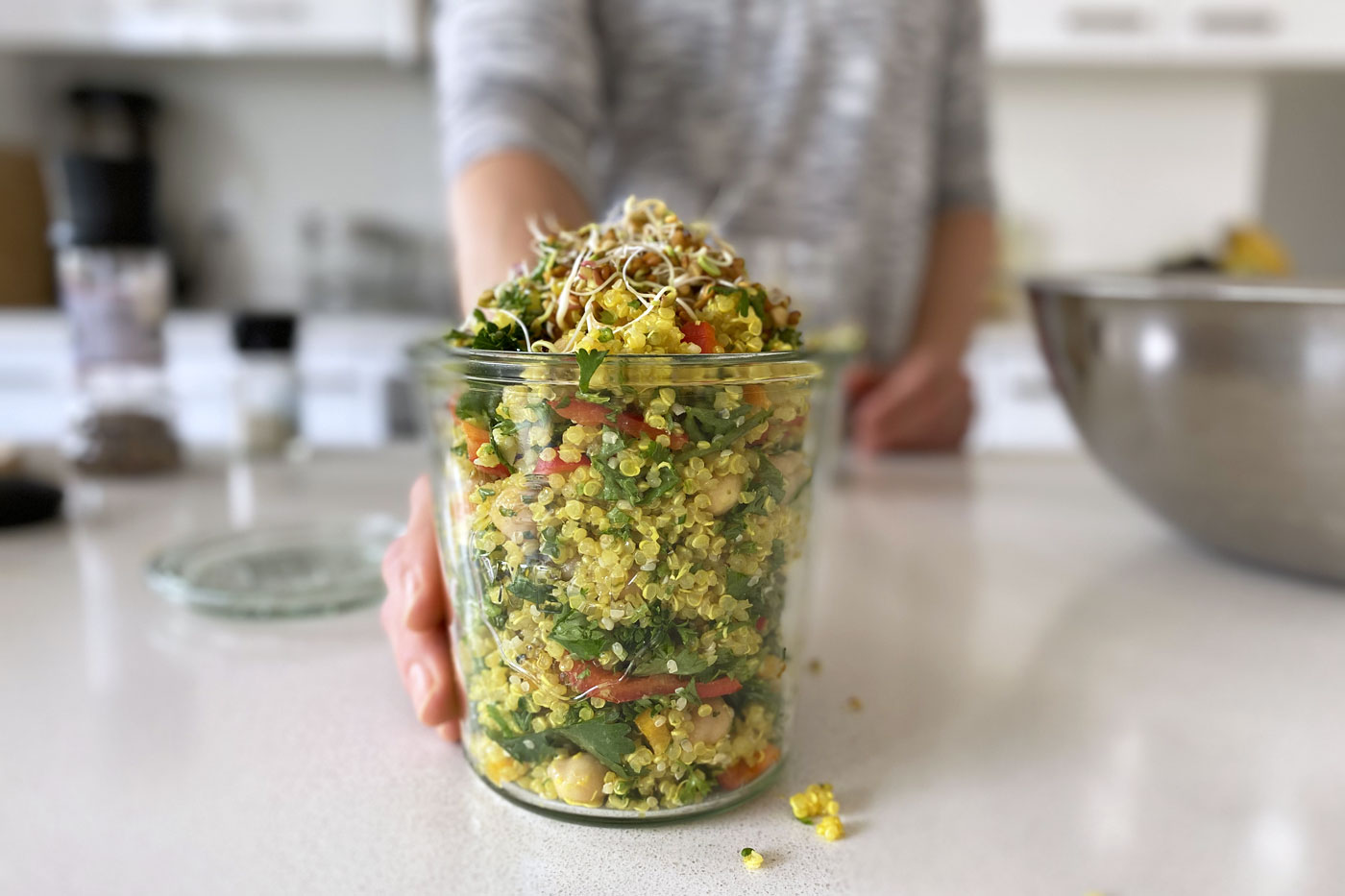 Whether you are searching for a healthy and quick lunch to take to work or just trying to put dinner on the table without having to spend lots of time in the kitchen, we've got you covered with a quick healthy vegan quinoa recipe. It feels so perfectly satisfying and nourishing, thanks to the fresh peppers, herbs, grains, and legumes. We hope you'll give this one a try and don't forget to check out the video 🙂
The Health Benefits Of Vegan Chickpea
Quinoa Salad:
CHICKPEAS
Chickpeas may not look like it, but they deliver quite a few health benefits.
The ability to promote growth
Protect the heart
Improve digestion
Build strong bones
Prevent chronic disease
Lower risk of genetic diseases
Avoid diabetes
Help with weight loss.
QUINOA
This ancient grain is an incredible health-boosting superfood, with loads of fibre, antioxidants and all nine essential amino acids quinoa wins the prize for being one of the healthiest foods on earth. And—bonus!—it's delicious, too.
HEMP HEARTS
Hemp has been cultivated for millennia for fibre, clothing, paper, building materials, and of course, food. Rich in zinc and magnesium, which may contribute to a healthy immune function and bone health, hemp seeds are also a good source of iron. They consist of 36% protein with all the essential amino acids and have healthy plant fats
VEGETABLES
Vegan chickpea quinoa salad relies heavily on the flavour-boosting, vitamin-packed support of bell peppers, parsley and fresh sprouts if you wish.
Quick Vegan Chickpea Quinoa Salad
This veggie-packed chickpea quinoa salad with light vinaigrette dressing is so simple. It's the perfect plant-based weeknight dinner! Hello, meatless-Mondays.
Servings: 4 servings
Ingredients
For the Salad
1 cup dry quinoa (2 cups cooked)
2 cups of water
1/4 tsp turmeric powder
1/8 tsp. salt
1/8 tsp. pepper
1 cup cooked chickpea
3 tablespoons hemp hearts
1 cup fresh herbs of choice chopped (parsley, cilantro, basil, arugula)
1-2 large bell peppers chopped
salt and pepper to taste
For the Dressing
3 tablespoons extra-virgin olive oil
juice of one large lemon about 1/4 cup
1 clove of garlic minced
1 tablespoon yellow mustard
Instructions
Cook the quinoa. Combine the quinoa, water and turmeric in a medium saucepan over medium-high heat. Bring to a boil and then reduce the temperature to maintain a simmer. Simmer, covered, for about 15 minutes, or until all the water is absorbed. Remove the saucepan from the heat and let it stand covered for about 5 minutes. Then remove the lid, fluff with a fork and set aside to cool.

Make the dressing. In a small bowl whisk together all of the ingredients. Set aside.

Once the quinoa is cooled, make your salad. Combine all of the ingredients in a large bowl. Pour the dressing over the salad and toss gently until well coated.

The salad will keep for up 3 days in the refrigerator and taste even better the next day, so a great option for meal prep.

Vegan Quinoa Salad Recipes
We're all about making big salads in our house these days. Fast, highly nutritious, versatile and fun to create, they also pack all the goods—greens, veggies, proteins, healthy fats, grains, and superfoods. Plus, they're ideal for making ahead! Just assemble your salad ahead of time, and dress it when you're ready to eat.
More Vegan Salad Recipes:
Plant Protein Pasta Salad Bowl -an easy weekday meal loaded with fresh greens, cabbage, cooked black lentils, and goji berries all tossed in creamy lemon hemp dressing. This is easily one of the quickest and tastiest meals you will pull off all week.
Marinated Kale Salad – this is a super way to prepare and enjoy kale, plus this recipe comes together in just 10 minutes and you can serve it as a side dish or – as we do – the main meal.
Czech Style Vegan Potato Salad – creamy salad is easy to make and requires only a few simple ingredients. It is plant-based (dairy-free, egg-free), oil-free (no mayo), nutrient-rich, and packed with plant protein!
Enjoy all the plant-powered goodness!
P.S. Does this recipe look appealing to you? Great! Feel free to tell us about it in the comments below. And don't forget to share it with your friends and help them thrive on plants!