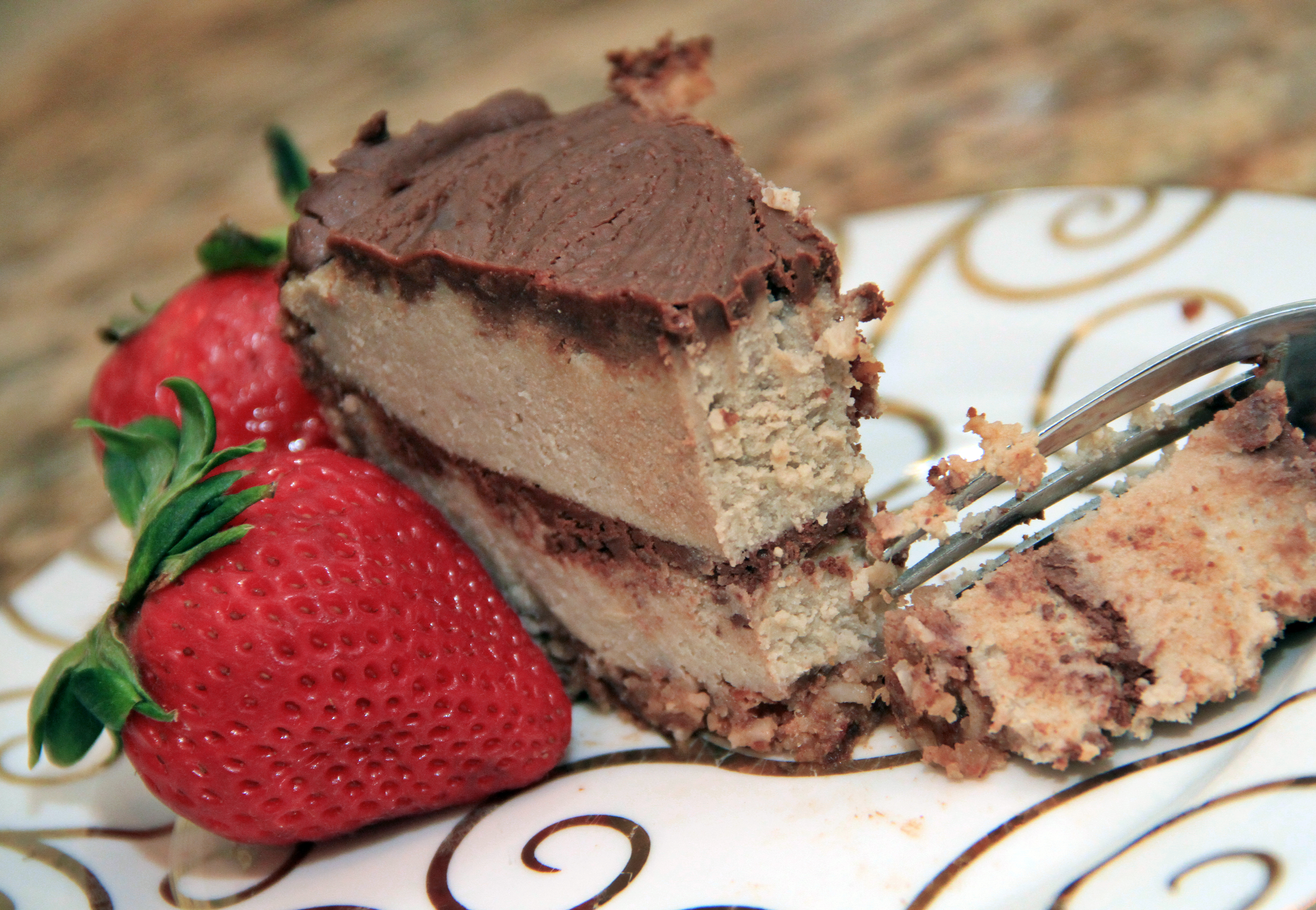 Mmmmmmmmmm……………………..Cheesecake!
Did you know……
Cheesecake is believed to have originated in Greece more than 4,000 years ago.  It is also believed to have been served to athletes competing during the first Olympic games in 776 B.C. to give them energy. So if it's good for Greek athletes is good for us, right? Here is a totally vegan recipe for you, hope you enjoy it as much as we did 🙂
Crust:
1 1/2 cups raw almonds or pecans (I used both)
1/2 cup shredded coconut
2 cups pitted dates
pinch of Sea Salt
Directions : In a food processor, combine nuts, coconut, dates, and salt. Process the mixture until it is well combined, a little bit chunky, and sticky. The food processor may shake around a lot, so be sure to hold it in place while it is running. When it is done, press the crust mixture evenly into a 9 inch pie pan.
Filling
1/2 cup whole unroasted cashews, soaked in water for 2 to 8 hours or until very soft
1/2 cup well-mashed banana (about 2 medium-size bananas)
1 (12-14 ounce) package silken tofu, drained
2/3 cup raw sugar
2 tablespoons coconut oil, room temperature
4 teaspoons cornstarch
1 tablespoon lemon juice
2 teaspoons pure vanilla extract
1/4 teaspoon almond extract
1/4 teaspoon sea salt
2/3 cup semisweet chocolate chips
1. Preheat the oven to 350 degrees F. Lightly spray a 9-inch springform pan with cooking spray. Prepare the crust and press it very firmly into the pan. Bake for 10 minutes and move the pan to a cooling rack.
2. Meanwhile, prepare the filling: Drain the cashews and blend with the banana, tofu, sugar, coconut oil, cornstarch, lemon juice, vanilla and almond extracts, and sea salt. Blend until completely smooth and absolutely no bits of cashew remain.
3. Set aside 1/3 cup of batter and pour the rest into the crust. Melt the chocolate chips over a double boiler or in a glass bowl in the microwave. Stir the melted chips with a spatula until smooth; add reserved batter and stir until smooth.
4. Spoon dollops of chocolate batter randomly onton the cheesecake. Poke the end of a chopstick into a chocolate batter blob and gently swirl the top to creat a marble-like pattern; repeat with the remaining chocolate blobs.
5. Bake the cheesecake for 50 to 55 minutes until the top is lightly puffed and the edges of the cake are golden.
6. Remove the cake from the oven and set on a cooling rack for 20 minutes, then move it to the fridge to complete cooling, at least 3 hours or even better, overnight. To serve, slice the cake with a thin, sharp knife dipped in cold water.