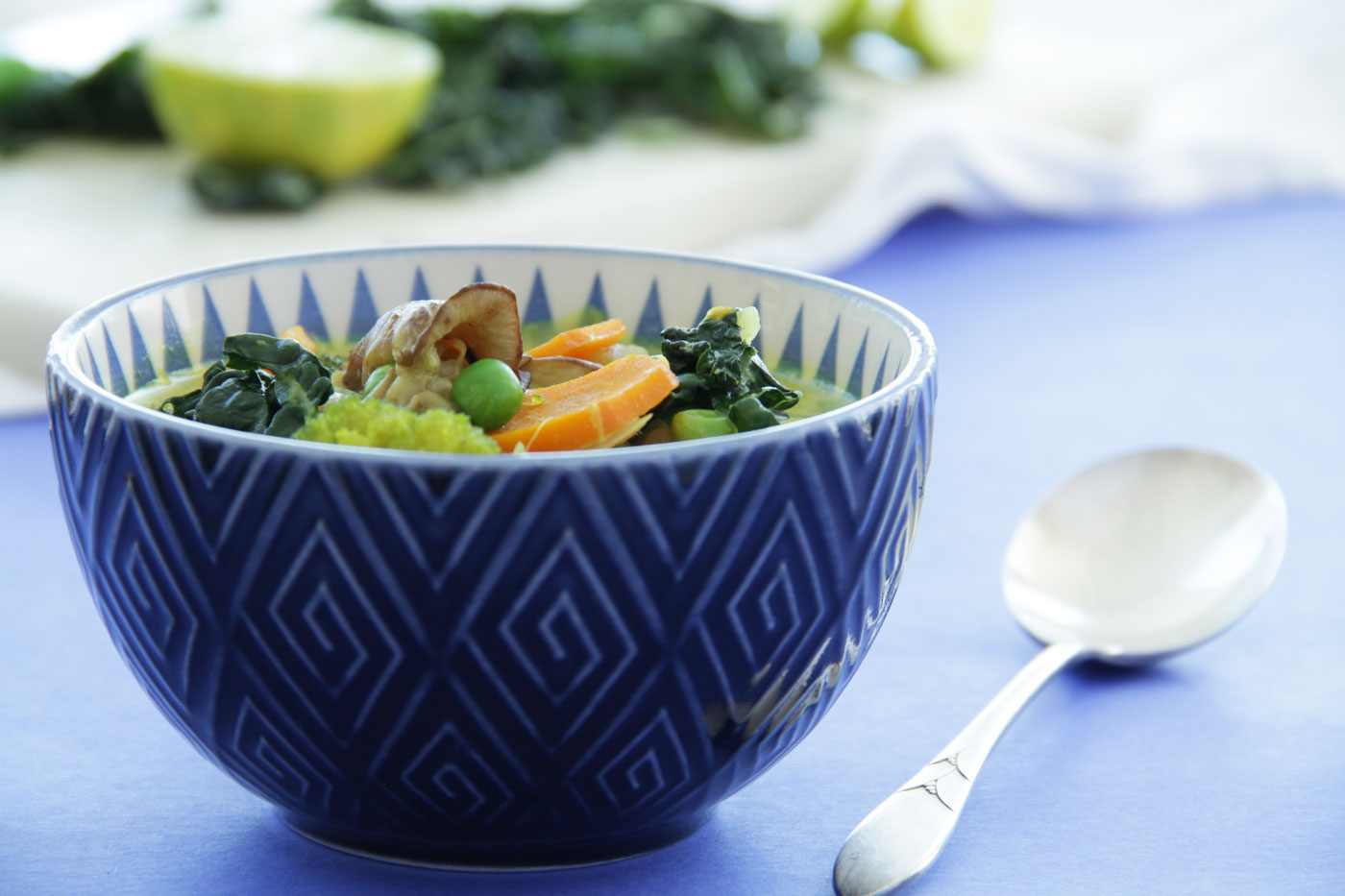 Home made Indian and Thai curries are delicious! However many people shy away from them. I used to believe that in order to cook a great tasting curry I will have to make a long list of exotic spices, visit a special grocery store, and slave in the kitchen for hours. Who has time for that, right?
This is exactly why we are excited to share this easy, super fast Thai curry recipe that require no special expertise, comes together fast, and tastes so darn good, you will want to make it again – soon!
#PLANTPOWERED INGREDIENTS: 
GINGER
Ginger is an herb that has been used both as food and medicine since ancient times. It's a powerful remedy to treat stomach issues such as motion sickness and (attention expecting moms) morning sickness, nausea and vomiting. It's believed that the properties of ginger are to help reduce inflammation, relieve muscle soreness and ease symptoms of arthritis.
LEMONGRASS 
This plant is very common in the Thai and Vietnamese cuisines. It's usually used as an herb and flavouring in curries, soups, and curry pastes. It's also popular for tea. Nutritionally, lemongrass is a good source of vitamins A and C, folate, folic acid, magnesium, zinc, copper, iron, potassium, phosphorus, calcium and manganese. It also has minute traces of B vitamins. To lean more about lemongrass and how to use it in your kitchen read "Lemongrass – Everything You Need to Know"
Kale packs a ton nutrition including vitamin K, lutein, vitamin C, beta-carotene, and it is even rich in calcium. Kale, like other dark green veggies, may be helpful in preventing various cancers such as colon, prostate and ovarian. Its abundant vitamin K content is important for bone health, preventing the effects of osteoporosis. And the folic acid and B6 provide cardiovascular support and prevent heart disease.
Thai Curry In a Hurry, vegan
Servings: 3
Ingredients
2 tbsp coconut oil
1 shallot thinly sliced
1 large chunk at least 2 inches / 5 cm fresh ginger root, minced
1 generous tsp turmeric powder
1 tsp yellow curry powder
1 tsp sea salt
1 400ml can of coconut milk
2 pieces of lemon grass smashed
5 kaffir lime leaves* optional but highly recommended
3 medium carrots sliced
3 cups of broccoli chopped
2 cups of organic mushrooms we used mix of oyster & shiitake, cut into larger pieces
1/3 cup raw cashews
2 large handfuls fresh kale chopped
1/2 lime juice
Instructions
In a deep skillet over medium heat, add the coconut oil and shallot. Sauté for 3 min. Add in ginger, turmeric, curry powder and salt, cook for another minute (adding slash of water if too dry).

Mix in the coconut milk, lemongrass and kaffir lime leaves. Stir it up and bring to gentle boil.

Toss in the carrots and broccoli pieces. Cook for 5 min then add mushrooms and cashews. Lower the heat and simmer for about 10 minutes. Stir occasionally.

Serve over quinoa, black rice or zoodles (spiralized zucchini).
Notes
*Kaffir lime leaves are much cheaper bought frozen in oriental supermarkets and keep well in the freezer till needed.
We hope you give this easy and quick recipe a try!
Enjoy and Thrive,