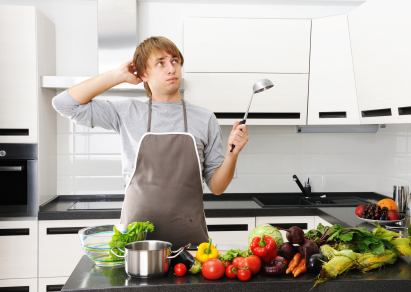 One of the questions we are asked about all the time is how to make "easy" veggie meals. Well, here's the good news …it's just as easy to make delicious healthy vegetarian meals as it is any other kind of food.
Here are some of our favorite breakfast options:
Delicious Oatmeal – click here for recipe
Morning Power Smoothie
Lazy Man's Breakfast – Ezekial English Muffin with Almond Butter and Banana
Some quick and easy lunch options:
Salad with Beans
Hot Home Made Soup – click here for recipe
Pita with Hummus and Vegetables
And finally some easy dinner ideas:
Tofu and Veggie Stir Fry
Home Made Chickpea Burger – click here for recipe
Brown Rice Pasta with Edamames
Don't forget the snacks:
Fresh Cut Veggies with Cashew Spinach Dip – click here for recipe
Home Made Bars or Muffins
Dry Fruit, Nuts, and Seeds
All of these options are quick and easy – and packed full of nutrients. Give them a try, I'm sure you'll love them.
After we recorded the podcast I got thinking …putting together a proper vegetarian diet is like when we opened our martial arts school.
At first, we really struggled. There were so many books out there about how to succeed in business …but most of them just gave us general ideas without much direction on how to really implement them. So we kept trying to implement ideas we learned about, but struggled to put them all together.
What we really needed was a step-by-step blueprint on how to really run a business. We looked into working with a consultant, but we were discouraged by a lot of our peers. We were told that it wouldn't help much – that is was a scam – but out of desperation we decided to find some help.
After a great recommendation from one of our successful friends in our industry, we decided to work with a coaching group. He recommended this particular group because they provided a do-this-do-that plan for what we should be doing every day in our business.
We knew that we wanted to work, but we just weren't sure what to be working on …and in what order.
After just a few short months everything turned around. The investment we made in the coaching more than paid for itself. Days became more exciting as we knew that we were going to progress – not only that, the stress went away and things became FUN!!
Funny thing is, the people who told us that a blueprint like this wouldn't work started calling us and asking for advice.
It really was one of the best investments that we've ever made …and I know for a fact that we wouldn't be as successful as we've been. Life would look a lot different.
Here is a great program that provides a complete set of meal plans. If you think that might be helpful click here to check it out. It's worked for a lot of people we know, and I think it will help you too.
If that's not for you …I know that you'll love the recipes that we posted above.
Please let us know how you like them.
Stay fit,
Joe
P.S. If you're looking for an easy meal-by-meal guide check out this resource right away!
P.P.S. If you found this post helpful – please click the like button below.