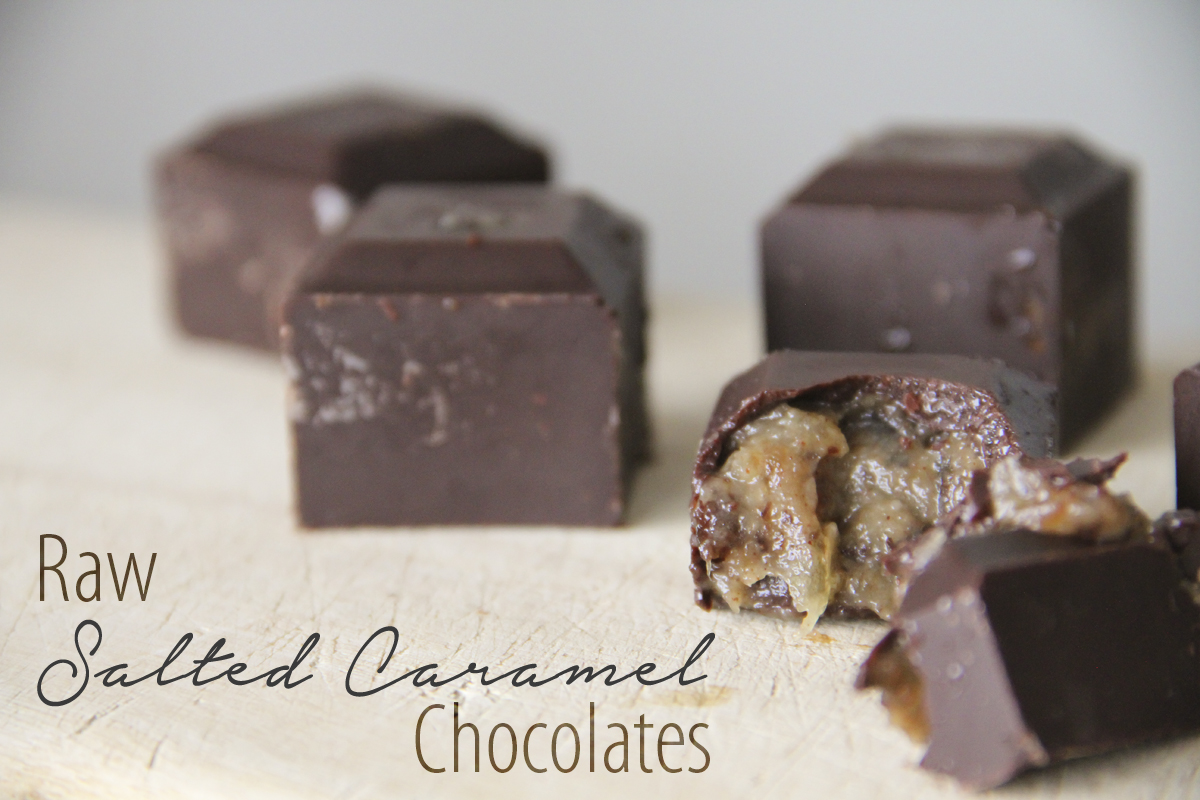 After my first bite of these chocolates, my eyes widened and I actually said to myself "are you KIDDING me!??". I couldn't believe how delicious they were!
Never having made chocolates before, surprisingly it is fairly easy. You just need a little patience for the cacao to melt and that's about it 😉
Raw Salted Caramel Chocolates
Rich, gooey, sweet caramel made from dates, encased in a raw chocolate shell. SO indulgent and yet so simple and healthy.
Ingredients
For the Salted Caramel
2 tbsp organic tahini
6 organic medjool dates
pinch of cinnamon
1/4 tsp natural vanilla bean extract
1/4 tsp himalayan sea salt
1 tbsp water more if needed
For the Raw Chocolate
1 cup raw cacao butter
1 cup organic cocoa powder
1/4 cup maple syrup or to taste
Instructions
For the Salted Caramel
Place all ingredients into vitamix (or high speed blender). Blend until a thick caramel like texture is formed. Set aside.
For the Raw Chocolate
In a double broiler, grate 1 cup of cacao butter into the top portion. Place on low heat, allowing it to melt - stirring occasionally.

Meanwhile, using coconut oil - lightly cover silicone ice cube tray or use a chocolate mould.

Once all the cacao butter has melted, remove from heat and slowly whisk in the cocoa powder and maple syrup.

Fill your ice cube, or chocolate tray about 1/2 way. Next using a teaspoon, carefully drop the caramel into each section. Pour the remaining chocolate over the caramel to fill the tray.

Place in fridge and let it harden. Once it is cooled and hard, carefully remove from the tray.
You won't have to feel guilty eating these! Cacao is one of the most stable fats around, it provides a healthy dose of omega-6 and omega-9 fatty acids. Cacao Butter contains natural antioxidants, as well as nutrients that support mood and the immune system.
With love and gratitude,