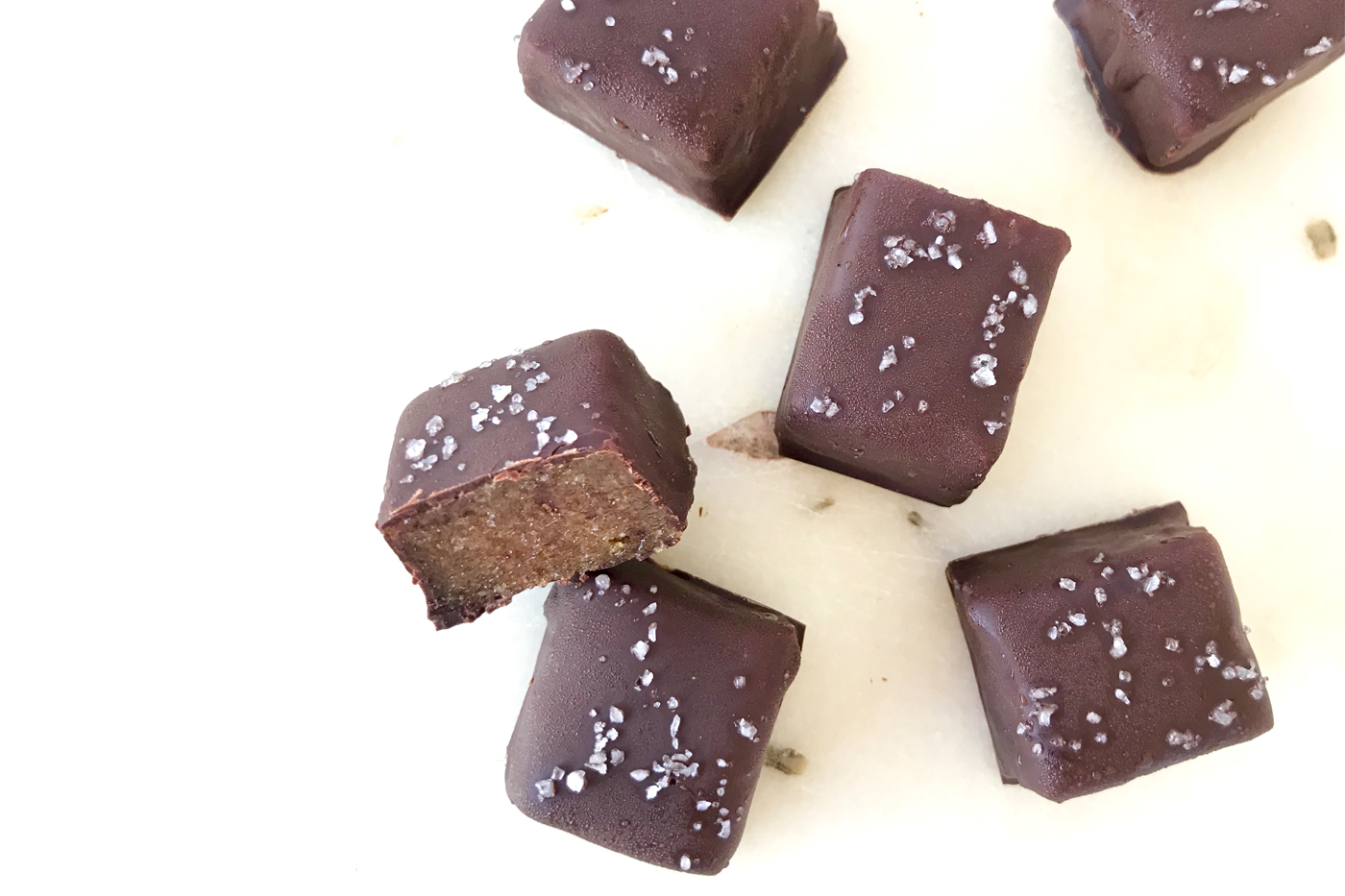 Super easy 5 ingredient Vegan Chocolate Salted Caramels! We're all about treating yourself and health is all about finding that balance between nourishing your body and nourishing your soul.
How do we accomplish this without feeling guilty, sluggish, or downright mad at ourselves? Choose only healthy, whole food, plant-based ingredients, and make it yourself! Let's admit it, we have all been there… we lose our willpower, we indulge (likely without even slowing down and enjoying whatever it may be) and what are we left with? Unsatisfaction… guilt… anger… disappointment…
We always encourage our AV Coaching members to look at ingredients! Ask yourself, what will this do for me? These small adjustments on how you choose what you consume can be a game changer!
With this in mind, when we made these chewy caramels we wanted to be sure that we were using ingredients that would nourish our body as well as satisfy our soul. You can still feel satisfied with these sweet treats and trust that all the ingredients are good for you. There are no additives, preservatives, processed foods…
These caramels are made with whole, plant-based ingredients and supercharged with Maca (learn more about this superfood HERE). I was first inspired by Nadia's Healthy Kitchen due to there simplicity – few ingredients and easy to make! They are a great last-minute treat to beat any chocolate lovers cravings, share with others or impress dinner guests!
Vegan Chocolate Salted Caramels
Hope you enjoy these chewy and delicious salted chocolate caramels as much as we did! Just be warned that they're quite addictive! They taste better than any store-bought chocolate especially because they are made with love, using only pure wholesome, plant-based ingredients.

Servings: 12 pieces
Ingredients
12-14 medjool dates (pitted)
1/2 cup raw tahini
1 tbsp organic maca powder (we used Earth Circle Organics)
1 pinch Himalayan sea-salt (extra to decorate)
1 bar Dark Organic Chocolate (used Alter Ego-Blackout)
Instructions
Add dates, tahini, maca and sea-salt to a food processor and blend until well combined (should start to form a ball in the food processor).

Place the "caramel" on a piece of parchment paper and cover with another piece. Using a rolling pin start to flatten to a square/rectangle shape about 1/2" thick. Place in the freezer for at least 20 minutes or until firm enough to cut.

Once the caramel is ready - leave it in the freezer and start melting the chocolate to cover.

Melt the chocolate by using a double boiler or a pot filled with water and a heat safe bowl or other pot on top. Break the chocolate bar into pieces in the top section and turn the burner on and start to boil the water. Stirring occasionally to prevent the chocolate from overcooking. Once the water has boiled and all the chocolate is melted turn the burner off or on low.

Next, you will remove the caramel from the freezer and place it on a cutting board. Cut it into square or rectangle pieces (the average size of a piece of chocolate).

Take a piece of the caramel and dip it in the melted chocolate using a spoon. Be sure to cover the whole piece. Place the chocolate covered caramel on to a parchment covered plate. Sprinkle with Himalayan sea-salt (before the chocolate hardens). Continue with other pieces then place the plate in the freezer.

Once all the chocolates have hardened (at least 30 min freeze time) place them in a glass airtight container and store in the freezer. The caramel in these chocolates does not freeze completely solid so you can eat them straight from the freezer 😉 Or, for a softer treat remove 5-10 minutes before serving.
We hope you enjoy these chewy & delicious chocolate salted caramels as much as we did! Just be warned that they're quite addictive! If you are looking for more healthy, plant-based treats try our Raw version of Salted Caramels or our Vegan Pecan Turtles.
Remember, read the ingredients and understand how the choices you make are affecting you. Is it benefiting your health and wellbeing or preventing you from thriving!? If you struggle with your willpower or understanding what food choices to make – let us help! We have designed a 24-week program that is a clear and easy guide to instil healthy habits and practices into your daily life.
Dedicated to your health and wellbeing,
Nikki & Zuzana