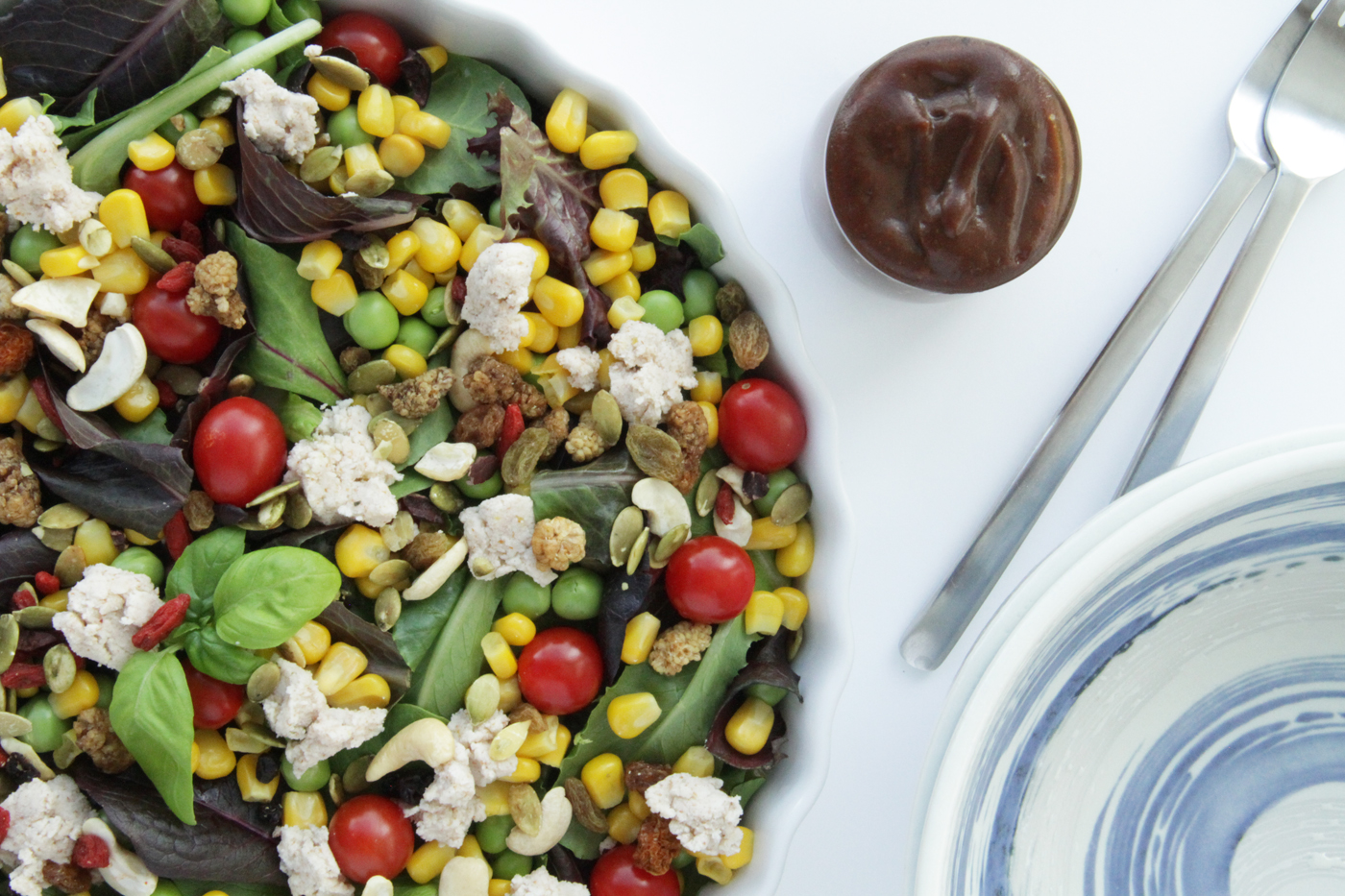 On our recent trip to the Greek Islands, we not only came home with  super cool memories and a killer tan; we also brought home inspiration for some new recipes. Perhaps you have already try one of our favourites – the Greek style Spaghetti Squash Pasta dish and today we are sharing this Good Heart Salad. We really enjoyed a similar dish at The Good Heart tavern, family run traditional Greek restaurant on Santorini. Nikki and I got our creative juices flowing and after making some adjustment like swapping the goat cheese for vegan nut cheese and creating our own sweet plum dressing we are presenting you this beauty.
This salad taste the best in the summer, when the vegetables are fresh from your local farmer's market or vegetable stand. We hope you enjoy it 😉
The Good Heart Salad with Vegan Cashew Cheese
Vegan, Gluten Free, Raw
Servings: 2
Ingredients
For The Salad:
4 cups mixed fresh greens and herbs any combination of arugula, spinach, baby kale, chard, basil, parsley
8 leafs Romain lettuce chopped
1/2 cup fresh sweet corn
1 cup shelled baby peas or green peas
1 cup cherry tomatoes
For Vegan Cheese:
1 cup raw cashews soaked for at least 4h or cashew pulp (leftover from nut milk)
2 Tbs apple cider vinegar or to taste
2 Tbs fresh lemon juice
2 tablespoons water
3/4 teaspoon sea salt
Topping:
1/4 cup raw sprouted fruit & nut mix (we used combination of cashews, pumpkin seeds, mulberries, raisins and goji berries)
For The Dressing:
1/4 cup prunes dried plums, soaked for at least 10 min
1/3 cup balsamic vinegar
1/4 cup hemp oil or extra virgin olive oil
salt and pepper to taste
1-2 Tbs of filtered water if you prefer a thinner consistency
Instructions
Make The Vegan Cheese:
Add the soaked cashews/pulp, apple cider vinegar lemon juice, water, and sea salt to a food processor. Pulse a few times and then process for 4-5 minutes, stopping occasionally to scrape down the sides as needed.
Make The Dressing:
Combine all ingredients (except water) in a blender and puree until smooth.

If you prefer a thinner, more pourable dressing, add tablespoon or two of filtered water and blend.
Assemble:
Wash and pat dry all your vegetables. Place the cut greens and Romain lettuce into a large bowl.

Top with sweet corn, green peas and tomatoes.

Take about 1/2 cup of the vegan cheese into your hands and with your fingers drop little pieces on top of the greens. (Rest of the cheese can be stored in the fridge for unto 5 days)

Sprinkle the fruit/nut mix on top of your salad.

Serve with generous amount of dressing.
Enjoy,