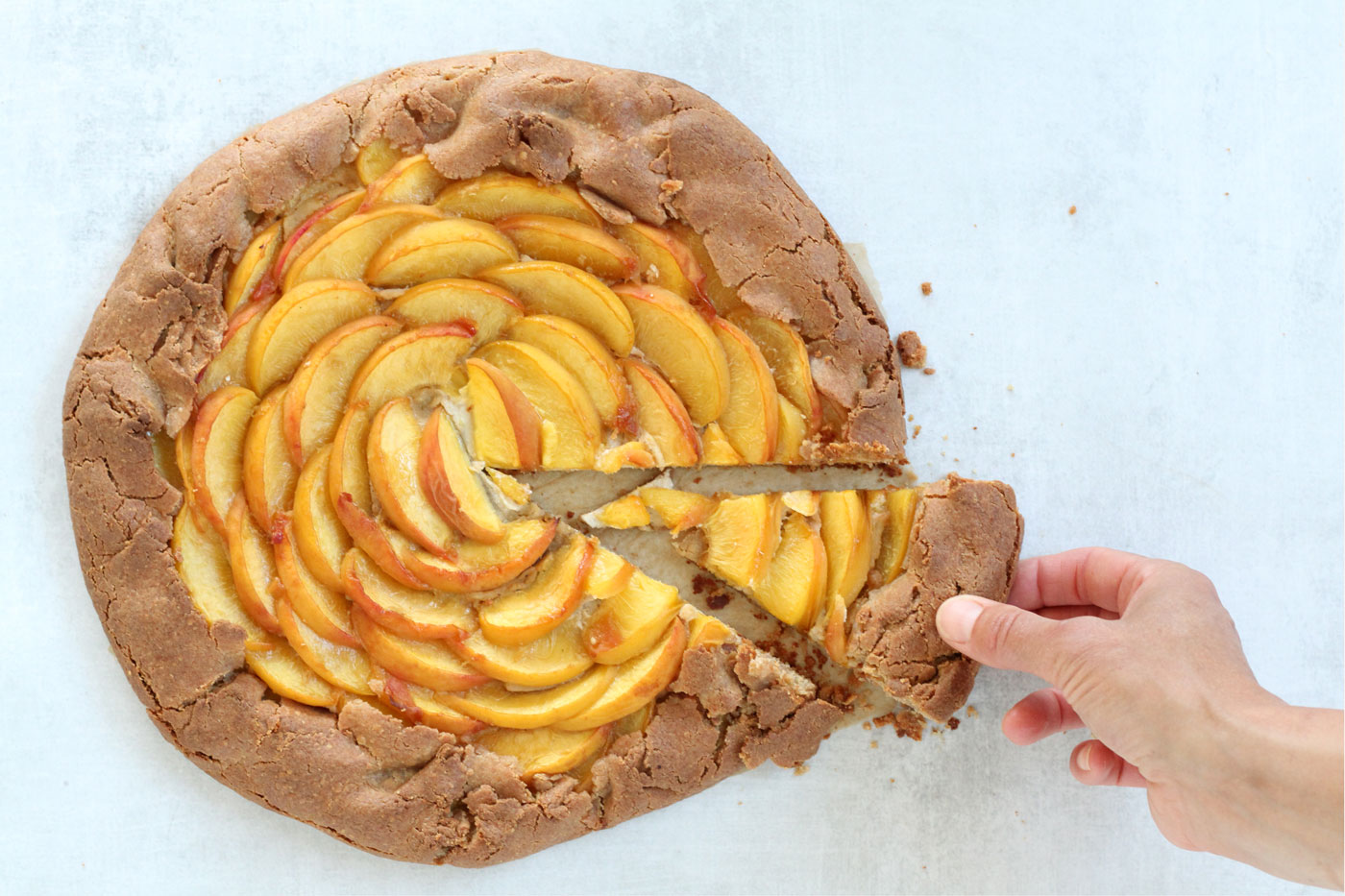 Galettes are a gift to any beginner bakers out there, because they're meant to be freeform and a little rough around the edges. In other words, you can't get it wrong, so if you are looking to make an easy and visually appealing summer dessert that will impress the crowd, than this Peaches and Cream Vegan Galette is IT!
As per the filling, we decided to go with peaches and cream. We love fresh peaches and right now they are just abundant here in British Columbia. However, you can top the cream filling with whatever stone fruit or berries that are in season.
Peaches and Cream Vegan Galette 
dairy free, mineral rich
Ingredients
Crust Dough
1 1/4 cups spelt flour use oat flour for GF version
1 cup quinoa flour
1/2 cup more as necessary coconut oil, solid cut into pieces
1 teaspoon salt
1 tablespoon unrefined coconut sugar
1/3 – 1/2 cups ice water
Cream Filling
1 cup raw cashews soaked for 2+ hours
2 tablespoons maple syrup
1/2 teaspoon vanilla powder or 1 teaspoon vanilla extract
1/4 cup coconut milk
1 teaspoon lemon zest
1 tablespoon lemon juice
water as needed
Peach Filling
4-5 not-overly-ripe peaches about 750g total, pitted, sliced into 1/4-inch to 1/2-inch slices
3 tablespoon unrefined coconut sugar
2 tablespoon lemon juice
pinch of sea salt
1 teaspoon finely grated peeled ginger optional
Instructions
Crust:
Place the spelt and quinoa flour, salt, and sugar in the food processor fitted with the S blade. Pulse to combine.

Add your solid coconut oil and pulse until the mixture is crumbly and will stick together when you squeeze it between fingers.

Add in 1/3 cup water, or until the dough holds together well and is visibly starting to come together in the food processor. The dough should be easy to shape into a large ball. If necessary, add a little more water until the texture is right.

Turn the dough out onto a lightly floured work surface and, using your hands, flatten the dough into a thick disk.

Wrap it tightly in Beeswrap or plastic wrap and let it set up in the fridge for at least 20 min and up to 24 hours.
As the dough chills, prepare the cream filling:
Soak cashews in very hot water for 2 hours or in cool water for 6-8 hours.

Drain thoroughly and add to a blender. To the blender, also add remaining Cream Filing ingredients.

Blend until creamy and smooth, scraping down sides as needed. It's important to get the consistency as creamy and smooth as possible, so blend on high with a high-speed blender until the texture is silky and smooth. If the texture is too thick, add a little bit of water.

Transfer into a medium bowl, cover and refrigerate until ready to use.
Prepare the peach filling:
In a large mixing bowl, stir together the sugar, lemon, ginger, and salt, until combined. Gently toss with sliced peaches.
Assemble the galette:
Heat the oven to 375°F.

Remove the crust dough from the refrigerator. Place a large piece of unbleached parchment paper (big enough to fit a sheet pan) on a work surface and dust with spelt flour. Flour a rolling pin. Transfer the chilled galette dough onto the parchment paper and evenly roll it out in a circle shape approximately 11 inches (28 cm) in diameter. The dough may split on the edges as you roll. Don't panic, it's fine. Simply pick some overhang pieces, even out the cracks, and roll over to seal them up. Also, the dough might be hard at the beginning (depending on how long it sat in the refrigerator). If it's not workable, allow it to sit at room temperature for a few minutes.

Transfer the parchment paper and the roll-out dough onto a sheet pan. (important! Don't assemble the galette and then try to transfer it!)

Spread the cream filling evenly onto the dough, leaving about 1 inch of a border from the edge of the crust. Top with the peach slices, forming a circular pattern.

Fold over the edges of the crust to enclose it. If you get some tears, just press the dough back together with your fingers.

Place in the oven and bake for 35-40 minutes, rotating halfway through, until crust is deep golden brown everywhere, fruit is softened, and juices are bubbling. Let galette cool 2 hours before serving.
Notes
PEELING STONE FRUIT I don't mind leaving the skin of my fruit intact especially when it's organic. However if you prefer getting rid of the peel, a vegetable peeler will work well for ripe fruit. If your fruit is still pretty hard, you can use this French technique (called concasse) to quickly slip it out of its skin. Bring a large saucepan of water to a boil. Use a paring knife to make a small X in the bottom of each peach. Gently drop the peaches into the boiling water for 10 to 45 seconds, just until the skin at the X starts to curl. Transfer the peaches to a bowl of ice water. Peel them when cool.
Enjoy eating this on it's own or try serving it with the following:
Go-To Raw Coconut Yogurt (fermented)
Dirty Chai Nice Cream
Dedicated to your health and wellbeing,
Z&N