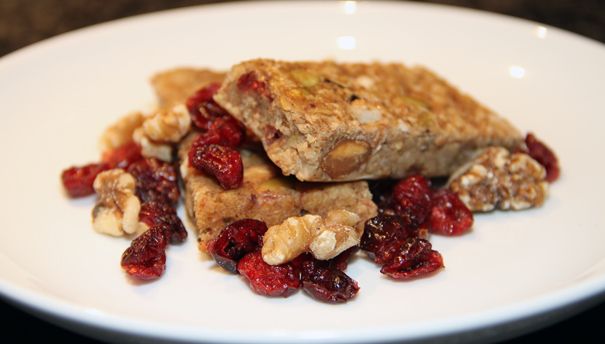 It's the season of giving. Yes, it is.
This Christmas season, give the gift of all-natural yummy goodness – Homemade Granola Bars. You can wrap them up and surprise your coworkers, friend and family members.
I love sharing these with my clients as it makes a perfect after workout snack.
Also a healthy addition to your kids lunch bags, quick breakfast on a go or take it on your afternoon hike…or last minute Christmas shopping trip 😉
Ingredients:
1/4 cup almond milk
1/2 cup agave nectar
1 tbsp ground flax seed
1/4 cup coconut oil, melted
1 tsp vanilla extract
2 medium very ripe bananas
1/2 cup cranberries and/or raisins
1 cup of mixed nuts and seeds
1.5 cups regular oats
1/2 cup unsweetened coconut
1 tsp cinnamon
1/4 cup whole wheat flour (or other flour)
1/2 tsp baking powder
1/8th tsp salt 
Directions:
Preheat oven to 350F and line an 8 inch square pan with parchment.
In a medium bowl, combine agave, ground flax seeds, almond milk, oil, and vanilla. Whisk together.
Mash bananas with fork and stir into the wet mixture.
Stir in the cranberries , raisins and nuts & seeds. Set aside.
In another bowl, mix your dry ingredients.
Add the wet mixture to the dry mixture and stir well.
Scoop the granola batter into the pan.
Smooth out with a spoon or hands and press it down firmly.
Bake at 350F for 35-40 minutes until the edges begin to golden and it is slightly firm to touch.
Allow to cool in pan for 10 minutes before transferring to a wire rack and cooling completely.
Slice into 8-10 bars.
Be creative with adding different nuts, seeds, dried fruit or even dark chocolate chunks
Enjoy and don't forget to share 🙂
Talk soon,
Zuzana