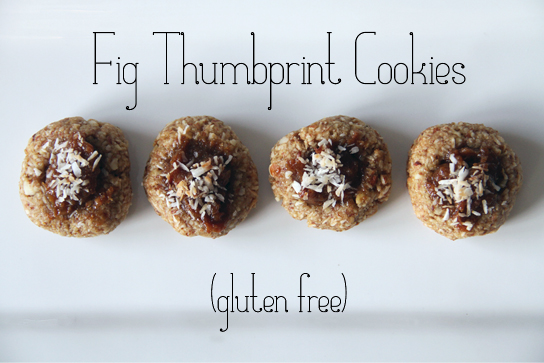 Okay, so I will admit I had to resist the temptation of naming this post "getting 'figgy' with it"… I know ridiculous isn't it? 🙂
These cookies are super easy to make and only contain a short list of ingredients, but don't be fooled they are packed with nutrients and are delicious!
You might be surprised but figs are packed with calcium, potassium, iron and even omega-3 and omega-6 fatty acids, making them a great addition to any meal.  They are especially beneficial for diabetics –  because figs are rich in potassium, it helps to regulate blood sugar. Also another bonus – It is said that eating figs can relieve fatigue and boost brain power too. Now what better way to wake up and boost your brain power than eating Fig Thumbprint Cookies!?
Cookie Base:
2 cups of almond flour*
1 cup walnut flour*
1/2 cup shredded coconut
1/2 cup maple syrup
1 tbsp vanilla extract
*for any nut flours simply grind raw nuts until flour texture is formed, using a food processor, blender or even magic bullet. 
Directions:
Preheat oven to 350, line a baking sheet with parchment paper.
Combine all ingredients in bowl and mix well. Form 1″ balls and place on cookie sheet, use your thumb and press centre of ball to create a "nest" like shape. Be careful not to create a thin bottom or your filling will fall through. Now to make the filling…

Fig Filling:
8-10 large dried figs (stems removed)
Hot water (as needed)
Directions:
Place the figs in either a food processor, blender or magic bullet. Add some hot water and combine until paste is formed. (you want it to be fairly thick). Scoop fig paste into the nest of each cookie base. Topped with shredded coconut. Bake for 10-12 minutes until bottoms are golden brown. Allow to cool and Enjoy!
Happy Baking!
Nikki