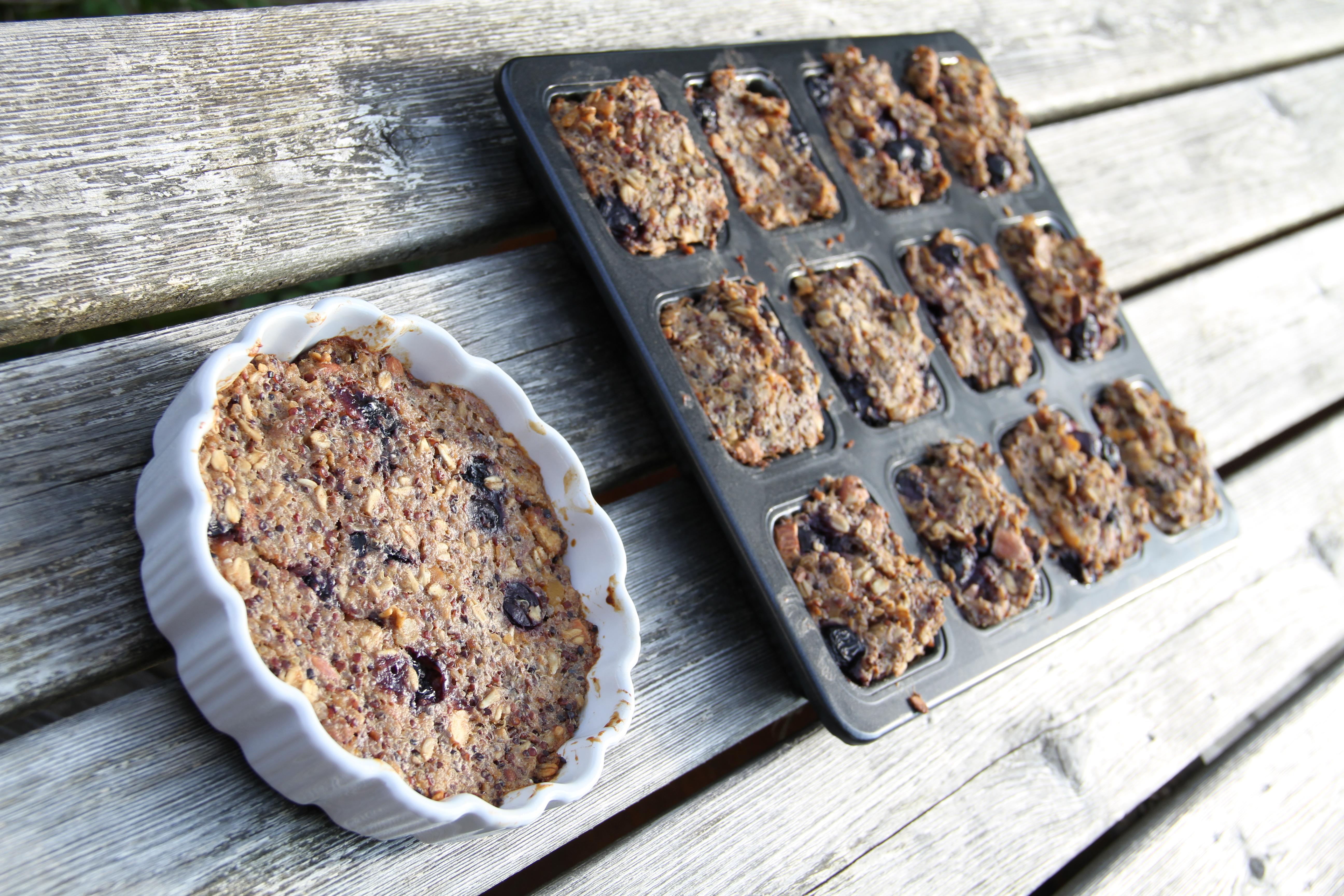 Hey Everyone!
Few of you have been asking for a recipe with quinoa….so here you have it…
Print Recipe Here
Ingredients:
1 cup cooked quinoa
1 ½ cups old-fashioned rolled oats
1 cup frozen or fresh blueberries
1/2  cup almond butter
2 chia eggs (2 tbsp chia seeds mixed with 6 tbsp warm water, let sit for 5 min)
½ cup unsweetened almond milk
1 tsp cinnamon
2 tsp pure vanilla extract
1cup Apricot Paste
Apricot Paste Cover 1 cup of dry apricots with cold water and soak for 4-6 hours. Remove apricots and reserve water. Place apricots in blender and process until smooth. If needed, adjust consistency with some of the reserved water.
You can use fresh or frozen blueberries.
Directions:
Preheat oven to 350 degrees F. Lightly spray a non-stick muffin pan with cooking spray.
Cook quinoa according to package direction.
Mix together chia seeds with warm water and set aside (stir every so often while following the next steps).
Chia seeds as an egg-replacement should be gooey, not watery, like the consistency of an egg.
In a medium mixing bowl, stir together quinoa, oats, mixed nuts and blueberries.
In separate mixing bowl, add almond butter, apricot paste, chia eggs, almond milk, cinnamon and vanilla.
Stir until combined.
Fold in dry ingredients and stir well.
Spoon the mixture into each muffin cup filling almost to the top.
Press mixture down firmly into each cup with the back of a spoon and/or your fingers.
Bake in oven for 30 minutes, or until golden brown. Let cool slightly before removing.
Chia Egg -1tsp chia seeds + 2tbs warm water
Enjoy for breakfast or afternoon snack with tea.
To learn more about quinoa and it's great benefits  please check out this article by our friend Nikki HERE.
Talk soon 🙂
Zuzana.