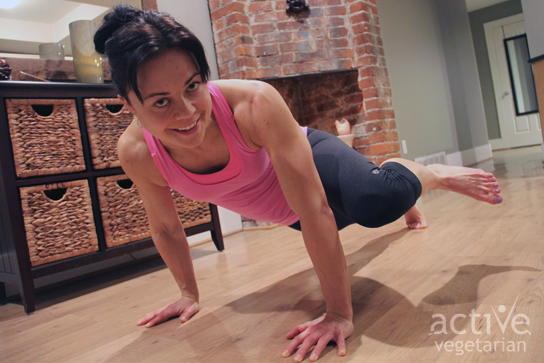 Hey Guys,
Recently we have received a lot of requests to put together a workout routine that would target the midsection.
From my experience working in the fitness field the six pack and love handles seems to be the most common concern for people when it comes to physical appearance.
Unfortunately crunches alone are NOT the answer. I wrote an article https://activevegetarian.com/want-flat-abs that explains the truth about a six pack. Please take the time to read it, you might be surprised to learn the truth!
Now the promised workout:
In this workout you will be doing 8 rounds of the following exercises:
1. Prisoner Squat with Front Kick – 20 reps
2. T- Push Ups – 10 reps
3. Jump Rope – 100 skips as fast as you can
4. Plank Knee to Elbow – 20 reps
My time for this workout was 22 minutes and 12 seconds.
Have a great workout and don't forget to leave us your time  🙂
Talk soon,
Zuzana.