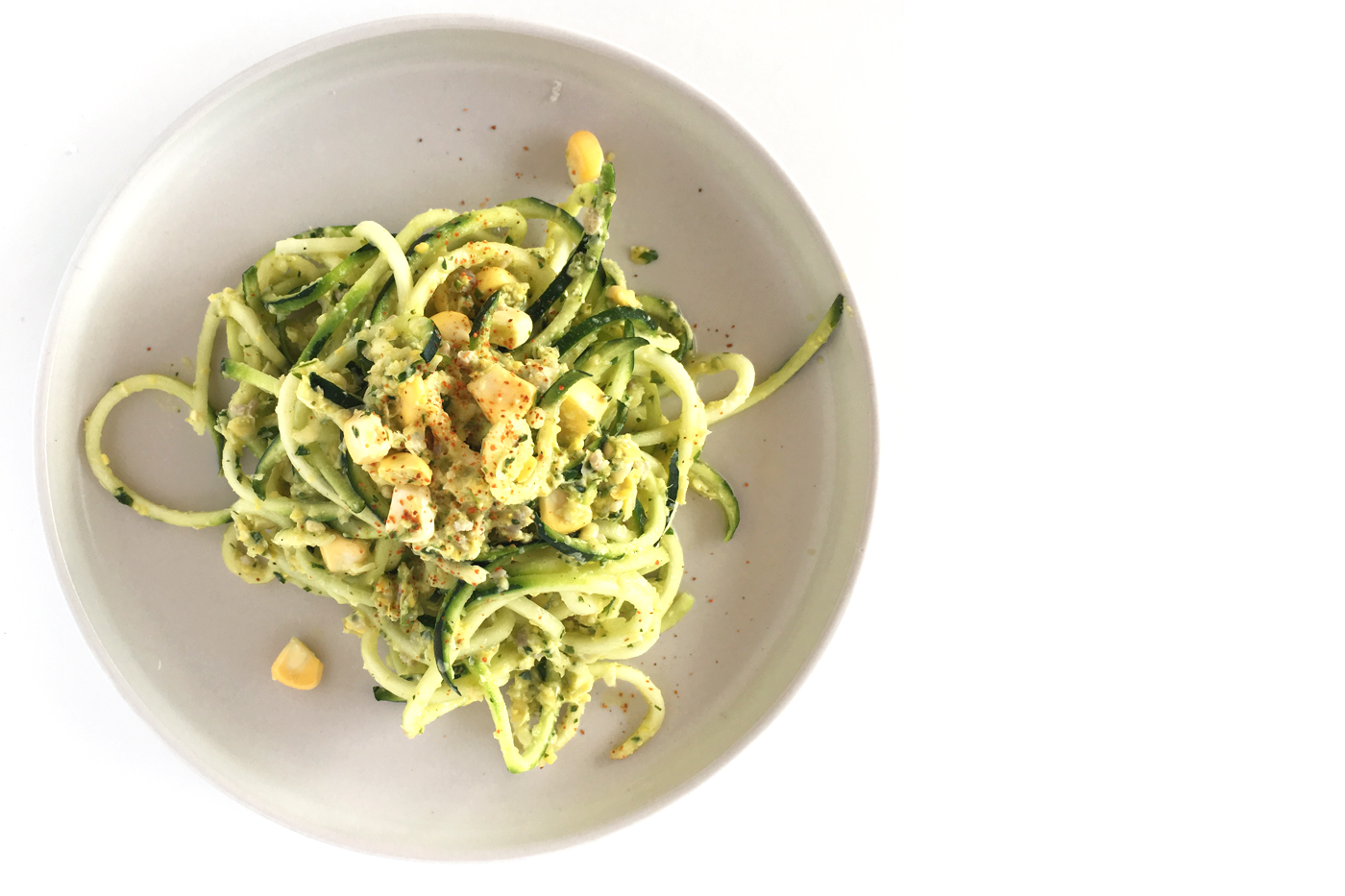 Who wants to eat processed starchy nutrient depleted food?
Not us!
Processed food, in bags, boxes and cans from grocery stores, fast food chains and restaurants are one of the biggest sources of chemicals and toxins. These man-made chemicals and toxins have no place in the human body – it's actually a poison to our system and a direct result of many modern day diseases. If you want to lose weight, be healthy and thrive you must avoid processed food.
However, there is no reason to give up on delicious foods. Craving pasta? Thanks to the amazing invention called "Spiralizer" you can create a healthy nutrient-rich meal and enjoy lovely "pasta like" dish without the burden of processed carbohydrates and empty calories.
A spiralizer is a handy piece of equipment in a plant-based kitchen. This inexpensive tool allows you to create all sorts of vegetable noodles out of zucchini, carrots, beets, and even root vegetables such as sweet potatoes and winter squashes. FUN! Then all you need to do to create a quick, healthy, enzyme-rich meal is to combine these fresh living veggies with your favourite sauce.
Recently Nikki & I made this sweet corn -cilantro pesto and mixed it into a large plate of zoodles. YUM! This dish didn't let us down.It created an amazingly light yet satisfying dinner. I should quickly note, if you don't own a spiralizer you can simply use a potato peeler… peeling the zucchini down to the core. This will make "fettuccine-like" noodles. I do however recommend pampering yourself with a spiralizer; you won't regret it!
Zucchini pasta with sweet corn cilantro pesto
This fresh zoodle pasta with sweet corn -cilantro pesto is light and fresh and the perfect way to take advantage of the season's vegetables. It makes a quick and easy meal for a busy weeknight dinner as it's ready and on the table in just 20 minutes!
Servings: 2
Ingredients
NOODLES
1 Large zucchini (or 2 small) run through a spiral slicer
SWEET CORN CILANTRO PESTO
1 ¼ Cups corn kernels set aside ¼ cup
1/3   Cup raw sunflower seeds preferably soaked for 6-8 hours and strained
1 Cup fresh cilantro chopped
1 Organic lemon juice and zest
Pinch of cayenne pepper
¼ Teaspoon sea salt
Pepper to taste
2 Tablespoons omega oil or cold pressed olive oil
Instructions
Spiralize zucchini first and set aside. Do not salt, which will cause "the pasta" to become wet.  Slice noodles once if they resulted in long strands.

Process all ingredients except oil and ¼ cup of corn in food processor until well combined and chunky. With machine running, add oil. Stir in remaining cup of corn. Taste and season with more salt, cayenne and pepper if desired.

You can either coat the noodles with the pesto or serve the pesto on top of the pile of noodles.  We prefer it well mixed, so everything gets coated.

Serve immediately.
Notes
Fresh corn tends to contain more starch and be less sweet than frozen corn. If using fresh corn, rinse kernels well under running water to remove any excess starchy liquid, and add a touch of agave to balance out the recipe.
Everybody needs to eat better so share this with your people. ❤️
If you want more healthy recipes that are quick and nutritious you might also enjoy Mango Lime Vegan Cabbage Tacos, 10 Minute Buddha Bowl with Creamy Cashew Sauce or Vegan Thai Curry In a Hurry.
Dedicated to your health & wellbeing,