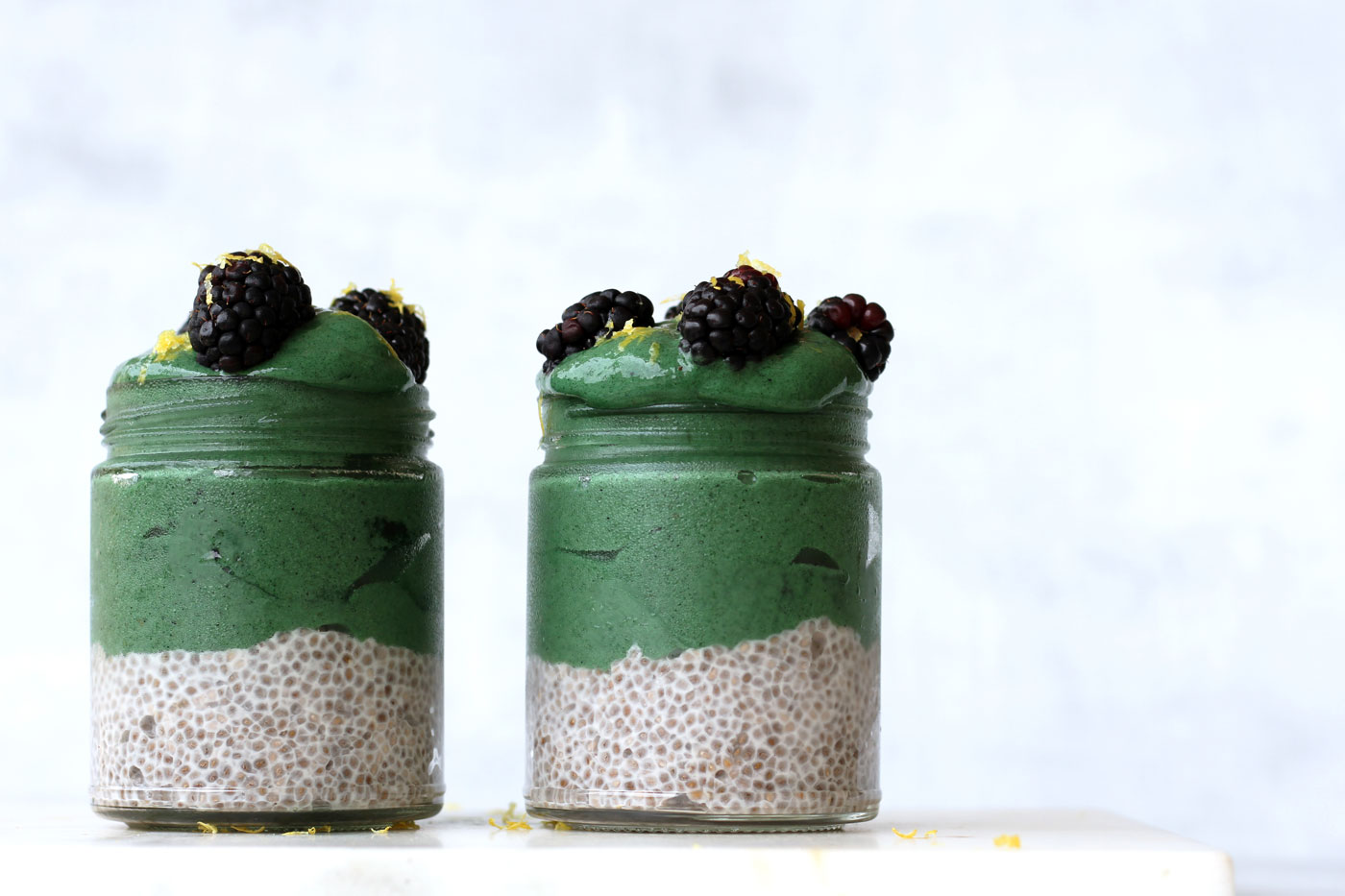 If you've never made banana "ice cream" or tried chia seed pudding before, now is the time! We're putting them together in this delicious and nourishing parfait.
Blending frozen bananas with superfoods of choice is the easiest way to enjoy the creamiest and healthies ice cream in just a few minutes. Don't let the instructions fool you – it's not nearly as complicated as it may look, we promise! You will need to freeze some bananas and make the chia seed pudding in advance. After that, everything comes together in 10 minutes.
SUPERFOOD ICE CREAM PARFAIT (DAIRY-FREE, VEGAN)
This fruit-based "ice cream" parfait is packed with protein, powerful nutrients and healthy fats for long-lasting energy and fullness!
Servings: 2
Ingredients
CHIA PUDDING
6 Tablespoons chia seeds
2 cups unsweetened almond milk
ICE CREAM
2 ripe peeled bananas cut into chunks and frozen (we did this in step 1)
1/4 cup fresh pineapple cut into chunks
1/4 cup fresh or frozen mango
1 Tablespoon lemon juice
1 teaspoon spirulina
Instructions
STEP 1
Start with the chia pudding. In a bowl or mason jar, combine chia seeds and almond milk.

Once the mixture is well combined, let it sit for 5 minutes, give it another stir to break up any clumps of chia seeds, cover and put the mixture in the fridge to set up for 1-2 hours (or overnight).

Arrange banana chunks in a single layer in a glass container or freezer bag.

Freeze for 2 hours (or overnight, if you like).
STEP 2
Next we are going to create the "ice cream" part. Place all ice cream ingredients (bananas, pinapple, mango, lemon juice and spirulina) in a high-speed blender and blend until smooth and creamy (think soft-serve texture).

Use a rubber spatula to scrape down the sides of the blender, as needed. 
STEP 3
Finally, we are going to assemble our parfait. Divide the chia pudding between two glasses and top with a layer of the fruit ice cream.

Garnish with fresh berries, lemon zest, or other toppings of choice, and enjoy!
Notes
Keep frozen bananas on hand:
The riper your bananas are, the sweeter they'll be.
First, peel your bananas; for this recipe, we're using two.
Slice them into 1- to 2-inch chunks.
Arrange banana chunks in a single layer in a glass container or freezer bag.
Freeze for 2 hours (or overnight, if you like).
Frozen bananas are always great to have on hand for smoothies! Banana works in almost any smoothie recipe, and it gives a nice, creamy texture.
This is the perfect reward after a tough training session. Chia is packed with antioxidants and is a complete source of protein (containing all eight essential amino acids). It helps with cell and tissue regeneration, and the high levels of antioxidants fight free radicals that are known to attack and weaken our immune system.
On top of that, we are adding another high protein source – Spirulina. This "perfect food" will also help your muscles rebuild after training, reduce inflammation and muscle fatigue.
PLANT-POWERED TIP
Freeze some bananas and mix up the chia pudding ahead of time, this way you can make this nutrient-dense post-workout meal in less than ten minutes.
Enjoy!
Dedicated To Your Health & Wellbeing,