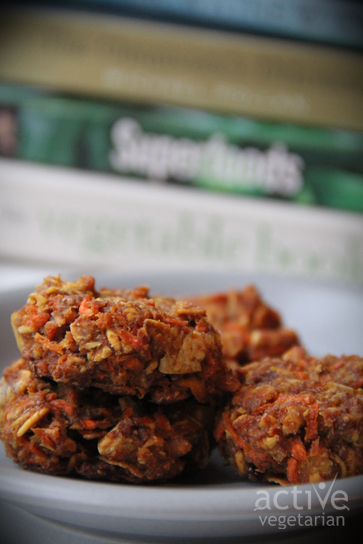 Saturday evening is a time to get creative in the AV kitchen.
This time the inspiration was my Sunday morning yoga class. I wanted to make something healthy and wholesome to share with my Yogis:) The finished product was a low-sugar gluten free Morning Glory Cookie – made with homemade date paste .
These cookies are crunchy, moist and delicious! If you make them ahead they would be a great addition to your breakfast especially if you are in a rush.
Ingredients:
makes 3 dozen
1 1/2 cups spelt flour
1 teaspoon baking powder
1/4 teaspoon salt
1 teaspoon cinnamon
1 1/2 cups rolled oats, (we used Gluten Free)
1/2 cup melted coconut oil
1/2 cup date paste (get the recipe here)
1/3 cup raw sugar
1 teaspoon finely grated orange zest
2 tablespoons flax meal
6 tablespoons water
1 teaspoon vanilla
2 cups peeled/grated carrots (about 4 carrots)
1/2 cup shredded coconut
1/2 cup finely chopped walnuts
Directions:
Preheat oven to 350˚F. Grease or line 2 baking sheets with parchment paper.
Sift the flour into a medium bowl, add oats, baking powder, salt, and cinnamon and set aside.
In a small bowl, mix the 2 tablespoons of flax meal with the 6 tablespoons water, set aside. In a large bowl, beat the coconut oil, date paste, sugar, and orange zest until smoothly blended. Next add the flax meal mixture and vanilla. Continue to mix in the carrots, coconut, and walnuts. The batter will be very wet at this point. Add the flour and oatmeal, mixing just until flour is incorporated. The dough will be soft and sticky.
Scoop 2 rounded tablespoons worth of dough onto prepared baking sheets, about 2 inches apart. Bake until the cookies are set but still light in color, about 13-15 minutes. You don't want to over bake these! Allow them to cool on the pan for 5 minutes before transferring to a wire wrack to cool completely.
Store in a tightly covered container for up to 4 days.
Enjoy 🙂
Zuzana & Nikki