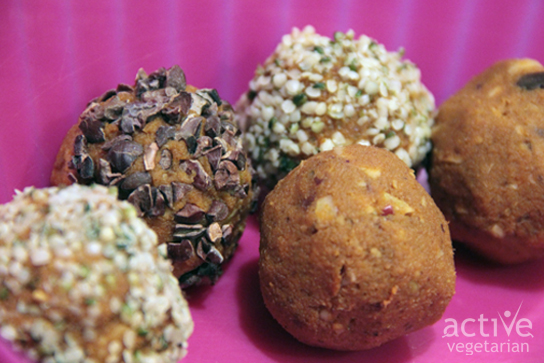 If you juice regularly, you've probably wondered what to do with leftover fruit and vegetable pulp. I feel incredibly guilty for throwing away the leftover pulp ;(
 So first rule: never throw the pulp away! Composting is a great way to utilize it, but all that fruit and veggie goodness is an easy way to add fiber and moisture in dishes.
Here is an example of super way to use leftover pulp in your kitchen:

Carrot Cake Balls
*Please note, the moisture content of your juice pulp can vary depending on your juicer, so you may need to squeeze out excess juice for the best results.
Ingredients:
 2 C juicing pulp (we juiced, carrots, apple and ginger)
1 C medjool dates
1/3 C dried coconut
1 t cinnamon
1/3 C raisins or dried fruit of choice
hemp seeds, cocoa nibs or shredded coconut for garnish
Directions:
Throw everything except the last  ingredients into a food processor  and process until well combined
Roll mixture into bite-sized balls and roll in hemp seeds, cocoa nibs or coconut
Store in the freezer