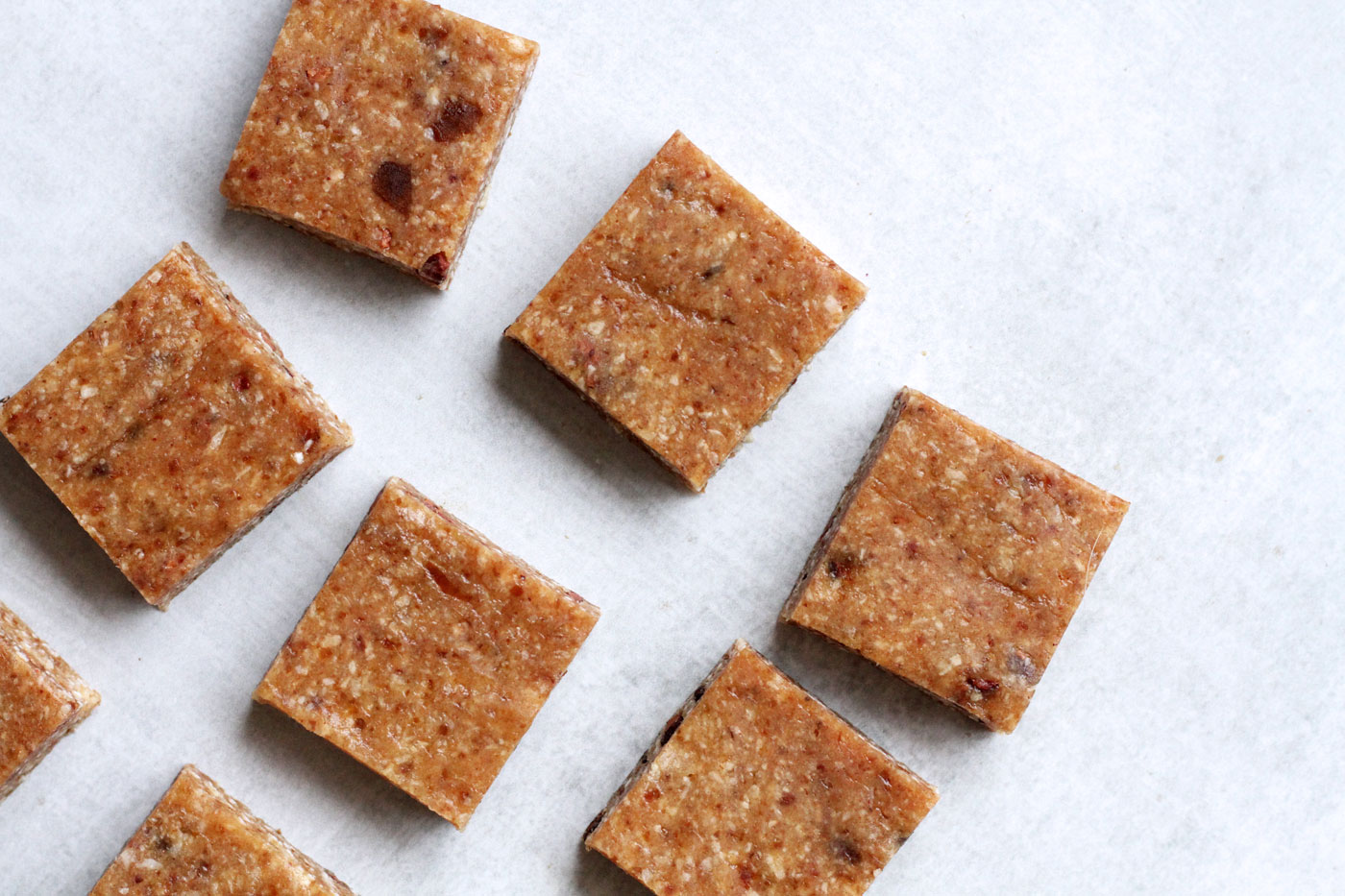 Energy feeling low? Here's a pick-me-up snack that won't let you down. Dates and tahini create a perfect base for this recipe and lime juice adds a fresh flavor. Especially recommended as a natural immune support, these easy to make energy bars are also a good choice for anyone dealing with iron deficiency.
Tahini Lime Energy Bars
Quick - 5 ingredient bars you can take anywhere, Bonus - the food processor does most of the work 😛
Ingredients
1/2 Cup Tahini
1 Cup Organic Coconut
1 Lime, juiced
Cocoa Nibs optional
Instructions
Place pitted dates in the food processor and process until broken down, next add the Tahini. Once that is well blended add the Coconut, process. Finish by adding the Lime juice. Once it is all well combined remove dough-like batter to a bowl, and using a spoon mix in Cocoa Nibs (amount you desire).

Roll the dough into a large ball and place between 2 sheets of parchment paper, using a rolling pin - roll flat until about 1/4" thick.

Place in freezer for a few hours, then carefully use a knife or cookie cutter to cut them into desired shapes.

Store in freezer.
Notes
Feel free to experiment, instead of cocoa nibs - use vegan chocolate, add in some dried fruit - let your imagination run wild!
In Case You Are Wondering….
How Is Tahini Made?
Traditionally, tahini is made by soaking sesame seeds overnight, after which they are crushed in order to separate the bran (the hull) from the seed. The crushed seeds are then put into a mix of salt and water, which allows the bran/hulls to sink and the seed kernels to float to the top of the water where they can be skimmed off. After this they are either immediately ground (for a hulled raw tahini) or toasted and then ground into a paste.
Some tahini is also left unhulled as well. This variety is more bitter than its hulled counterpart, but more nutritious.
Nutritional content and Health Benefits of Tahini:
An excellent source of protein, copper and manganese
A good source of tryptophan, calcium, magnesium, iron, phosphorus, vitamin B1 (thiamin), zinc, selenium, essential fatty acids, Methionine and dietary fiber
The only source of sesamin and sesamolin. Both of these lignans have been shown to lower cholesterol and protect the liver from oxidative damage.
Also contains vitamin E
One of the great things about having Tahini in the house is how versatile it is! You can use it for something sweet like these bars, or savory, like hummus. The options are endless if you let your imagination just create!
Dedicated to your health and wellbeing,