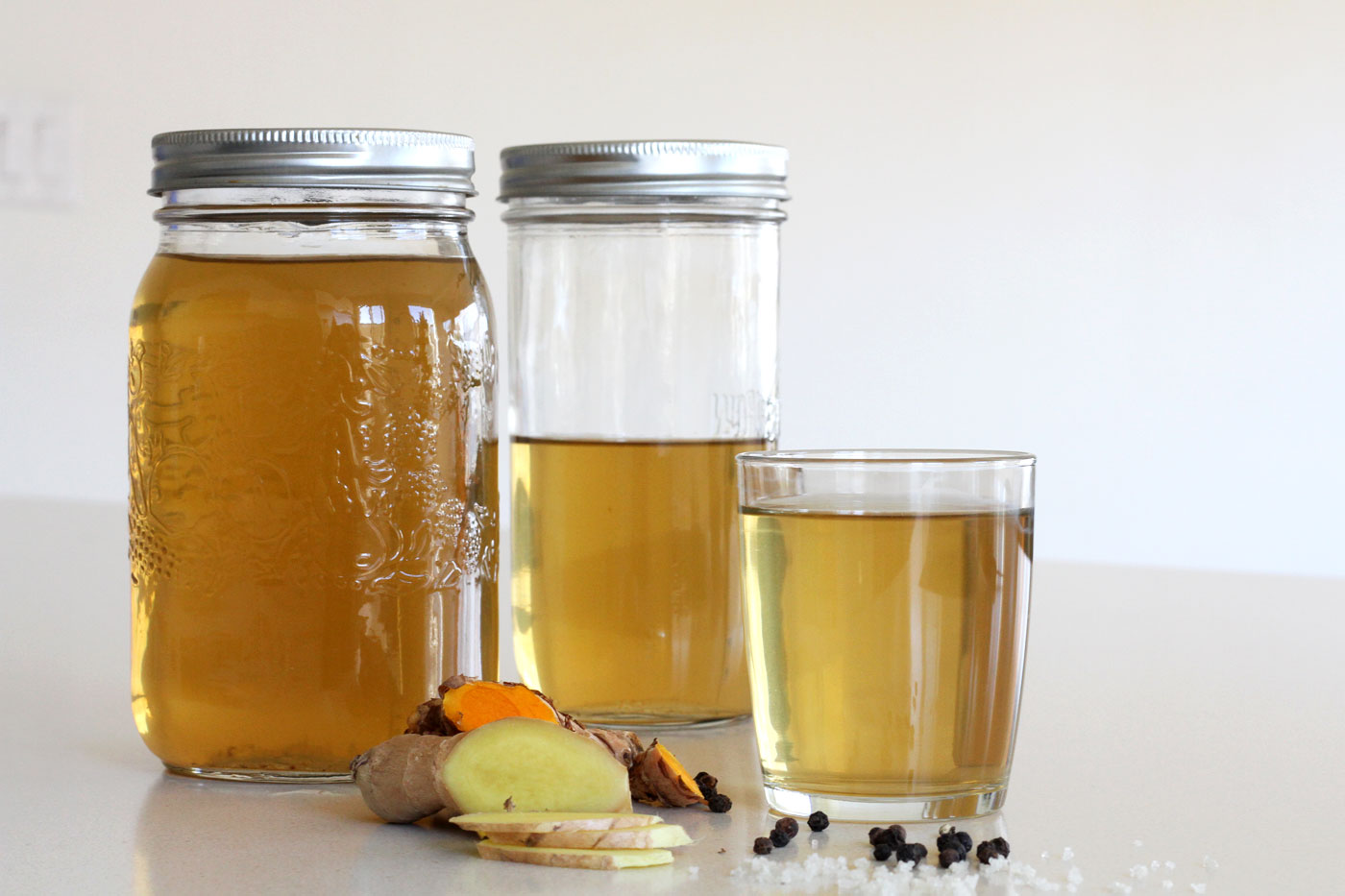 This Microbiome Veggie broth is for those who are looking to rebuild gut function and resolve issues like leaky gut syndrome, candida overgrowth, SIBO, and other health problems. It's rich in plant-based amino acids, collagen promoting nutrients, trace minerals, and electrolytes. The recipe is fairly simple, though the ingredient list is a bit lengthy. It might be tempting to buy readymade broth from the store, but I encourage you NOT to do that! The packaged broths are always full of sodium and with not much else. With this recipe, the idea is to pack an immense amount of flavour into the broth, as well as get the maximum number of nutritional benefits.
Microbiome Veggie Broth Recipe Backstory
I recently had the pleasure to interview Dr. Will Bulsiewicz and talk about his new book – Fiber Fueled. In case you are not familiar with Dr. B, he is a board-certified gastroenterologist and gut health expert who has been helping people create incredible results in their health and wellbeing with one simple act: learning to take better care of their gut health with the power of plants.
His new book is top-level, jam-packed with science-based information that is easy to understand. Dr. B's approach is based on the idea that eating the right foods will help keep our gut microbiome healthy — which is instrumental to our overall health. This book comes with a 28-day jumpstart program with menus and more than 65 recipes! I believe that anyone who is looking to improve their overall health will benefit from his approach.
After reading Fiber Fueled, I was inspired to make my own Microbiome Veggie Broth as a natural way to support the gut and strengthen the overall health. If you are into gut health, you have probably heard all about Bone Broth – rich in collagen and other nutrients, bone broth is believed to heal and seal the gut lining. But is it really that important to include animal-based ingredients into the broth to get all the proclaimed healing benefits? Fortunately, the answer is NO, and today I will show you how.
Main Ingredients For Healthy Microbiome
Here is the list of main ingredients, but modify as you wish!
1. Mushrooms
By using mushrooms (particularly shiitake) in your stock you get a wonderful dose of intestinal membrane-healing zinc; they also contain immune-boosting polysaccharides and numerous amino acids, vitamins, and minerals that are great for nourishing the gut and boosting the immune system. Mushrooms also give the broth its distinctive earthy flavour.
For this batch of stock, I've used cremini mushrooms as well as shiitake.
2. Seaweed
As for seaweed: use dried kombu, wakame, or even nori — whatever's easily available for you. Just one sheet of dried seaweed or a handful of wakame adds a host of minerals and other collagen-boosting nutrients to the broth. It's rich in B vitamins and is an incredible natural source of Iodine. Seaweed also contains collagen-boosting properties without the need for animal products. It also gives the broth a "sea" flavour without any fish sauce.
3. Carrots
Help to lower blood pressure, reduce edema, relax muscles, steady nerves, and balance cognitive function.
4. Onions, Leek and Garlic
Allium is found in onions, leeks & garlic and are natural antiviral and antibiotic foods useful in the treatment of the gut and can help eliminate heavy metals and parasites from the body (but only if you can tolerate).
5. Parsley
It contains an excellent bioavailable form of iron which helps to keep your blood strong and prevent anemia and is also rich in zinc which is highly beneficial for treating viral issues and strengthening the immune system.
6. Ginger and Turmeric Root
Both help reduce inflammation and improve liver function. They also aid in keeping your hair growing strong and supporting your skin to be healthy and vibrant.
7. Root Vegetables
Celery root, parsnip, celery root, turnip, potatoes, yams all have prebiotic fibre excellent for feeding on the healthy gut bacteria. Each kind of prebiotic fibre sustains a different community of probiotic flora in different sections of your gut so variety is the key. Chose vegetables that are in season and experiment with different combinations, you can't get it wrong!
Microbiome Veggie Broth
This broth has the miraculous ability to be healing, cleansing, and nourishing all at the same time. It's delicious served straight up or you can serve it with soba noodles and fresh veggies, or add it to your favorite soup or curry. The recipe is also super flexible--I encourage you to experiment with various ingredients. This is your healing broth so fill it with vegetables and herbs that you know you will enjoy! 
Servings: 14 cups
Ingredients
1 gallon 16 cups filtered water
1 large onion with skins roughly chopped
1 garlic bulb (head) smashed
1 cup mushrooms shiitake or cremini
1 leek roughly chopped (including tops)
3 carrots roughly chopped, with skins
3 parsnips roughly chopped, with skins
2 medium potatoes of any kind roughly chopped
1 bunch parsley
1 head celery root roughly chopped
1 head large turnip roughly chopped
1/2 cup seaweed wakame, kombu, nori
1 3- inch piece of ginger roughly chopped
1 thumb-sized piece of fresh turmeric roughly chopped, with skins (or 1 tablespoon ground turmeric)
10 black peppercorns
2 teaspoons Celtic sea salt
Instructions
Thoroughly wash and clean all of the vegetables. For extra nutritional benefits, you do not need to peel any of the vegetables - especially if they are organic, but it is up to you.

Add all your ingredients including the water to a large pot. Bring to a boil, cover with lid, and gently simmer for at least 90 minutes. If you have the time then let it simmer for up to 2 hours.

Strain the liquid through a fine-mesh strainer and discard the vegetables (see below for other option).

Store broth in mason jars or airtight containers in the refrigerator for 1 week, or freeze.
Notes
You can save the vegetables you discard from the broth for another use. I will usually discard the ginger and keep the rest for a creamy Vitamix soup. Using less water gives you a more concentrated vegetable stock while using more water makes a lighter-flavoured version. Organic ingredients are ideal but you can also use conventional. Scrub the ingredients well if using conventional.
More Microbiome Veggie Broth Recipes:
Vegan White Bean Chili
Crazy Good Hummus Soup
The Insane Roasted Eggplant Soup
Note to readers:
The information on this website is shared for educational purposes only. We do not aim to diagnose, treat, cure, or prevent any illness or disease. You must consult your doctor before acting on any content on this website, especially if you are pregnant, nursing, taking medication, or have a medical condition.
Dedicated to your health & wellbeing,