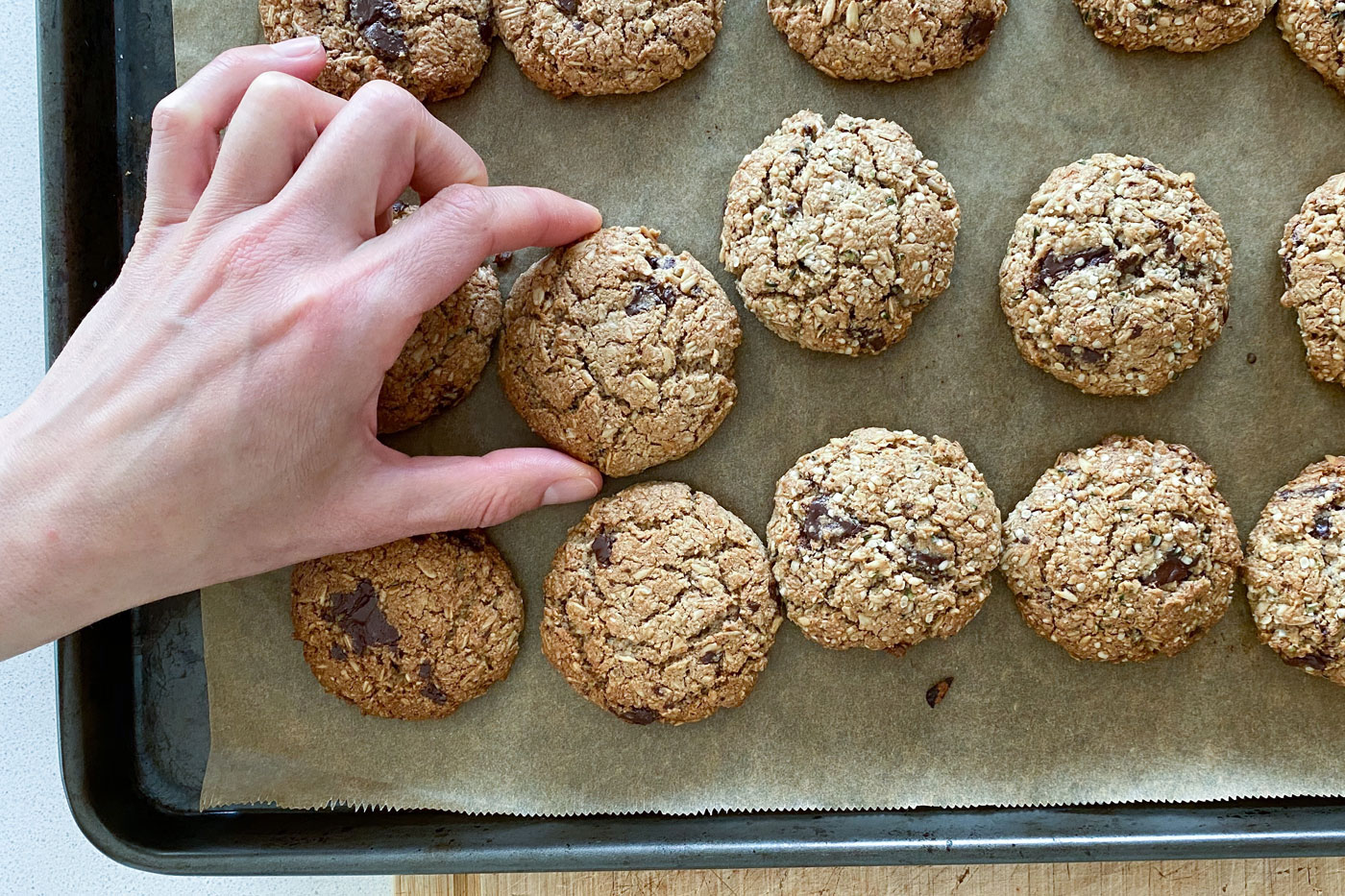 Nikki created these cookies for our Vegan Weight Loss Manifesto (2017) to help those who are just starting to transition from standard sweets and deserts to ones made with whole foods. Over the years of working with clients, we have found that for many the jump from the typical North American diet to a clean whole food plant-based way of eating could be too extreme.
If you would like to surprise your love ones, you can opt for Valentine's cookie delivery so you can send them a healthy snack with the most delicious flavors.
Like most of our other Snack Bites/Balls, these freeze beautifully, so it's a great idea to make a double- or triple-batch all at once and prepare yourself for busy days ahead. One of the beautiful things about this recipe is how versatile it can be. Missing cashews? Not a big deal, simply replace them with another raw nut – almonds or macadamia nuts make a great choice. Not enough dates? All good, add in some figs or a dash of pure maple syrup instead – add just enough to make the dough stick and give it a nice mild sweetness. Also, be creative with the shapes. Form the cookie dough into your own desired shape – ball, bites, bars or you can even use a cookie-cutter. You are only limited by your own imagination.
To fully transition to a whole food plant-based lifestyle is a journey and it's okay to take some time to adjust to the new tastes and flavours. We believe that these Healthy Oatmeal Chocolate Chip Cookies are a great bridge between the highly processed sweets and a treat that is totally clean and has a high nutritional value such us our:
Chocolate Caramel Tarts
Raw Superfood Truffle Balls
Chocolate Chip Cookie Dough Bites.
Healthy Oatmeal Chocolate Chip Cookies
Servings: 20 cookies
Ingredients
3 tbsp coconut oil plus more for greasing pan
1 1/2 cups oat flour see note
1 cup whole old-fashioned oats
1/4 tsp baking soda
1 tsp cinnamon
Pinch of sea salt
1 tsp natural vanilla extract
3 tbsp natural almond butter
1/4 cup maple syrup
1/2 bar (40-50g) of organic vegan dark chocolate (minimum 80 percent cacao), chopped into chunks
1 tbsp hemp seeds optional
Instructions
Preheat the oven to 350*F (177*C). Line a baking sheet with parchment paper and lightly brush with coconut oil.

In a large bowl, combine the oat flour, whole oats, baking soda, cinnamon and salt. Add the remaining ingredients, except the chocolate, and mix well. Once the coconut oil is well combined, add the chocolate.

Using clean hands, form 1-inch (25-mm) balls and place on baking sheet. Once you have finished using all the dough, use a fork and lightly press down on each cookie.

Bake for 10 minutes. Remove from the oven and let cool for at least 15 minutes. Do not over-bake these cookies, especially if you prefer a chewier texture.
Notes
How do I make oat flour? One of the easiest healthy substitutions you can make in your baked recipes
is to replace plain white flour with oat flour. Oat flour is essentially finely
processed ground oats and here is how to make it:
To replace 1 cup (125 g) of white flour, you will need 1 heaping cup (80 g) whole
rolled oats, certified gluten-free if necessary. Pulse oats in food processor/
blender/coffee bean grinder until oats resemble fine crumbs/flour.
Dedicated to your health & wellbeing,