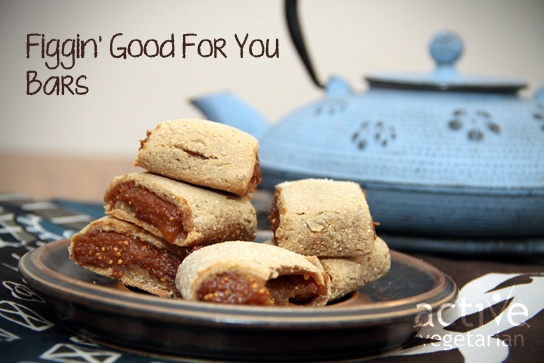 These fig bars are my favourite! Not only are they high in fibre, figs reduce inflammation,are the highest plant source of calcium, and are an antioxidant power house! So eat up! 🙂
Dough
2 cups gluten free flour
1/3 cup raw sugar
1/3 + 1 tbsp coconut oil
1/2 tsp baking soda
1/4 tsp salt
1/2 tsp cinnamon
1 tbsp maple syrup
chia egg (3 tbsp rooibos tea + 1 tbsp Chia)
2 tsp vanilla extract
1/2 cup almond milk mixed with 8 tbsp rooibos tea
Filling
1 cup dried figs
1/2 cup strong-brewed rooibos tea
1/2 vanilla extract
2 tsp. lemon juice
Boil about 1 cup strong vanilla rooibos tea. Once tea is steeped mix 3 tbsp of the tea with 1 tbsp chia to make a "chia egg".
Add your flour, baking soda, salt, and cinnamon to food processor and pulse to mix. Now add your coconut oil, chia egg, maple syrup and 1 tbsp vanilla – mix together. Now start adding your roobois tea/almond milk mixture until dough forms into a ball.  (Place dough ball in the fridge while you make the filling).
To make the filling, chop your figs and place them in a pot with 1/2 cup brewed tea, lemon juice and 1 tbsp vanilla extract. Cook approximately 10 mins. over med heat until the figs start to soften. Let cool slightly and blend in food processor to form paste.
Preheat oven to 350 degrees.
Remove dough from fridge and separate into 2 balls. Lightly dust your counter with flour and using a rolling pin roll dough into a long narrow rectangle. Depending on how wide you want the cookies only roll your dough double the width (you will be folding it over). For example if you want your final cookie 2″ wide roll dough to 4″ wide. Once you are done that spoon filling along one side of the dough, now carefully fold the other half of the dough over and seal dough together along the edges.
Using a sharp knife cut into the cookie size you desire. I used a sawing type of motion when I cut them, so the filling doesn't all fall out. 😉
Place cookies on a parchment lined cookie sheet and bake for 20 minutes.
* You can also make these a little wider so they are more like a cereal bar for a great "breakfast on the go" option.
I hope you enjoy! 🙂