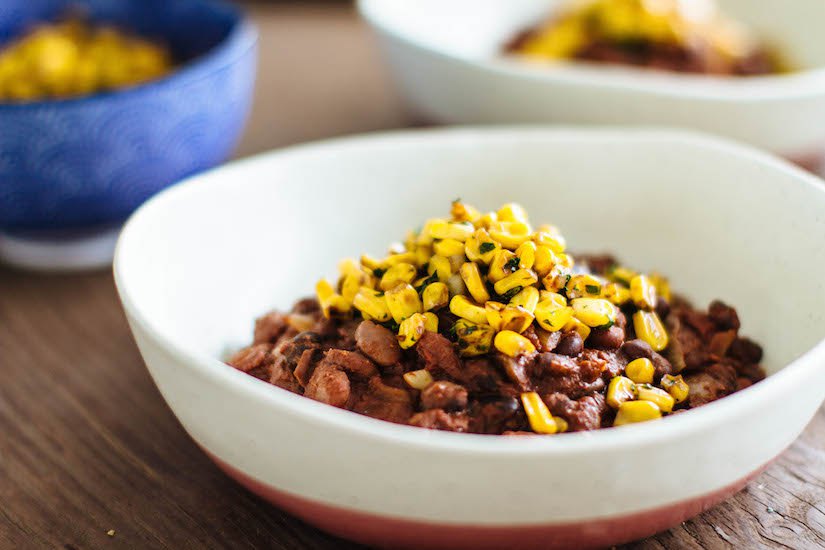 We are of the opinion that you can never have too much of a good thing. Chili is definitely a good thing in our book, and so is dark chocolate. Why not put those two together? When Nikki and I saw this twist on a veggie chilli from Gratitude and Greens we knew that we had to approach Genevieve to share it with you – our readers.
A few notes from Gen to get us started:
"I made this chili using kidney beans and black beans, both of which I soaked overnight to remove the phytic acid and make them more digestible. From a nutrition perspective, kidney beans and black beans are both significant sources of fibre and protein, making this chili a filling and heart healthy meal. 1 cup of black beans provides a whopping 42g of protein, while 1 cup of kidney beans provides 15g of protein. Together, the three cups of beans in this chili provides 85.5g of protein! That's more than 2 cups of chicken. The next time someone asks me how my veggie-loving soul gets protein, I'll be sending them this way ;)"
About the author:

I'm Genevieve, the Toronto-born, food loving, tree hugging, smoothie guzzling blogger behind Gratitude and Greens. The recipes on my blog are influenced by my whole foods, plant-based diet and my keen interest in natural nutrition. I'm passionate about creating food that is not only delicious, but also nourishing. In addition to recipes, I also write about mindfulness, gratitude, and happiness. Right now I'm working on the travel section of the blog… so stay posted!
VEGAN CHOCOLATE CHILI
This great chilli has to be one of the best dishes to serve to friends for a casual get-together.
Ingredients
INGREDIENTS – FOR THE CHILI
3 cups diced tomatoes 1 28oz can
1 cup black beans soaked overnight
1 cup kidney beans soaked overnight
2 yellow onions roughly chopped
5 cloves garlic minced
2 tablespoons dark chocolate chopped
2 1/2 teaspoons ground cumin
2 teaspoons smoked paprika
1 1/2 teaspoons cayenne pepper
1 teaspoon ground coriander
1 teaspoon chili flakes
smoked sea salt and cracked black pepper to taste
INGREDIENTS – FOR THE SEARED CORN GARNISH
1 cup corn frozen or canned, preferably organic
1/4 cup of finely chopped kale
2 tablespoons red onion chopped
2 teaspoons coconut oil
smoked sea salt and cracked black pepper to taste
Instructions
Bring a pot of water to a boil. Once the water is boiled, add the soaked beans. Reduce to the heat and simmer until the beans are cooked, around 45 minutes.

While the beans are cooking, chop the onions and kale, and dice the garlic.

Once the beans are done, strain them and set aside.

In a pot, sauté the onion and garlic until translucent on medium heat.

Add the tomatoes and beans, simmer for 5 minutes.

While the tomatoes are simmering, start preparing the corn. In a small pan, melt two teaspoons of coconut oil on medium heat. Add the red onion and cook until translucent and almost brown.

Add the spices to the chili and simmer for another 5-10 minutes.

Add the corn and cook on high heat, stirring occasionally, until the corn is seared on both sides. Lower the heat and add the kale, and cook for another few minutes. Season with smoked sea salt and remove from the heat.

Remove the chili from the heat.

Serve in bowls and top with the seared corn.