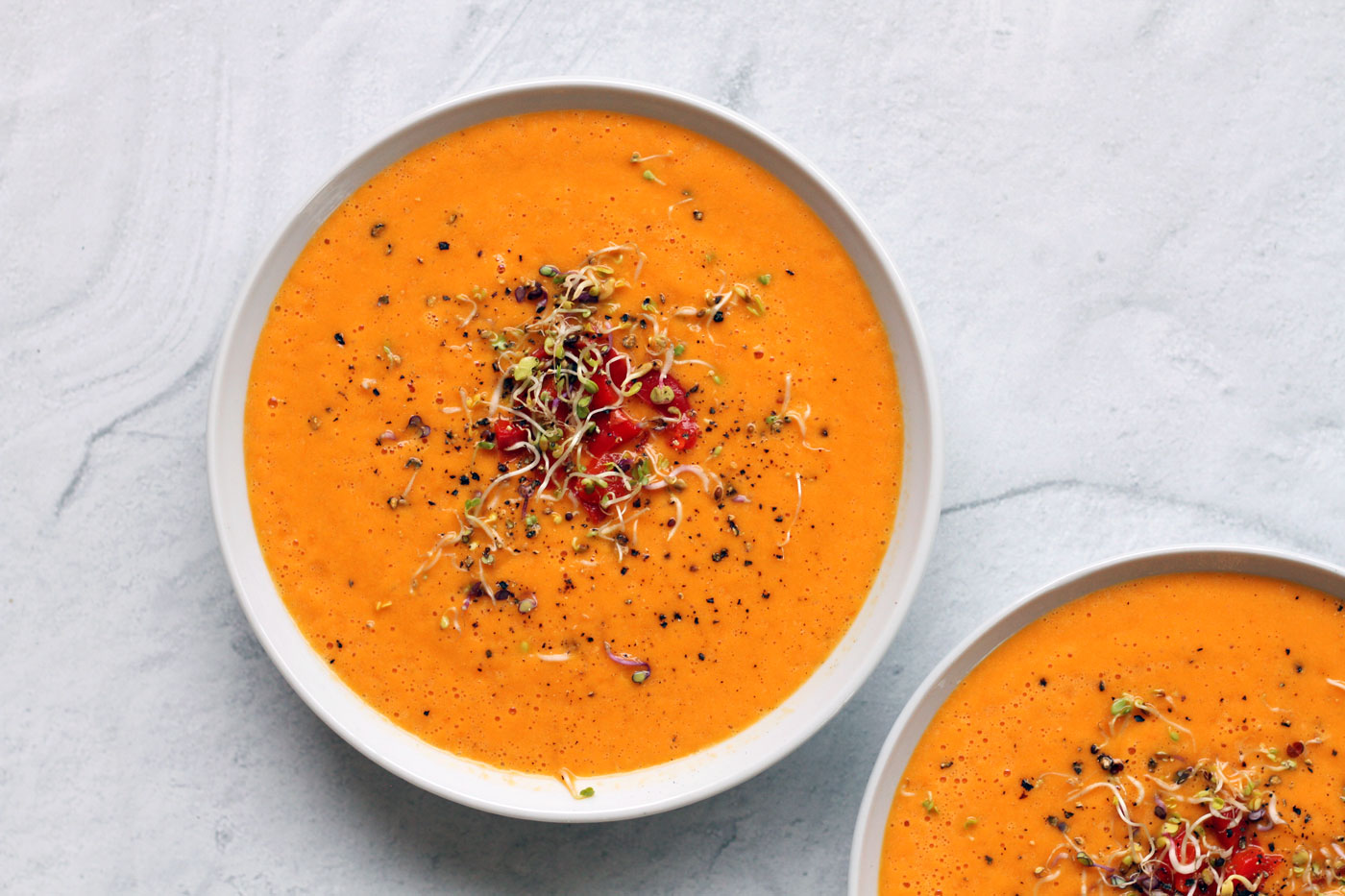 This soup is so simple, that you might be wondering if I missed something while typing the recipe. But trust me, less is best. You might notice that many Roasted Red Pepper Soup recipes add carrots and potatoes but I find that the addition of those items tends to take away from the robust roasted pepper flavour.
Start by roasting some large red bell peppers. You may wonder if you can just skip this step and buy a rated red pepper in a jar. I highly recommend that you don't. Sure, it's an easier route, but the flavour of this dish is just so much better when you do it yourself. Especially if you can find local bell peppers at your farmer's market. It will make your soup much more enjoyable and nutritious 🙂
Now let's get back on track, to roasting peppers. I find that the simplest method is to set them over a gas burner until all sides are black, but if you don't have a gas stove, you can just stick them under the broiler to achieve the same results. Both methods work, the broiler just takes a little bit longer.
After the peppers are completely charred, you throw them all in a big bowl, cover it with plastic wrap and let them steam for about twenty minutes.
The next step is to peel and seed them. Don't fret if there are still a few black flecks on the peppers, this makes for wonderful flavour and looks pretty in the finished product.
Here we go with the step by step recipe:
Servings: 4 servings
Ingredients
6 Red Bell Peppers
2 tomatoes chopped
1 onion chopped
1 cups home made broth or low sodium vegetable broth
1 tbsp coconut oil could omit and use broth or water instead
1 cup coconut milk
1 tsp sea salt
¼ tsp fresh ground pepper
Instructions
Roast Peppers:
With gas burner: place peppers over flame and char all sides of the pepper to your liking. After charring is complete, transfer peppers to a bowl and cover with plastic wrap. Let set for 15-20 minutes. Remove skin, ribs, and seeds from peppers.

In the broiler: Place in the broiler and char on all sides turning as you go. After charring is complete transfer peppers to a bowl and cover with plastic wrap. Let set for 15-20 minutes. Remove skin, ribs, and seeds from peppers.
While your peppers are cooling:
Heat coconut oil (or broth/water) in a large pot over medium heat. Add onions, sauté, stirring occasionally until the onions begin to soften and look translucent, about 5 minutes.

Add tomatoes,prepared bell peppers and vegetable broth.

Bring to a boil and remove from heat.

Place this cooked mixture into a high speed blender together with coconut milk. Puree the soup until it is very smooth.

Season with salt and pepper and give it a little taste. If you are happy with the flavors and temperature of the soup, serve as is.

Otherwise return soup back to the pot and simmer for another 5 minutes.

If the soup is too thick after it simmers, add a little more coconut milk until desired consistency is reached. Be sure to season more if needed as well.

Ladle into bowls and serve hot.
Enjoy
Zuzana & Nikki