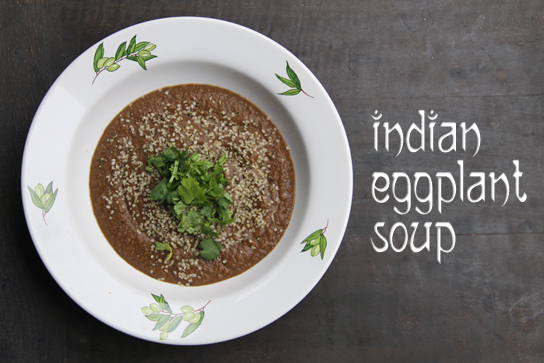 Making a filling, flavorful, and delicious soup doesn't have to take hours. In 30 minutes or less, you can have a pot of healthy vegan soup ready for dinner. Today's quick soup recipe doesn't take long to prepare, but is full of flavor and nutritious ingredients like eggplant and bell pepper. This Indian-inspired soup incorporates curry powder, coconut milk, and fresh cilantro for lush, aromatic flavors.
INGREDIENTS:
1 large eggplant (about 1½ lb.), coarsely chopped
1 large bell pepper, seeded and sliced
1 tomato
½ cup chopped shallot
½ chopped apple
2 Tbs. balsamic vinegar
1 Tbs. Dijon-style mustard
Salt to taste
½ tsp. olive oil
1 tsp. curry powder
1 tsp. ground cumin
½ tsp. ground coriander
¼ tsp. ground cinnamon
½ tsp. raw sugar
3 Tbs. chopped cilantro plus extra for garnish, optional
Freshly ground black pepper to taste
PREPARATION:
Preheat broiler. Lightly grease baking sheet with coconut oil (or extra virgin olive oil).
Place eggplant, bell pepper, tomato, onion, apple, vinegar, mustard and salt in large mixing bowl, and toss to combine and coat vegetables well. Place vegetables on large baking sheet.
Broil vegetables in middle of oven, stirring every 5 minutes, until browned and tender, about 15 minutes. Remove from oven, and set aside until ready to use.
Combine roasted vegetables in food processor or blender, together with curry powder, cumin, coriander, cinnamon, sugar, and 3 tablespoons chopped cilantro. Process, adding water to thin if needed, and working in batches if needed. Season to taste with salt and pepper. Reheat, garnish with cilantro, if desired, and serve hot.
"To feel safe and warm on a cold wet night, all you really need is soup."
Laurie Colwin
Enjoy
Zuzana