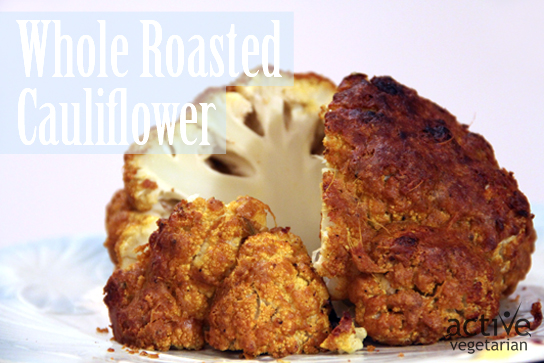 Hmmm…roasted cauliflower. I find that this recipe turns even cauliflower haters into fans.
So what makes this cauliflower "cheesy" but dairy free you may be wondering?  No I did not use fake or imitation cheese (yucky). I used nutritional yeast, which is a healthy alternative to cheese that has a delicious nutty cheese flavor that will blow your mind, cheese lover or not.
"Cheesy" Whole Roasted Cauliflower
Amazingly delicious dish that's as dramatic in presentation as it is easy in preparation. Serve it with a big green salad for an easy weeknight supper or your next vegetarian to dinner party.
Servings: 4
Ingredients
1 2.5 lb/1.15 kg head cauliflower
1 tablespoon olive oil
1/2 cup nutritional yeast
2 tablespoon of water more if mixture is to dry
1 teaspoon garam masala spice mix
1/2 teaspoon coarse salt
1/4 teaspoon ground turmeric
1/8 teaspoon ground cayenne pepper more or less to taste
1/8 teaspoon ground black pepper
Instructions
Preheat the oven to 400° and lightly grease a small baking sheet with vegetable oil. Set aside.

Trim the base of the cauliflower to remove any green leaves and the woody stem.

In a medium bowl, combine the oil,water, nutritional yeast and all spices,salt and pepper.

Dunk the cauliflower into the bowl and use a brush or your hands to smear the marinade evenly over its surface.

Place the cauliflower on the prepared baking sheet and roast until the surface is dry and lightly browned, 30 to 40 minutes. The marinade will make a crust on the surface of the cauliflower.

Let the cauliflower cool for 10 minutes before cutting it into wedges and serving alongside a big green salad.
Notes
vegan, vegetarian,gluten free