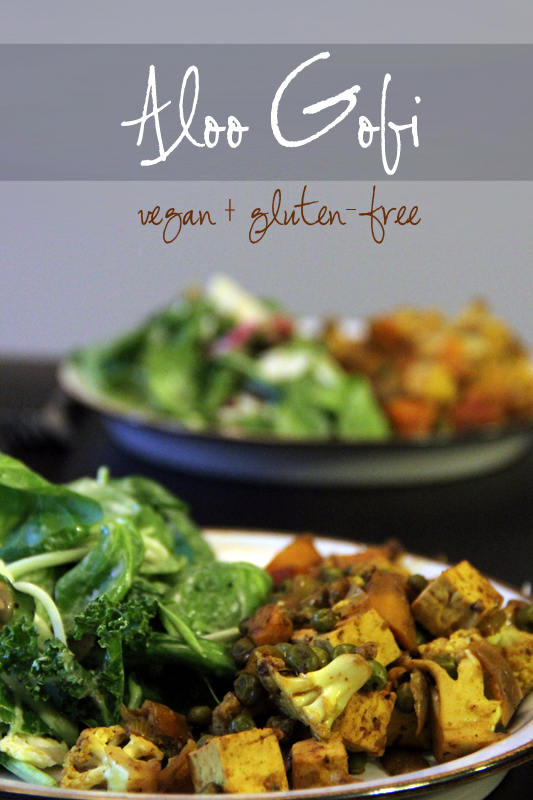 There's just something about a good plate of Indian food. Since recently spending a few weeks in India, and now with my family in Canada – I miss Indian food! Haha I know I know… crazy how I can eat it everyday and still miss it! I enjoy how simple it is yet its pungent flavours and vivid colours to satisfy.
I know it may seem like it but Indian food is not hard to cook. It may require a few extra ingredients that you may not already have in your kitchen though! Once you are stocked it's worth it so you can eat food that is so warm in flavor whenever you want 🙂
One of my favorite Indian dishes is Aloo Gobi, which literally translates Potato and Cauliflower. However I made this one a little different than the "norm" – rather than using an ordinary potato I tried sweet potatoes. I also decided to add some tofu to the dish to make it a wholesome meal. The flavor is mild enough for anyone new to Indian dishes.
Aloo Gobi
Aloo Gobi is one of my favorite Indian dishes made with potatoes (aloo) and cauliflower (gobi). Simple to make and its pungent flavours and vivid colours won't disappoint you!
Ingredients
2 Tbs coconut oil
1 tsp dry mustard powder
1 tsp ground cumin
1 tsp ground cloves
1 tbs grated garlic about 3 cloves
1 1/2 tbs grated ginger
2 medium onions minced
1 tsp crushed chili peppers
2 tsp garam masala
1 tsp turmeric
1 tsp salt
2 tsp maple syrup
1/2 C water
3 sweet potatoes cut into 1/2″ cubes
1 cup organic firm tofu cut into 1/2" cubes
3/4 small head cauliflower florets cut up
1 Tbs lemon juice
1/2 C green peas
Instructions
Heat heavy-bottomed large skillet pan over medium heat with coconut oil. Add the ginger, garlic, dry mustard, cumin and cloves and stir. Then add the onion and fry until fragrant. Fry this mixture until the onions are soft and just starting to turn brown, then add the chili, garam masala, turmeric, salt, maple syrup, water and potatoes.

Cover and simmer over medium low heat for 10 minutes, add the tofu, cauliflower and cook until everything is tender, another 30-40 minutes. Add the lemon juice and peas at the very end.
If you want to be adventurous and make your own
Garam Masala
spice
–
CLICK HERE
for a great recipe 🙂
Happy Cooking!
Nikki