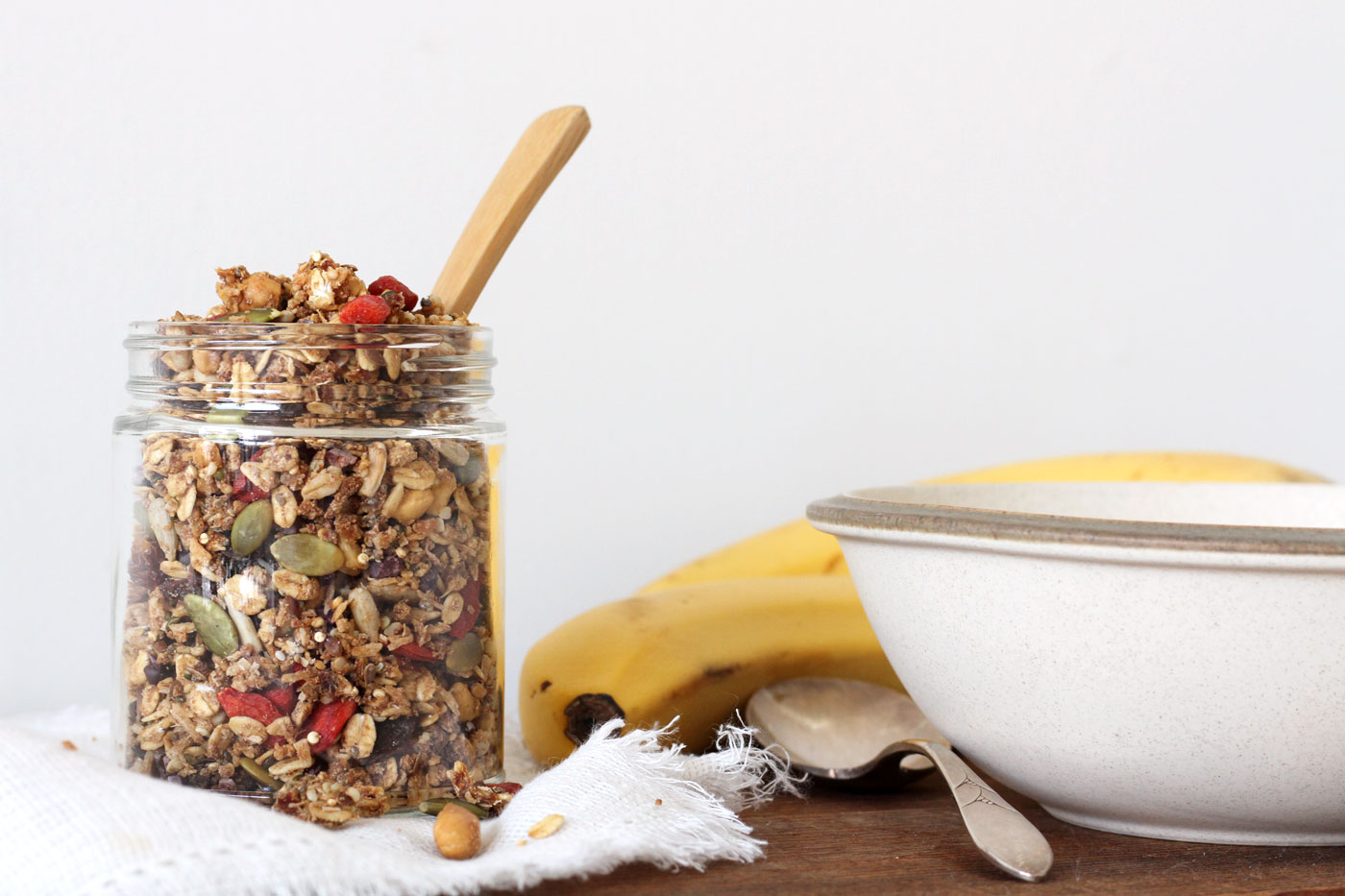 Homemade fruit & nut granola made with unprocessed ingredients – you won't find any oil, sugar, or salt in this recipe! Only whole food plant-based goodness. In all honesty, this recipe was inspired by a large amount of almond pulp we had on hand – a byproduct of making our own batches of nut milk. Since we don't like to waste food, we always look for creative ways to use leftover pulp! Sometimes we store it in the freezer and add it into muffins or banana bread, and today we mixed it into this yummy granola recipe. If you don't have almond pulp on hand, that's totally fine. Simply replace it with ground almonds aka almond meal. Give this recipe a try – it just might be one of the healthiest hustle free granolas you will ever make!
Easy Vegan Granola, Oil-Free
This easy vegan granola is a perfect way to use up your leftover nut pulp after making almond milk! There is no oil, sugar, or salt in this recipe, only whole food plant-based ingredients. 
Ingredients
2 cups rolled oats
1 cup almond pulp the stuff left over after you make almond milk or almond meal
1/2 cup pumpkin seeds
1/2 cup chopped walnuts pecans, almonds or cashews
1/2 cup shredded coconut
3 Tbsp sunflower seeds
3 Tbsp flax seeds
3 Tbsp chia seeds
3 Tbsp dry quinoa
1 Tbsp ground cinnamon
1 Tbsp fresh ground ginger or 1 tsp dry ginger
1 1/2 cup dates soaked in water to cover overnight, 1/4 cup soaking water reserved
3/4 cup raisins
1/2 cup goji berries
3 Tbsp cacao nibs optional
Instructions
Bake Option:
Preheat oven to 250 F and line a baking sheet with parchment paper. In a large bowl, combine oats, almond pulp/meal, pumpkin seeds, nuts, coconut, sunflower seeds, flax seeds, quinoa, cinnamon, and ginger. In a blender, puree the soaked dates with the reserved soaking liquid. Mix into the dry mixture to coat everything thoroughly.

Spread onto the baking sheet and bake for about 90 minutes, until golden brown, stirring the mixture every 20 minutes or so to ensure even baking.

Let cool completely, then mix in the raisins, goji berries and cacao nibs if using.

Store in an airtight glass container at room temperature or in the fridge for 6-8 weeks.
Dehydrator Option:
This granola can also be kept raw and made in the dehydrator at 115F. It will take 24 hours or more.
Notes
You can omit or substitute any of the nuts and seeds. As you can see in the instructions you need to bake this granola little longer to get it crispy due to the extra moisture in the nut pulp, but very worth the wait. If you are using almond meal, the baking time can be reduced to 65-75 min. Pro Tip:
Making a big batch and keeping it in the pantry or fridge will help create quick meals and add a delicious crunch too!
Sometimes we make walnut or Brazil nut milk instead, and the pulp is equally as delicious.
We love sprinkling this granola atop of coconut yogurt, chia seed pudding or smoothie bowls. Give it a try – it just might be one of the healthiest hustle free granolas you will ever make!
Dedicated to your health & wellbeing,