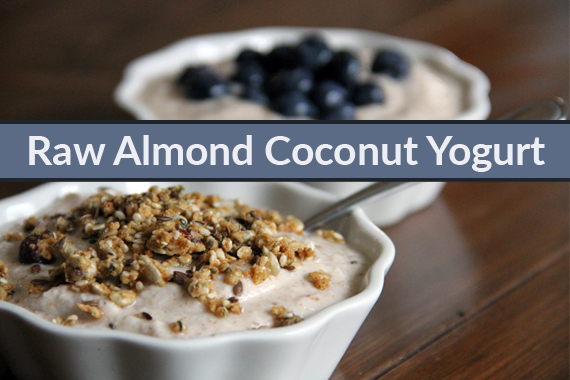 Mostly, everyone nowadays has heard of probiotics – but do you really know what they do for us and why we should be consuming them?
Over the past few months Zuzana and I have been quite consistent on always making sure there are some seeds or nuts soaking or sprouting. Either to make some fresh homemade nut milk, salad dressing, or my favourite raw coconut almond yogurt – which is packed with probiotics!
There are so many great benefits from including the probiotic yogurt into your daily routine. For me personally, it is helping me build and maintain my immune system as well as provide some healthy protein for muscle mass. Let's not forget all the benefits you will gain from the raw coconut meat and water! But that's a whole other topic 😛
Okay, so enough rambling… what are probiotics? and why should you be eating them?
Our bodies require a healthy dose of good bacteria in order to maintain wellness. Mostly contributing to an optimal immune system and intestinal health. In addition, fermented foods aid our bodies in absorbing vitamins (particularly vitamins C and B12), and minerals. Which is awesome for plant based eaters 😛
As I mentioned above that they aid our intestinal health –  probiotics thrive in the intestinal tracts, keeping things running smoothly and regularly, and help the digestion of food.
Which can improve the following conditions:
Irritable bowel syndrome
Constipation
Diarrhea
Inflammatory bowel disease
Colitis
Crohn's disease
Ulcers
Stomach viruses
Urinary tract infections
Probiotics are also said to help with the prevention of colon cancer, as they can maintain a healthy colon and prevent infections from spreading there.
There are other benefits to adding probiotics to your diet, especially if you are or have recently been taking antibiotics to treat a medical condition. Antibiotics, as their name suggests, are designed to kill bacteria. Unfortunately, they can't tell the difference between good and harmful bacteria. Probiotics can help to restore those good bacterias in your body that you may have killed. So it's recommended to cycle with probiotics, after you have taken any antibiotics.
Other benefits include:
Lowering cholesterol
Improving symptoms of lactose intolerance
Lowering or maintaining blood pressure
Fighting infections and preventing bacterial diseases
Reducing intestinal swelling or inflammation
Improving absorption of trace minerals
Treating eczema and other bacterial skin conditions, especially in young children
Countering the effects of aging and poor diet choices
Fighting tooth decay and gum disease
Your best source of probiotics is yogurt, so that is why we created this delicious Raw, Vegan yogurt! Plus, if you are anything like me, I think when I cut dairy – the only thing I missed was Greek yogurt. You know, that cold, thick, creamy, sour goodness – Yum! Now I indulge with this homemade recipe, and find it more satisfying.
Raw Coconut Almond Yogurt
This yogurt is packed with healthy probiotics, fat, proteins and so much more!
Ingredients
1 cup of soaked at least 24hrs almonds or other nuts
water from 1 young Thai coconut
meat from 2 young Thai coconuts
6 probiotic capsules
Instructions
First, soak your raw almonds in water for 24 hours. Soaking the nuts is crucial as this will activate the dormant enzymes and release the nutrients.

Add soaked almonds, young coconut meat (from 2 coconuts), coconut water (from 1 coconut), and probiotics to the vitamix or blender.

Blend on medium/high for 3-4 min, until it reaches nice smooth creamy consistency.

Transfer the mixture into a large glass jar and cover with a clean towel, tea towel or muslin cloth, secured with elastic band.

Keep in a warm place ( we put ours on a countertop or inside a kitchen cupboard) for 12-24 hours, depending on how tangy you want it and also on the temperature it's stored in. It will be ready when the mixture looks little foamy and little air pockets start to appear. The smell should be strong but pleasant.

When the yoghurt has fermented. Give it a good stir (using wooden spoon).

Keep in the fridge for up to 1 week.

Optional - add in spices such as cinnamon, cardamon etc. Or sweeten with dates, honey, or maple syrup.
Notes
Sometimes we add lemon juice to give it an even more sour taste 😉
 Ways to enjoy this delicious yogurt:
simply top it off with some fresh fruit, cocoa nibs, raisins, goji berries, or raw granola.
add some protein powder to it (for a different flavour).
add it to smoothies to give it a sour taste.
use it to create some salad dressings.
These are just a few of the ways we love to experiment and get our probiotics in. Share your favourite ways to enjoy it in the comments below.  🙂
Dedicated to your health and wellbeing,