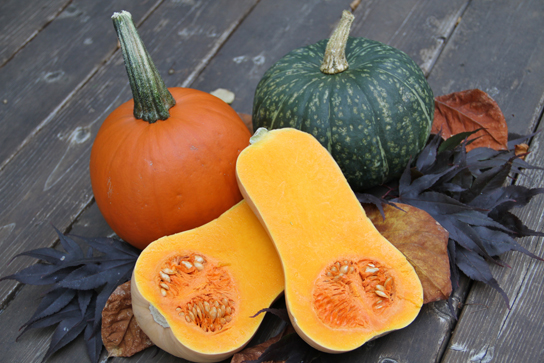 Are you ready for this squash madness ? I sure hope so 😉
Winter squash and pumpkin add beautiful color to any autumn meal but thats not all….. Discover six great reasons to eat more squash, plus six tasty and simple squash recipes.
Packed with flavor, squash is loaded with disease-fighting antioxidants and vitamins. And with less than 100 calories per serving and a tasty source of nutrition, makes squash a great addition to your diet.
Here are six great reasons to eat more squash :
1. Squash protects our eyes
Squash is loaded with the antioxidants beta-carotene, lutein and zeaxanthin, which may reduce the risk of eye diseases.
2. Squash is a low-cal substitute for grains
Skip the white rice and pasta, and choose squash instead. A one-cup serving has just 80 calories, compared to 234 calories in a cup of spaghetti. Plus, squash is a good source of vitamins A 
and C, while pasta and rice have none.
3. Squash helps lower blood pressure
Acorn and butternut squash are high in potassium. Diet high in this mineral may help to lower the risk for kidney stones, stroke and high blood pressure.
4. Squash boosts your brain
A serving of squash (1 cup cooked) contributes very good amounts of thiamin – this brain boosting B vitamin helps to improve memory and mood.
5. Squash seeds provide protein
Baked pumpkin seeds, or pepitas, make a nutritious snack. One ounce (30 g) has seven grams of protein—almost as much as an equal serving of peanuts—and provides four milligrams of iron, more than 20 percent of the RDA.
6. Squash is packed full of antioxidants
Which could help reduce the risk of inflammation-related disorders such as rheumatoid arthritis and asthm
And now the promised recipes:
What is your favorite squash recipe? Tell us about it 🙂