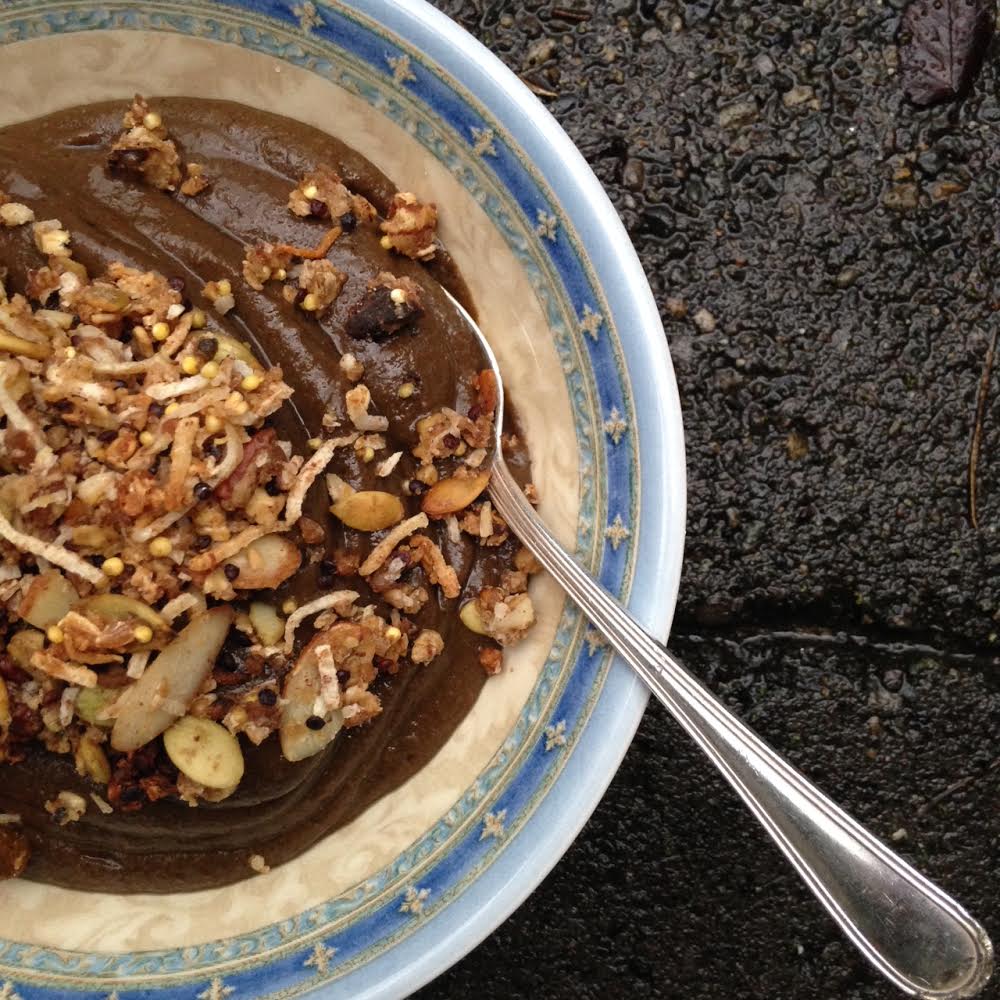 Vegan Gluten Free Granola
Awe granola… I love making granola – it's not only easy, it makes a large batch for those moments when you need to grab something on the run or best of all sit and enjoy in your pj's on a rainy Sunday :)When I think about granola or muesli, it reminds me of when Zuz and I were biking in Southern France. Usually we would fuel up for a ride by having some muesli in the morning for breakfast. Not only is it great for fueling a long bike ride, but also a long run or hike. Due to it's high protein content it makes a well balanced meal 🙂
Ingredients:
1 cup gluten-free rolled oats,
1 cup quinoa flakes,
1/3 cup quinoa,
1/3 cup millet,
1 1/4 cups shredded unsweetened coconut,
1/4 cup slivered almonds,
1/4 cup chopped pecans,
3/4 cup raw pumpkin seeds,
1/4 cup dried mulberries,
1/4 cup raisins,
1/4 cup chopped dried figs,
1/4 cup chopped dried apricots,
Paste:
15 pitted medjool dates,
1 cup water (or more as needed),
1 tsp cinnamon,
1 tsp ground ginger,
1 tsp organic vanilla extract,
15 pitted medjool dates,
Instructions:
Soak the quinoa (NOT flakes) and millet overnight (or for 8hrs).
When you are ready to make the granola – Preheat the oven to 375 degrees.
Drain and rinse the soaked millet and quinoa, leave in strainer to remove all excess water. Meanwhile combine the GF rolled oats, quinoa flakes, coconut, almonds, pecans, pumpkin seeds, and dried fruits in a large bowl – mix together. Set that aside.
To make the Paste: Place the pitted dates in a Vitamix (blender or food processor) add the water and spices – blend until it forms a thick, pour-able paste.
Once you have completed the above add the millet and quinoa to the bowl of flakes, nuts and dried fruit – mix until well combined. You should notice it to start to slightly clump together from the millet and quinoa. Once you have mixed it together add in the paste and more cinnamon and ginger to taste (optional).
Grease a large cookie sheet with coconut oil and spread the granola out evenly.
Bake for 15 mins – stir – and bake another 15 mins or until golden brown.
Let cool and store.
Enjoy with cold or warmed almond milk 🙂
Nikki