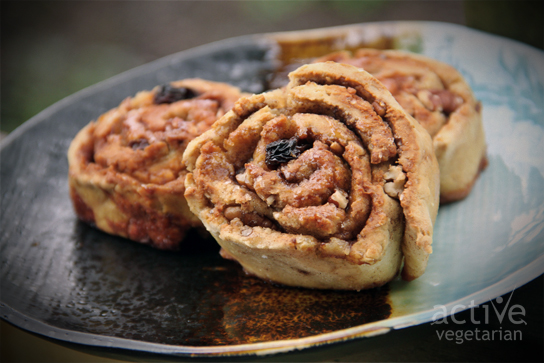 Growing up my mom would always make cinnamon rolls and they were sooo good but not that healthy :-/ So this weekend I decided to attempt to make some healthy gluten free and vegan ones to share with some friends!  PS- I will never turn down anything with cinnamon in it <3
Cinnamon is a great addition to a healthy diet, here is why… (compliments of www.care2.com)
1. Numerous studies show that cinnamon regulates blood sugar, making it a great choice for diabetics and hypoglycemics alike.  That's also great news for anyone who wants stable energy levels and moods.
2. It reduces LDL cholesterol levels.  LDL is also known as the harmful cholesterol.  Reducing it may help reduce the risk of cardiovascular disease.
3. It has natural anti-infectious compounds.  In studies, cinnamon has been effective against ulcer-causing H. pylori bacteria and other pathogens.
4. It reduces pain linked to arthritis.  Cinnamon has been shown in studies at the Department of Internal Medicine, Kangnam Korean Hospital, to reduce cytokines linked to arthritic pain.
5. Research at the University of Texas, published in the journal Nutrition and Cancer, shows that cinnamon may reduce the proliferation of cancer cells, holding promise for cancer prevention and sufferers of the disease.
6. It is a natural food preservative.
7. It contains fiber, calcium, iron, and manganese—albeit small amounts to the typical dose of ground cinnamon.
8.  It's been proven effective for menstrual pain and
9. infertility.  Cinnamon contains a natural chemical called cinnamaldehyde, which studies show increases the hormone progesterone and decreases testosterone production in women, helping to balance hormones.
10. Cinnamon holds promise for various neurodegenerative diseases, including: Alzheimer's disease, Parkinson's disease, multiple sclerosis, brain tumor, and meningitis, according to research at the Cytokine Research Laboratory, Department of Experimental Therapeutics, The University of Texas.  Their research shows that cinnamon reduces chronic inflammation linked with these neurological disorders.
11.  Not a health benefit, but a great reason to love cinnamon, it's versatile.  It works with sweet and savory dishes alike.  Consider that many curries and savory Moroccan dishes include cinnamon.  It's not just for apples anymore.
Finally the recipe…..
Preheat oven to 425 degrees.
Line a baking dish with parchment paper or tinfoil and lightly grease with some coconut oil.
First we need to make some "buttermilk" – vegan style….
Combine the following 2 ingredients and let sit for 5-10 mins.
1 1/2 tbsp Apple Cider Vinegar
1 1/4 cups Unsweetened Almond Milk
Now for the filling…
In a small bowl combine:
5 tbsp Raw Sugar
2 tsp Cinnamon *or more if you are an addict like me 🙂
pinch of salt
Before you start the dough…. place about 2 tbsp of coconut oil  (or earth balance) in a oven safe dish and place it in the oven to melt.
Lets make dough…
2 1/2 cups Gluten Free Flour
2 tbsp. raw sugar
1 1/4 tsp baking powder
1/2 tsp baking soda
1 tsp cinnamon
1/2 tsp salt
Combine all of the dry ingredients in a large mixing bowl. Now create a well in the centre of the flour ingredients and carefully pour your vegan "buttermilk" into the bowl.
Mix together until well combined and a workable dough starts to form. Now on a well floured surface knead the dough and roll into a rectangle. – with a rolling pin of course.
Next spread the melted coconut oil (or earth balance) on the dough and sprinkle with the cinnamon sugar mixture. *you can add more sugar depending on how sweet you want them.
I also added some raisins and chopped pecans – be creative add what you like.
Roll the dough making sure to roll tight and straight so the ends are even. Now with a "bread Knife" carefully cut them into the desired thickness – using a sawing like motion helps.
Place them in the prepared baking dish and bake for 25 mins or golden brown.
Once they are done remove them from the oven and drizzle with maple syrup.
Delicious!!
Nik