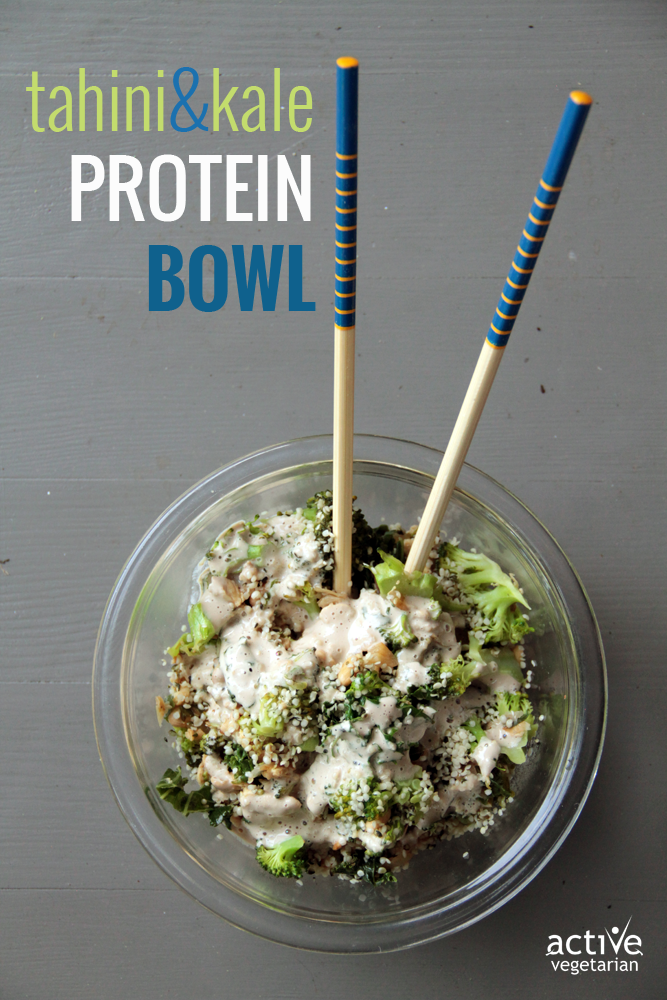 In need of a good summer meal recipe? Don't worry – we've got it covered! If you are anything like us, you probably don't want to be spending hours in the kitchen during these summer months. Don't make me wrong, I love cooking however when the good weather starts here in Vancouver, all I want to do is spend as much time outdoors as possible.
During the next three months the idea is share the quickest and easiest recipes with you – but they have to be nutritious never lack in the flavor department!
For this Tahini Kale Protein Bowl, we're using quinoa, kale, broccoli, crumbled tempeh, hemp seeds and a tahini ginger sauce. All delicious things in one big protein-packed bowl ready to serve in 20 min!
[optin-cat id=15612]
Tahini Kale Protein Bowl
Perfect go-to when you want to throw something together that's quick, nourishing and super delicious.
Servings: 2
Ingredients
1 cup quinoa
1 tablespoon coconut oil/extra virgin olive oil
1/2 of a red onion
1 clove garlic minced
3 cups kale de-stemmed + torn
2 cups broccoli florets about 1 small head
4 ounces of tempeh chopped/crumbled
1/4 cup hemp seeds
Tahini Ginger Sauce
1/2 cup tahini
2 tablespoons lime juice
2 tablespoons coconut aminos or tamari
1/2 teaspoon ground ginger or 1 teaspoon fresh, grated ginger
2 teaspoons turmeric
1 teaspoon maple syrup
2/3 - 3/4 cup water
Instructions
Combine 1 cup quinoa with 2 cups water in a medium-sized pot.

Bring to a boil and reduce heat to simmer for about 15 minutes or until all water has been absorbed.

Meanwhile, in a small saucepan, melt the coconut oil on medium-high heat. Add the red onion and sauté for 2-3 minutes. Add the garlic, kale, broccoli and tempeh.

Sauté for about 3 minutes.

Once quinoa is finished cooking, scoop it into 2-3 bowls and top with the vegetable mixture.

Sprinkle with raw hemp seeds.

Generously drizzle tahini sauce on top
For Sauce
Blend all ingredients together in a blender or food processor till smooth. Start with 2/3 cup water and add more as needed (dressing will thicken in the fridge).

Makes 1 1/2 cups.
Notes
All bowl components can be made up to 3 days in advance and kept refrigerated, making this perfect for take-to-work lunches, easy entertaining, and quick dinners.
Dressing can be made up to 3 days in advance and kept in a glass jar in the refrigerator. Stir before using.
Dedicated to your health and wellbeing,