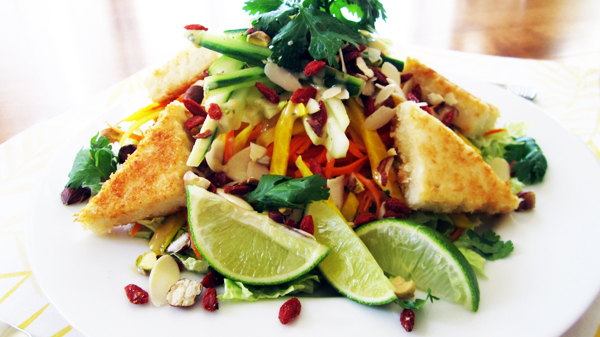 Alright so we are 2 months into the new year, I hope you are sticking to your new years resolutions!
If weight loss or diet was a key word in your goals for 2013 I am sure you have found yourself eating more leafy greens (aka salads). Am I right? 🙂
Now let me ask you this… after you have made your rich coloured and nutritious salad, what do you put on it?
Answer: Salad dressing, what else?
Response: Okay okay, and what kind of salad dressing?
Answer: Um.. Ranch
That's where you are going wrong and don't feel bad, alot of people use store bought dressings. However my tip for you is if you really want to clean up your eating and possibly lose weight, make your own salad dressings!
Store bought salad dressings are often high in calories, fat and full of chemicals and preservatives to extend their shelf life. More than often sugar, cheap oils and artificial colour and flavour are added to them. I know you probably think… "but it's so convenient, I don't have time to make my own". Not true! You can easily mix some oil and vinegar with a few spices/herbs and you have a great healthy salad dressing.
I just use my magic bullet or a mason jar depending on what type of dressing I want to make (whether it needs blended or not) and make a bunch to get me through the week.

Here are a few of my favourite ones to make, one is simple and one is a little more complex but both taste great!
Maple Balsamic Infusion
1/4 cup Maple Syrup
1/4 cup Balsamic Vinegar
2 tbsp Hemp Oil (or any "healthy" oil of your choice)
Place all ingredients in a mason jar and shake 🙂
This next one is my favourite!!! It is inspired by the restaurant "Fresh" in Toronto, ON.
Almond Lime Dressing
1 tbsp ginger, peeled and chopped
3 cloves garlic, peeled and minced
2 tbsp cilantro, densely packed
2 tbsp natural almond butter
2 tbsp plus 2 tsp lime juice
1 tbsp rice vinegar
1 tbsp plus 1⁄2 tsp coconut aminos
1-1⁄2 tsp organic maple syrup/agave
2 tsp coconut milk
3⁄4 tsp sesame oil
1⁄2 cup omega Oil/flaxseed oil
Place all ingredients in high speed blender (Vitamix) and blend, as simple as that!
Now that you have a few ideas play around with different ingredients and come up with your own. I find this is way more exciting than just grabbing one of the many jars lining your fridge door.
I hope you enjoy, and please share any good dressing recipes you have or come up with.
Nik