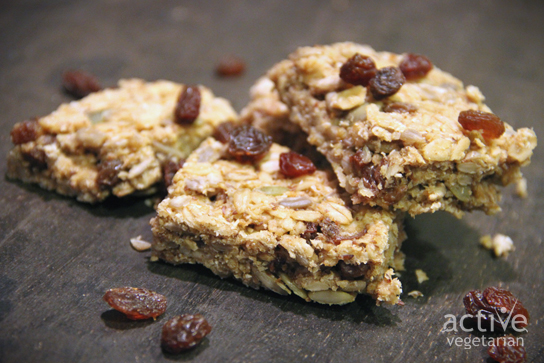 I wanted to make a tasty and healthy snack to share with my yoga friends this week so I started a kitchen experiment and since my class is on Sunday morning I decided to make a granola bar.
These tasty bars were filled with oats, healthy seeds and raisins. They were very simple to make and smelled delicious while baking. I love that these bars have very little sugar in them yet they till stay together without making a giant mess!
Serves 10-12
Ingredients:
2 1/2cups rolled or quick oats
1 cup raw pumpkin seeds
1/2 cup sunflower seeds
1/2 cup raisins
2/3 cups natural nut butter (almond, cashew, etc)
1/2 cup raw sugar
1/2 cup almond or coconut milk
1/8 teaspoon sea salt
Directions:
Preheat oven to 350 F.
Mix oats, pumpkin seeds, sunflower seeds and raisins in a large bowl.
Whisk together nut butter, sugar, milk and sea salt.
Pour into oat mixture, and mix well, till everything is sticky and combined. If it's too dry, add a bit more milk.
Press mixture into a shallow baking dish that you've greased with a bit of coconut oil.
Bake for 20-25min.
Allow to cool then cut into bar shapes.
They will last two weeks in the fridge.
Don't forget to join our community for more healthy recipes . If you tried this easy recipe– tell us how you liked it in the comments below!