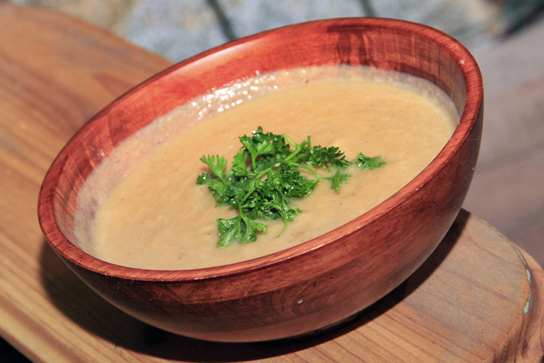 Yes its time for nice bowl of warming soup! There is nothing better then a steaming bowl of soup on cold winter day!
There are many delicious variations of fall Soup, but one of my favourites is a recipe for Roasted Cauliflower Soup.
If you haven't had roasted cauliflower before, try it!  Even if cauliflower isn't your favorite veggie, you'll love it roasted!
Ingredients: 
1 large yellow onion, chopped
2 cloves of garlic, crushed
2 tablespoons extra virgin olive oil
2½ cups vegetable broth
1 head cauliflower, cut into small florets or chunks
2½ teaspoons ground cumin
1 teaspoon dry mustard
½ teaspoon turmeric
¼ teaspoon coarse sea salt or kosher salt
chopped cilantro for garnish (optional)
Directions:
Heat oven to 400°F.
Place cauliflower on a  baking sheet together with chopped onion.
Combine olive oil with the cumin, mustard, turmeric, crushed garlic and salt; sprinkle over cauliflower.
Toss well and spread into a single layer. Roast 20 minutes or until cauliflower is tender.
Add the broth mixture and roasted cauliflower to blender container.
Cover; blend until smooth.
Return to  saucepan.  Heat through over medium-high heat.  Ladle into shallow bowls; top with chopped cilantro, if desired.
Enjoy!
Zuzana & Nikki