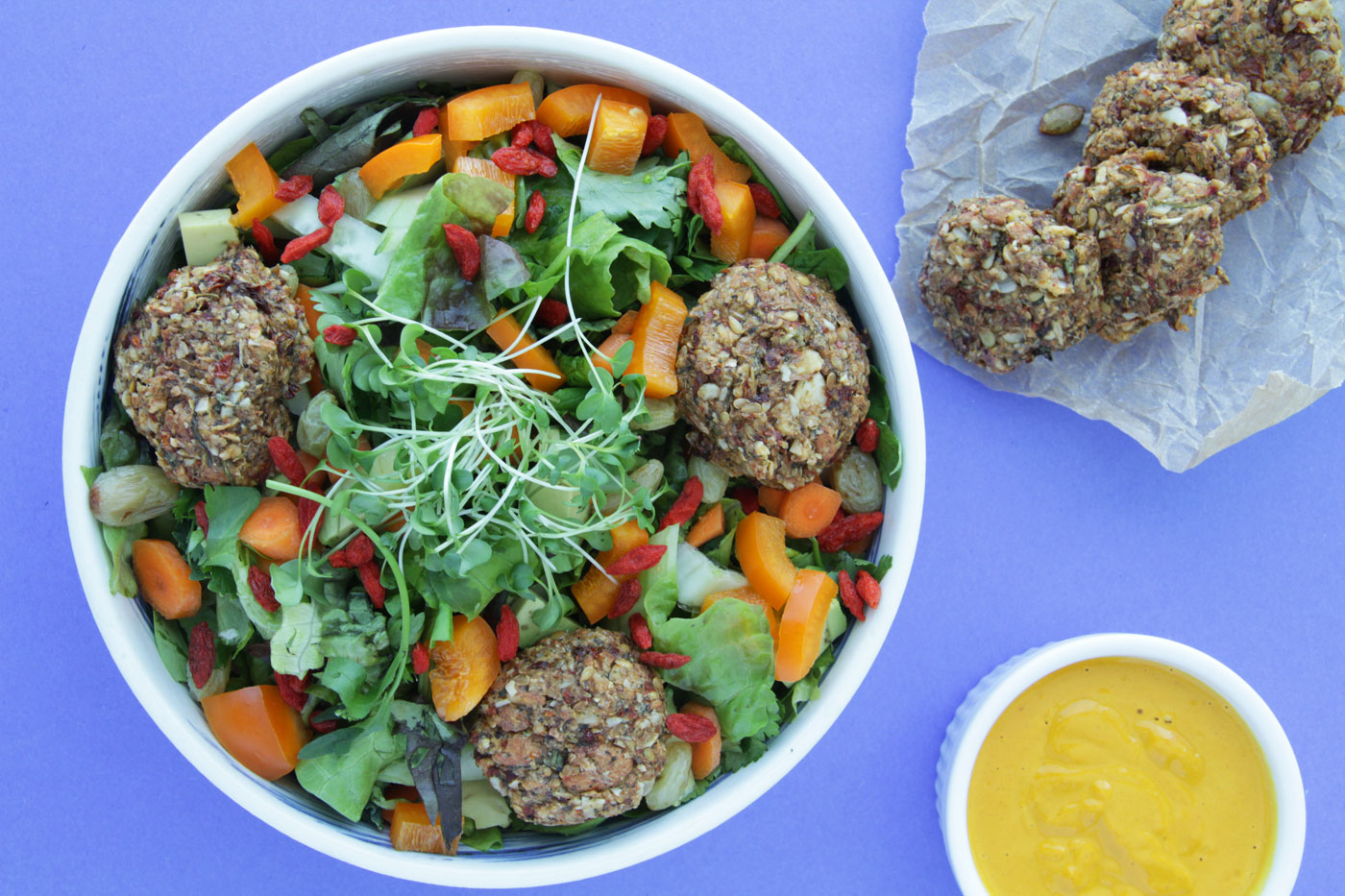 Hello there! Yes, this is a burger recipe. Yes, it's vegan. And yes, it's RAW.
Have you had the chance to try any of our AV raw recipes yet? If not this might be the one to get started with. The patty has only a few ingredients: sunflower seed, almond, flax, sundried tomatoes, apple cider vinegar and fresh cilantro, plus of course, any type of spices you would like to add! (we added kelp flakes). Throw it all into your blender for a couple of minutes and mould it together using your hands. Took us about 10 minutes of work!
#PLANTPOWERED INGREDIENTS:
RAW FOODS
Q; What exactly do you mean by RAW?
Well, to put it simply, raw food is any food that hasn't been cooked above a certain temperature (generally said to be somewhere between 104ºF and 130ºF). Raw foodists (followers of raw food diet) generally focus on eating a wide variety of fruit, vegetables, nuts and seeds. They also include soaked and sprouted nuts, seeds and legumes as well as dehydrated fruits and vegetables. The concept of dehydrating food has been around for centuries, and has been quite helpful in preserving food without incurring any charges.
Q: What's wrong with cooked foods?
Well, according to many pure raw foodists, there are many benefits to eating raw foods, including weight loss, glowing skin, more energy and zest for life, mental clarity, improved digestion and overall well-being. Raw foodists believe that heating food above 130ºF destroys the vital and essential nutrients that we need to stay healthy.
Q: Should you only eat raw foods then?
I don't know, that's your call to make. However, we do believe that raw food is powerful and can provide tremendous health benefits.
Here are our Top 5 reasons to include more raw foods into your present diet:
Your Diet Is Clean
Who doesn't eat to eat healthier? The beauty of eating mostly raw foods it automatically helps eliminate most of the unhealthy stuff from your diet. In a very short period of time, you begin to notice the positive changes that come with consuming all these raw vitamins, minerals and alkaline forming foods.
Improved state of mind and clarity
Eating vibrant high energy row foods makes you feel happier, sharper and more positive. It's very hard to describe, it's best to be experienced.
It has a positive impact on the environment
Nik and I are always interested to learn and implant ways of living that produce the least amount of footprint. Eating raw helps cut down on waste and waste energy generated in traditional food preparation and cooking.
Cravings will diminish
Eating raw foods is satisfying. Raw food is super tasty, nutrient dense and pleasing to your taste buds, therefore your body has no longer a reason to crave unhealthy foods.
You can eat an ice cream sundae for lunch
One of our all-time favourite meals is "nice cream" bowl. It consists of 1 frozen banana, a cup of frozen berries, a handful of spinach, touch of lemon juice, 2 Tbls of Raw protein powder and a cup of coconut water. Blend it all up in a Vitamix, top it with some fresh fruit and tablespoon of hemp hearts and you have yourself an awesome lunch 😉
Raw Sun-dried Tomato Burgers
Raw, Vegan, Gluten Free
Servings: 8
Ingredients
1/2 cup sunflower seeds soaked for 8 hours or overnight
1/2 cup sprouted almonds   soaked for 8 hours or overnight
1/2 cup flax seeds
1/2 cup chopped sun-dried tomatoes ( not packed in oil!) soaked for 20 min
2 tbls apple cider vinegar
1/2 cup fresh cilantro chopped
1 tbls kelp flakes optional
Instructions
Pre-soak sunflower seeds and almond in a cold water for 8 hours or overnight.

Pre-soak sun-dried tomatoes in a clod water for at least 20 min.

Drain the water from sunflower seeds, almond and sun dried tomatoes, place into a trainer and wash under cold running water.

Put all the burger patty ingredients in a food processor and pulse until the consistency is slightly sticky.

Shape into 8 smaller or 6 medium size patties and dehydrate at 115 for about 2 hours, flip, and keep dehydrating for another 3-4, or until they're the texture you like.

Don't own a dehydrator? No problem! Alternatively, you can dehydrate these in the oven.

Preheat your oven to its lowest setting (mine is 170°F). Dehydrate" for about 4-5 hours or until the patties feel stiff and dry to the touch. Serve over greens, on some raw bread, or wrap it in a nori sheet with a bunch of in-season veggies!
Be well and enjoy life,